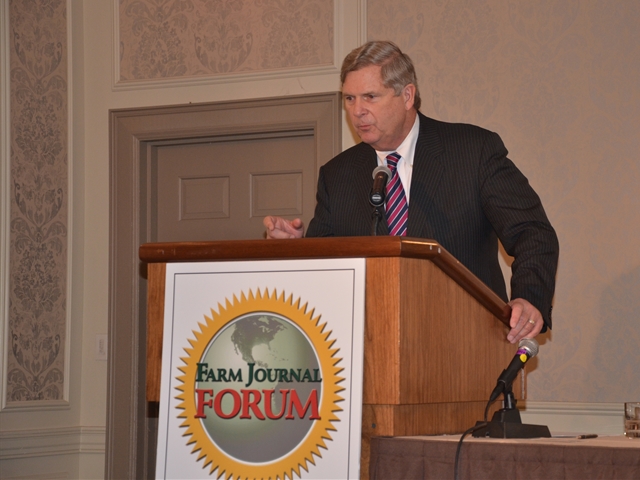 By the end of 40-plus minutes of remarks at the Farm Journal Forum on Thursday, U.S. Secretary of Agriculture Tom Vilsack was quite fired up about the "unlimited" potential for American agriculture, from ethanol to exports to food and beyond.
"It's not a time to hunker down or be cautious or woe is me. America is an amazing place …. Yeah, crop prices are down. But why are they down? It's a bumper crop. God has blessed us. It's even raining in California."
It marked the end of the Secretary's wide-ranging speech at the annual Washington gathering, which brought together policy makers, farmers, economists, and agriculture industry leaders to discuss the global possibilities for agriculture.
Listen to an excerpt of Secretary Vilsack's remarks on the Farm Bill here:
In both the U.S. and abroad, Vilsack asserted the growing opportunities for American farmers and their products, thanks to new markets, innovations, and advances in production.
"Things are perking up here, and I think a more optimistic outlook would be helpful," he said.
The Secretary highlighted the continuing implementation of the 2014 Farm Bill and the work at USDA, which has already sent out 465,000 disaster relief checks to affected ranchers and growers. He mentioned the establishment of the USDA's new research foundation, established with $200 million in government funding that is intended to be matched by the private and nonprofit sector. He noted the expansion and improvement of school nutrition programs, including summer feeding programs that have served more than 20 million additional meals to hungry kids since 2009.
He also spent considerable time on the potential for the American ethanol industry, which is a major user of U.S. corn. In response to a question about the Renewable Fuel Standard (RFS) and the blend wall issue for U.S. gasoline, Vilsack said: "We should not think that defines the opportunity."
Instead, he urged the audience to think more broadly about ethanol and the possibilities that surround it. "Whether it's exports, whether it's Americans driving more, whether it's the Defense Department's purchases [of biofuel] or this new opportunity in commercial aviation [to provide bio-based jetfuel], I'm bullish on this industry," Vilsack said. "I know it creates jobs, I know it helps to stabilize crop prices because it increases demand, I know it provides consumer choices, I know it reduces costs overall, and I know it reduces our trade deficit.  And I know it makes us less reliant on other sources of petroleum. When you combine that with traditional uses of crops and the new bio-economy--where it's not just foods and fuels, but plastics, chemicals, fabrics and fibers--it is an amazingly optimistic future, and it is one we have to make to our young people."