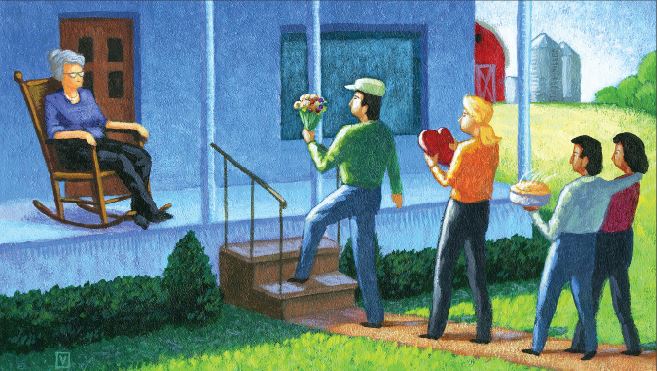 Treat tenant-owner relationships with respect and honesty
Ask young farmers what their biggest challenge is and you'll almost always hear: access to land. It's true; no one is making more land, and without land, it's hard to participate in production agriculture.

In the quest to find land, young farmers should consider who holds the titles and purse strings. One in every 10 acres in Iowa is owned by a single female older than 75. Overall, single women own about 15% of the land in Iowa. While some owners are also operators, the majority of them rent out their land.
"I talk to my renter a couple of times each year; otherwise, he just takes care of everything."
—Ethel Flegler, 91, St. Johns, Mich.
---
Mike Duffy, ag economist and land specialist with Iowa State University, says while he only researches Iowa land trends, he would expect these same trends in other core production states.
With the last few years of record-high farm income, he says it's not surprising to see the age of farmland owners increasing. "Higher-quality land tends to be held onto longer and rented more," he says.

Duffy believes the current situation holds great opportunities for young farmers. The Iowa Farmland Ownership Survey asks landowners what characteristics they look for in a good tenant.

"No. 1 is a good steward of the land and No. 2 is someone they know personally," Duffy says. "That ranks above being a family member." Additionally, about 20% of respondents say it's important to help young farmers get started.

Helen Gunderson's priorities align with the survey results. Gunderson, 68, lives in Ames, Iowa, and grew up on a farm near Rolfe, Iowa. For the past five years, she's been renting a third of her Pocahontas County land to a 30-year-old farmer, Betsy Dahl, who is transitioning the land to organic production with a longer rotation of row crops.

Sustainable Practice. This arrangement came about after Gunderson ended a long-term renter compare them, she wants to treat them comparably. When the renter didn't agree to pay rent at a level the other two tenants had already signed a lease for, she decided it was a good opportunity to replace the tenant and begin more sustainable practices.

"Ending that relationship was one of the scariest times of my life," she says. "He and I have not spoken since." Fortunately, this opened the door to a more positive experience. "To know my land is farmed organically and by a young woman is invaluable," she says.

As for her other tenants, Gunderson says she trusts them and tries to stay up on farming practices to ensure her land is treated properly. "I don't want my tenants to be the most aggressive boys on the block," she says. "I don't need to know their seed population or their tillage practices. All I want to know is if they are being conscientious. I would be willing to take a lower rent if my tenants told me they were doing something
sustainable on my land."

Business Partners. In 1965, Chris Henning, 66, graduated high school and left Greene County, Iowa, for the big cities of Milwaukee and Des Moines for 25 years before returning to her roots and buying farmland. She has been crop sharing her land with the same tenant for the past 10 years.

Together, they determine the crop mix, make management decisions and buy inputs. Only crop insurance and marketing are done separately. Henning, who has always had an off-farm job, uses her business background to reduce emotion and focus on making the best decisions.

For Henning, good communication is vital, and she has had to learn to rephrase her questions. "When you ask questions, a lot of time people think you don't trust them, when you are really just trying to better understand," she says. "I now say, 'I'm not trying to put you on the defensive here; I just need to know how we are handling a situation.'"

Harvest is a key time for Henning and her tenant to discuss crop management and business decisions. "I ride in the combine on as many acres as I can," she says. "That way I know where there might be a gully to repair or what part of the field got drowned out." She also sees the yield monitor. "What's really fun is when you see that spike in yield. When you go over 190 bu. per acre, you both get to cheer," Henning says.

Land Legacy. For many landowners, their property is a part of their history and holds a worth deeper than any dollar value. That's the case for Ethel Flegler, 91, of St. Johns, Mich. The land she owns has been in her husband's family for nearly 100 years. Since her husband passed away in 1984, she's been the sole manager.

Flegler helped her husband when they farmed together, but farming has changed tremendously in the past several decades. Luckily, she has a great renter she trusts. "He makes the decisions on what to plant and does a great job," she says. "He takes good care of the land."
THE BIG TURNOFFS
Landowners Chris Henning, Ethel Flegler and Helen Gunderson are quick to rattle off reasons why they would never rent to someone or why they might explore fi nding a new tenant. Here are a few "don'ts" of rental relationships.
Don't ask for a lower rent rate without having the data or detailed reasons to justify the price drop.
If your landlady is a widow or second-generation owner, don't compare her to the previous owner.
Don't let a busy schedule keep you from communicating with your landlady. Find out what she wants and how she wants it delivered.
The older generation tends to be intimidated by aggressive personalities and practices. Be conscious of their knowledge and wishes for the land.
While this might seem morbid, it happens: Be respectful of stressful situations and don't inquire about land at a funeral or after a divorce.
Don't let a landlord's age or gender lead you to believe they don't understand the business of farming. Treat all interactions in a business-like way.