Grain marketing is a vital component of a profitable farm operation and is one of the top challenges farmers wish they could overcome, according to a new report from FarmLogs.
In the 2019 State of Grain Marketing Report, FarmLogs surveyed more than 1,000 farmers across the country on their grain marketing habits and strategies.
This new focus on overcoming marketing challenges is a shift from the 2018 State of Grain Marketing report, says Jesse Vollmar, CEO and co-founder of FarmLogs.
Another significant shift between the two surveys, Vollmar says, pertains to forward selling. This year, almost half, 48%, of growers reported ideally forward selling 25% or more of their crop. That's up 15% from 2018's responses.
A quarter of farmers are reporting they don't try to forward sell any of their crop. Only a third of respondents plan out what percentage of their crop they want to have sold by a certain date.
"It's painstakingly obvious growers don't do enough forward marketing, and because they don't, they end up leaving a lot of money on the table that they could otherwise easily capture," Vollmar explains. "The good news is that people are starting to realize they need to do more forward marketing, but the bad news is they didn't do it yet this year."
Vollmar encourages farmers to look at forward selling grain when they lock in this year's production expenses. "At that point, you should be looking for opportunities to lay off risk and lock in profit, as oftentimes you'll get more profit if you lock it in earlier," he says.
Approximately 70% of growers reported having storage for at least some of their crop production. Grain storage is an area Vollmar believes farmers can better manage to increase revenue.
"I think storage often gets misused as a way to try to get a higher price," he says. "The minute you decide to put the crop in the bin, you now have to handle that crop twice instead of just once. For the average farm, that's going to be about 10¢ a bushel. That's an expense that could have been avoided by forward selling and delivering during harvest."
Additionally, the grain's condition is put at risk. "You're going to lose some of it because it will shrink, you will have splits and damage," he says.
Of course, grain bins provide logistical advantages, but from a purely financial perspective, Vollmar says, bins can provide more risk than reward — if not properly managed.
"Make sure you understand the cost of carrying that grain because you will bear real cost by having it in the bin," he says.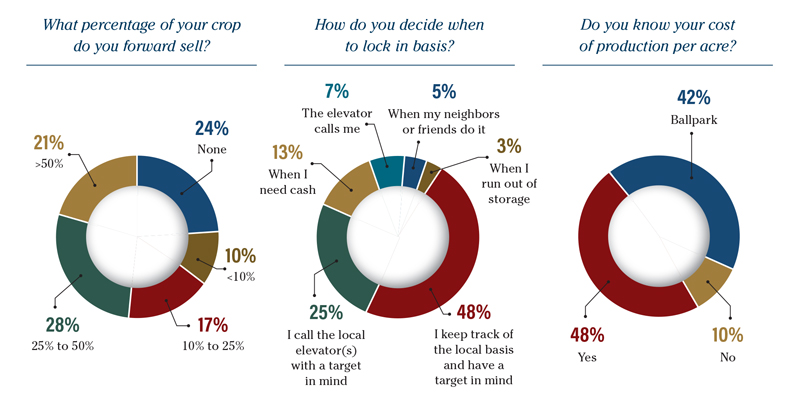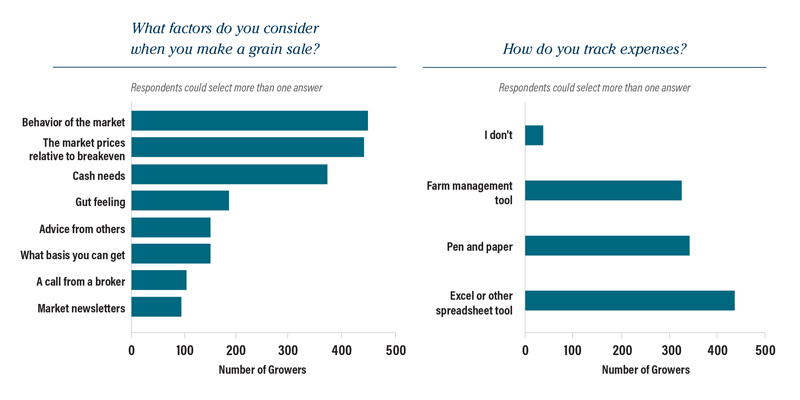 ---
Gain insight into the 2020 marketing outlook at Top Producer Summit. Register today at TPSummit.com