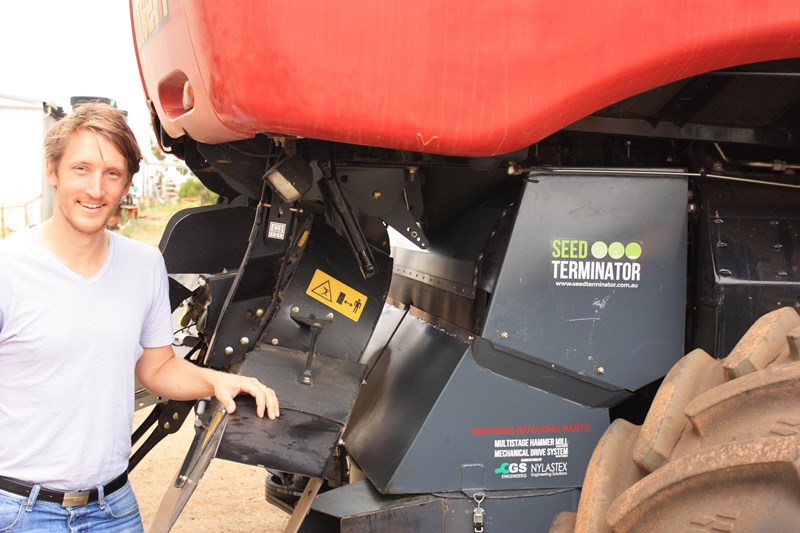 If death by hammer blow is the best way to kill weed seed at harvest, then make way for the Seed Terminator (ST). The ST grabs chaff leaving a combine's cleaning shoe and pulverizes the weed seed through Multistage Hammer Mill technology. The destruction is reportedly near total, akin to running seed across the devil's anvil. Test units are expected in U.S. combines during the 2018 season.
Picture two 44-gallon drums side-by-side. In the center a series of metal flails leads to three screens with varying hole sizes. Chaff material pours in from the top and goes through the entire ST apparatus. As chaff passes through, the flails spin at 2,700 rpm and pound the life out of weed seed before the material pours out the back of the combine.
Mark Ashenden, commercial director, says independent ST research done by the University of Adelaide in 2017 shows at least a 90% kill rate on tiny annual ryegrass seed. Ashenden emphasizes the simplicity of the mechanics, with minimal moving parts involved with shafts, belts and gearboxes.
The patent-pending ST technology was invented by a farmer's son turned mechanical engineer, Nick Berry: "We have known for decades that hammer mills kill weed seeds if you use a small enough screen. Using small screens limits capacity. The Multistage Hammer Mill overcomes capacity issues of traditional hammer mills by staging the pulverization with large openings that progressively get smaller through three stages."
The ST uses Aero-Impact technology which reduces turbulence resulting in less wasted energy in generating hot air, according to Berry.
"The Multistage Hammer Mill concept is a well suited coupling with a mechanical drive system because of the screening action. Material must be small enough to pass through the screen. Therefore, seed kill is less affected by changes in mill speed which can drop if the harvester engine revs drop," Berry adds.
Berry's duo of a Multistage Hammer Mill and mechanical drive system creates a low power draw allowing for attachment to a minimum of Class 7 combines. Roughly 3' wide, 6' long, and 4" deep, the ST takes approximately 28 hours of set-up, but Ashenden says the installation time is dropping rapidly. The device size is uniform, but contains variations in the drive system for different combine models. In basic terms, the ST mounts to the hitch of the harvester and is belt-driven from the left-hand side of the machine. The ST is colorblind and Berry has run prototypes on Case IH (7120, 8010, 8120 and 9240), John Deere (STS9760, 2xS680) and New Holland (CR8090) combines.
Eight combines were fitted with ST technology during Australia's last harvest across four states in a range of crops, soils and weed types. Berry and Ashenden currently are bringing in the data to determine variation requirements. "The screen holes may need to be bigger or smaller depending on crop types and weeds like Palmer amaranth or waterhemp," says Mark Ashenden.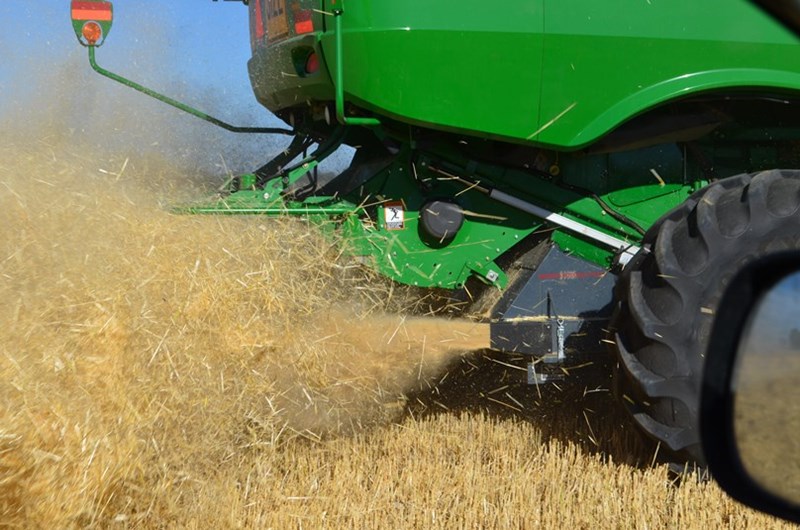 The ST is simple to turn off when not required and takes a half-hour of labor for complete removal.
Ashenden believes the ST is set to become a standard part of weed control practice, and says it provides major disruption to weed cycles needed to make herbicide programs more effective. "As good as the ST currently is, we haven't finished the science and it's getting even better," he explains.
"There are a lot of adjustments in the Multistage Hammermill to change aggressiveness. We are investing heavily in R&D to optimize kill for your kilowatt," Berry concludes. This includes a stand to test kill, power (using a torque transducer) and air flow (using a hot wire anemometer) when processing a range of chaff types and weed species. He aims to have the ST right on the edge of kill performance because over-pulverization is expensive in terms of power consumption.
After U.S. testing, Ashenden hopes for market entry at $60,000-$70,000 per unit. Producer reaction? "We've seen farmers go from excitement to hallelujah," Ashenden says. "We gave our trial farmers the first right of refusal to buy our units and every single one bought an ST. They voted with their wallets."