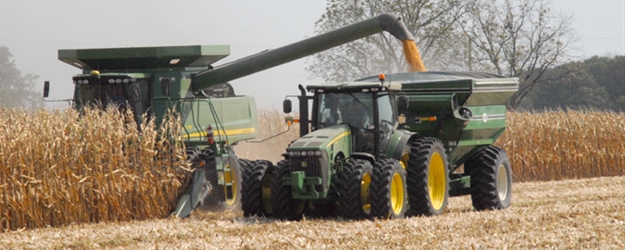 Marketing strategies differ
Producers had less than half their normal percentage of corn and soybeans pre-booked moving into harvest, which places a premium on marketing strategies.

Forget what worked for the 2012 crop and years prior. This is a new universe because getting even $5 per bushel average for corn will take savvy marketing, experts say.

Dale Viktora, a producer in Ellendale, Minn., illustrates the predica­ment many producers find themselves in. "I have 40% of my expected 2013 corn pre-sold," he says. "Typically, I have 75% by this time and usually sell a year out. If I can get $5.30 or $5.40, I'll pull the pin."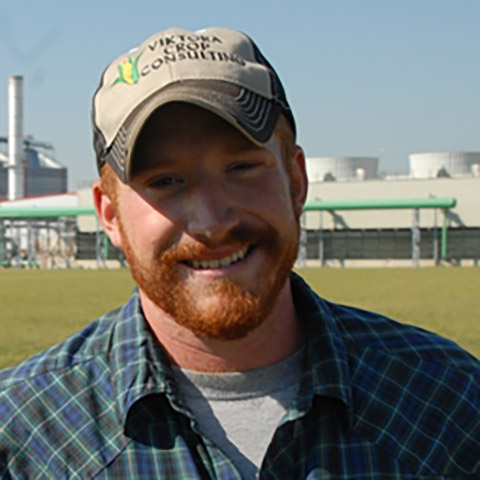 "I have 40% of my expected 2013 corn pre-sold ... If I can get $5.30 or $5.40, I'll pull the pin."—Dale Viktora, Ellendale, Minn.
---
Viktora admits that seems like a lofty goal with cash prices a little more than $4 per bushel. Nationwide estimates show that no more than 20% to 25% of 2013 crops had been sold by early October.

It's not only a tale of two planets when it comes to corn and soybean strategies, but also what makes economic sense has flip-flopped in less than a year's time.

"For corn, the market says to store; it has built-in carry for deferred months," says Chad Hart, an Iowa State University ag economist. "For soybeans, it's just the opposite."

In late September, December 2013 corn futures were $4.50 and July 2014 corn was 30¢ higher, which pays for on-farm storage but not commercial storage, Hart says.

Marketing soybeans is completely different. The market says to sell at harvest or shortly after because of the discount for deferred months.

In late September, November 2013 futures were $13.16, but in sharp contrast to corn, the July 2014 contract was nearly 50¢ less.

"For the first time, Brazil is forecast to grow more soybeans than the U.S. in 2014," says Corinne Alexander, a Purdue University ag economist, citing that as the cause for the price inversion now through next summer. Additionally, the market expects U.S. soybean acres and production to increase next year.
Volatility Shifts. Alexander says that it might make sense for some to hold out for stronger basis if theirs is weak, but she advises against being exposed more than 60 to 90 days.

However, with soybean stocks-to-use less than corn, the oilseed's price will be far more volatile than corn, says Frayne Olson, North Dakota State University ag economist.

Tight supplies will support soybean prices immediately following harvest, which creates opportunities until early 2014. "There is a lot of risk if you don't sell then," Olson says. "For producers willing to gamble, late May to July could be another potential selling opportunity."

If South America has production problems, prices could rebound during this period. However, if they bring in a monster crop, there is more risk, explains Olson. He says one way to stay open to the upside but still have some protection is to sell shortly after harvest and use futures or call options.

"For the first time, Brazil is forecast to grow more soybeans than the U.S. in 2014."—Corinne Alexander, Purdue University
---
Hart thinks cash corn prices will average $4.75 to $5 for the 2013/14 marketing year, offering astute marketers the opportunity to beat break-even costs, but not by much. Breakeven for Iowa is about $4.50. "Producers on average won't lose money, but it won't be like the recent past," Hart says.

For the past two years, those who did no forward pricing actually beat many with sophisticated strategies as corn topped $8 per bushel. However, waiting unprotected for a major rally is very risky for 2013/14.
Create a Profit Plan. Hart stresses that by storing corn, he does not mean that producers should sit on their hands and wait for profitable prices. With record production in 2013 and the largest surpluses since 2009, prices could tumble, he warns.

Hart advises hedging as much as 75% of the 2013 crop at profitable levels with March through July
contracts, which the market is now offering. Producers can risk the last quarter of their crop in case of unexpected rallies. "If you don't do well on that portion, it will hurt a little but not a lot," he says.

Lower old crop prices could happen next spring and summer if planting conditions look promising and the market believes carryover will grow from 1.8 billion bushels for 2013 (USDA's September projections) to 2 billion or even 2.5 billion for the 2014 crop, Alexander says. This would not only evaporate the current carry in the market by next summer, but the December 2014 futures price could fall by nearly $1, Alexander explains.

While she advocates action to lock in profits now, she encourages producers to use multiple marketing strategies and tools—not just one.

Even if carryover is only 1.5 billion bushels, that's still 15% of use, says Jim Hilker, a Michigan State University ag economist. It generally takes stocks-to-use of less than 10% to create much in the way of market volatility. This means the marketing year ahead will be far less volatile than those since 2008, making 40¢ to 50¢ market jumps less probable.

Hilker looks for an average cash price for the 2013/14 marketing year of $4.20 to $4.25. USDA uses $4.80, but that assumes a fair amount of corn was pre-sold at higher prices this year, which Hilker questions.

"If futures jump back to $5.30 to $5.40, I'd get real excited," he says.

One strategy is to link corn sales to export sales. The fact that corn prices did not stay high for an extended period of time makes it more likely that export demand can recover—the only major use category to do so, Olson says.

He thinks it's possible that demand from Asia could show real life, China in particular. "We could see a 20¢ recovery real fast," he says.
Fast Moves. Producers need to be ready to pounce on such moves because it's likely that price rallies will soon be followed by corrections.

"Don't expect $6 corn in the coming year," Olson says, noting that $5 might be tough to achieve.

While marketing can be as complicated as producers want to make it, the strategy he likes for 2013 corn is to sell a portion throughout the year on rallies in the cash market.

"Farmers will be tempted to bin it," Olson says. Because of that, substantial basis recovery could occur after Jan. 1, giving producers the opportunity to fix basis with contracts and set the price later.
For the next three years, the price for corn futures averages less than $5 per bushel, according to the Chicago Mercantile Exchange's September prices. This places a real premium on marketing and cost control. Soybean prices for the 2013/14 marketing year average less than $13 but fall sharply in the following two years, according to September CME futures prices.  Source: CME Group, Chad Hart, Iowa State University.