The Seminole Pride Beef brand puts the pride back in raising Florida cattle
The Florida beef industry has received a bad reputation over the years as not having cattle that will meet the quality demands of today's grid marketing system. But the Seminole Tribe of Florida is aiming to change those perceptions through a branded beef program called Seminole Pride Beef.

Each year 800,000 head of cattle leave the Sunshine State and head west to feedlots where they often lose their identity. Rather than being seen as Florida cattle, these fed steers and heifers are just viewed as any other commodity type cattle.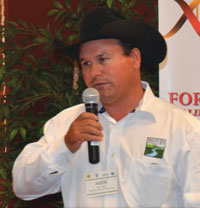 Alex Johns

Alex Johns, natural resource director for the Seminole Tribe, says critics claim the infrastructure is just not in Florida to feed cattle. "We're trying to prove them wrong, and at the same time we're not growing a commodity product," he says.

Built on heritage. Seminole Pride Beef started in June 2013 as a program to help market some of the calves born from the nearly 14,000 cows tribe members own. It took more than nine years to put together the program.

"We launched it, and it went over like hot cakes," Johns says. The tribe couldn't meet the demand with just their own cattle, so it was opened up to local ranchers whose cattle met the company quality specifications.

"We want this to be a Florida program," Johns adds.

This branded beef initiative is nearly a necessity for Florida cattlemen because of the prospect of being squeezed out of the state by environmental concerns, Johns adds. Florida's tourism industry attracts people because of the sandy beaches and condominiums, but many of those travelers and residents think cattle have contaminated the water. 

Seminole Pride Beef helps tell a different story to potential consumers. For instance, the Seminole Tribe has been caring for cattle since 1521 when the Conquistadors brought livestock from Spain. Natives maintained those herds that later developed into the Florida Cracker breed, which shares a similar heritage as the Texas Longhorn. 

Seminoles continued raising cattle despite wars with the U.S. that would have pushed them to reservations in Oklahoma. Later, as the Dust Bowl hit, a herd of Hereford cattle from a droughted-out Oklahoma reservation became the foundation for the modern tribal herds. Today the majority of the Seminole herd is Brangus-influenced.

"It is going to take all Florida cattle producers participating in this to get that story told," Johns says.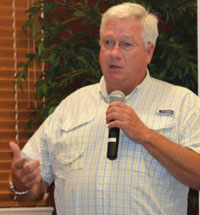 Don Quincey

Infrastructure grows. Besides finding cow-calf producers to participate in Seminole Pride, there also had to be a feeding operation within the state. A partnership was formed with Quincey Cattle Co. in Chiefland, Fla., where there were 3,000 head marketed last year. This year Don Quincey expects to feed 8,000 head for Seminole Pride and is optimistic that he will be feeding 15,000 cattle next year.

A few years ago Quincey wouldn't have dreamed of seeing those kinds of numbers going through his former backgrounding operation. "I'd have said absolutely not," he adds.

In the past five years the landscape has changed drastically. Corn is now being produced in the Florida Panhandle as a rotation crop for peanut growers, which has helped reduce the cost of feed.

"We didn't have a packer that would kill fat cattle in Florida," Quincey adds. Central Beef Industries in Center Hill, Fla., specialized in processing cows for more than 50 years but saw an opportunity in 2012 to move into fed cattle processing.

"Then all of a sudden our three-legged stool started to make a little more sense. We had our packer; we got local corn. The third leg of that stool is energy costs, which don't seem to be going down," Quincey says. 

In order to transport weaned calves from Florida to the High Plains feedlots of Kansas and Texas, it cost anywhere from $60 to $80 per head. But a recent group of Seminole Tribe calves that were fed by Quincey gained 3.6 lb. per day. Steers graded 81% Choice or better, while the heifers were 83% Choice or better. The costs of gains were comparable to a feedyard in Kansas.

"We have a consumer today that likes to know where their food comes from. They like to hear that story," Quincey says. "I believe as we go forward we will see this continue to grow."

Meet the consumer. Cheney Brothers, a Florida-based food distributor, is getting Seminole Pride into more than 100 different restaurants in the state. There has also been interest from customers in Georgia, as well.
Seminole Pride Beef is just one of a number of consumer products the tribe markets including bottled water, citrus juice, fruits and vegetables.

A unique aspect to the Seminole Tribe's business is the ownership of 153 Hard Rock Cafes in 49 countries. If the tribe wanted to just send beef to those restaurants, they could meet their demands. But to help build the Seminole Pride brand, the focus will be on local restaurants and eventually supermarkets.

The Seminole Tribe already has a lot of brand equity in grocery stores because of established products such as citrus juice, bottled water, fruits and vegetables.

In building up the various business entities, including casinos, the tribe has never lost focus on what started their success, Johns adds.

"We're cattle people—ag people," he explains. "We happen to be very successful with the casino business today, but cattle allow us to do that. We try not to forget it and educate our youth on where we come from. You can't eat a slot machine, but you can always eat a cow. A slot machine can spit money out at you, and a cow can too."

If you want to look at the picture of sustainability, he adds, look at what cows have done for the Seminole tribe. "We've been in the cow business for 500 years; something is working right," he says.

The state of the cattle industry overall won't change because of a program like this, he adds, but it can be a niche market that helps bring more income to producers.

"We are trying to utilize local businesses to bring a local product to the market place," Johns says. "We know that we produce a good product. We're just trying to showcase it."