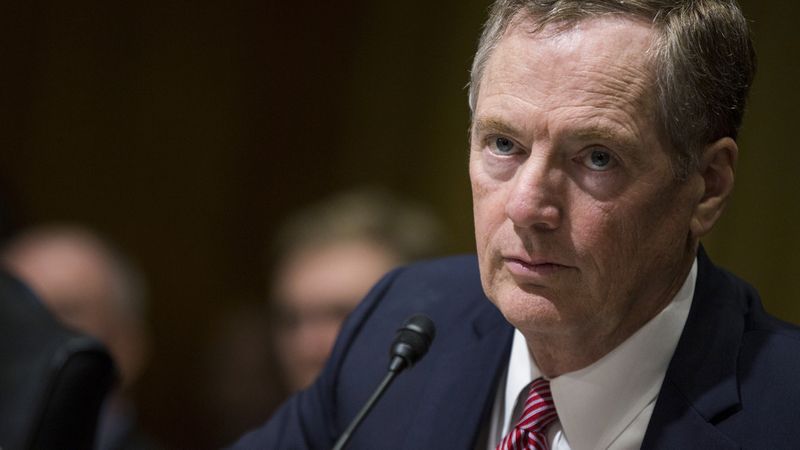 The U.S. Senate confirmed President Donald Trump's pick as top trade negotiator, clearing the way for the administration to reset relations starting with the North American Free Trade Agreement.
In a 82-14 vote, the Senate approved Robert Lighthizer as U.S. Trade Representative on Thursday. Trump tapped Lighthizer for the position in January, but the lawyer's confirmation was delayed by questions from lawmakers over work he did decades ago on behalf of foreign governments, for which he had to get a legal waiver.
One of Lighthizer's first orders of business will be to consult Congress on the administration's plans to renegotiate Nafta, which Trump called a "disaster" during the election campaign. His confirmation clears a hurdle before the U.S. can start 90-days of consultations preceding Nafta talks. Trump has threatened to withdraw from the agreement with Mexico and Canada if he doesn't thinks the discussions are going his way.
Lighthizer, 69, worked for decades as a trade lawyer, representing clients including U.S. Steel Corp. He served as a deputy USTR under Ronald Reagan, earning a reputation as a hard-nosed negotiator, and he also has political experience from his time as a senior aide to former Senate Finance Committee Chairman Bob Dole.
During his confirmation hearing, Lighthizer told lawmakers that China presents one of America's leading trade problems, adding that the World Trade Organization isn't capable of handling cases relating to China's industrial policy.
Trump has made tackling trade deficits and bringing back U.S. jobs from overseas a key focus of his economic agenda. As one of his first acts in the presidency, Trump pulled out of the Trans-Pacific Partnership deal, which Congress hadn't yet approved, and he's since vowed to terminate or fix a five-year-old trade agreement with South Korea.
His administration has also promised to more strictly enforce existing trade rules, and Lighthizer during his confirmation hearing vowed to bring "as many actions as are justified" to the WTO and bilateral dispute panels.
To contact the reporter on this story: Andrew Mayeda in Washington at [email protected]
To contact the editors responsible for this story: Brendan Murray at [email protected], Sarah McGregor, Randall Woods
©2017 Bloomberg L.P.