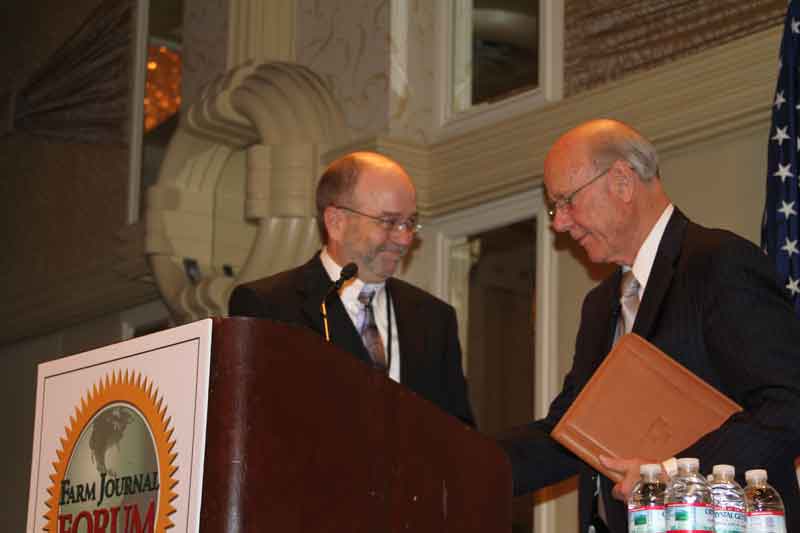 Standing in front of a 96-year-old barn on a south-central Kansas farm, independent challenger Greg Orman asserted Wednesday that Republican U.S. Sen. Pat Roberts no longer represents the interests of small-town and farm voters who have long formed the bedrock of his political career.
For Orman, a suburban Kansas City businessman, the move represented both a final-week offensive into Roberts' turf and an acknowledgment that he perhaps needs to do more to appeal to rural voters in a state whose economy and traditions are deeply rooted in agriculture.
Typically a Republican stronghold, Kansas is suddenly up for grabs as Republicans seek the six-seat gain necessary to take control of the U.S. Senate away from Democrats. Orman, who has said he will caucus with whichever party wins a majority, has emerged as a formidable alternative to Roberts after the incumbent barely survived a GOP primary and the Democratic nominee dropped out.
To win, Orman likely will need a strong showing in Kansas' most populous counties but may also need to peel off at least some of the rural votes that would typically go to Roberts.
But fewer than a dozen supporters showed up at a farm near Newton where Orman traveled Wednesday to highlight his commitment to federal crop insurance programs and rural economic development. A slightly larger crowd showed up when he repeated the event at a farm outside Lawrence.
Had he been in office earlier this year, Orman said, he would have voted for the federal farm bill that reauthorized crop insurance programs used by many Kansas farmers. The bill, estimated to cost $1 trillion over 10 years, also reauthorized the federal food stamp program.
Roberts voted against the farm bill.
"I don't think he's representing rural Kansas at all," said Orman, citing Roberts' opposition as an example of the Washington gridlock he wants to end. "What used to happen in a bipartisan way, in a proactive way, took way too long to get passed and led to uncertainty for Kansas farmers."
Roberts said later Wednesday that he opposed the legislation partly because it contains higher price guarantees for some crops. The bill contains larger subsidies for rice and peanuts, which aren't typically grown Kansas, while also boosting crop insurance programs that are more popular in the Midwest.
"It's overall policy is headed in the wrong direction," Roberts said. "We are taking steps back to have farmers plant for the government instead of for the market."
Roberts, who touts the endorsements of numerous agricultural organizations, said he expects to become chairman of the Senate Agriculture Committee if Republicans win control of the Senate.
Among those attending Orman's event in Newton were Gordon Schmidt and his wife, Christine Downey-Schmidt, who served about a dozen years as a Democratic state senator until 2004. The couple said they had hosted an event for Roberts at their farm 22 years ago, when Roberts was running for re-election to the U.S. House.
"At that time, he was seen as a supporter of rural communities and a good voice for agriculture, and he was pleasant to be around," said Downey-Schmidt. Now, "we don't recognize him as the same person. He is so negative. ... He voted against the farm bill."
Roberts lists his official address in Dodge City in western Kansas, where he rents a room in the home of a longtime supporter. Orman lives in the Kansas City suburb of Olathe.
If Orman "can hold his own in rural parts of the state, he can possibly win," said political science professor Ken Ciboski, of Wichita State University, who has supported Republican candidates. But "my view is Roberts is going to do very well out there."