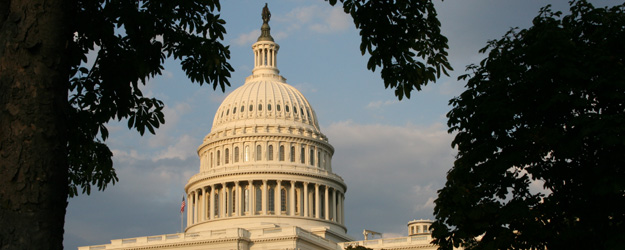 On Monday evening, the Senate passed the Agriculture Reform, Food and Jobs Act of 2013, better known as the 2013 Farm Bill, with a vote of 66 to 27. The bill will now move to the House of Representatives.
According to Senator Debbie Stabenow, (D-Mich.), the bill reforms food and agricultural policy by eliminating direct payments and transitioning to responsible risk management tools for farmers, saving billions of dollars.
"The Senate today voted to support 16 million American jobs, to save taxpayers billions and to implement the most significant reforms to agriculture programs in decades," Stabenow said in a news release.
"By eliminating duplication and streamlining programs, we were able to save $24 billion while strengthening initiatives that help farmers and small businesses reach new markets. This bill proves that by working across party lines, we can save taxpayer money and create smart policies that lay the foundation for a stronger economy," she said.
To view a copy of the Agriculture Reform, Food and Jobs Act of 2013, visit the Senate Agriculture Committee website.
Farm groups are applauding the Senate's swift passage of the bill. Here are some of their remarks:

American Soybean Association president, Danny Murphy: "The Senate has again shown admirable dedication to passing a new farm bill that will provide certainty for soybean farmers and our fellow members of the agriculture community. The bill passed this evening represents many of ASA's priorities and is a critical step toward strengthening the farm safety net, protecting planting flexibility, improving conservation, bolstering exports and feeding our nation's hungry. We now turn our attention to the House, and call on Representatives to move the bill quickly through the chamber this month and on to conference with the Senate before the August recess. The version of the farm bill passed earlier by the House Agriculture Committee cuts Direct Payments as part of $40 billion in total savings, and streamlines more than 100 federal programs."
National Corn Growers Association president Pam Johnson: "America's farmers greatly appreciate the leadership and bipartisan efforts by the Senate to complete their work on the farm bill. We also recognize the efforts put forth to address regional concerns to ensure all areas of the country are adequately represented in the final language. This legislation is long overdue and our work is still not done. Our focus now turns to the House of Representatives with hopes that they schedule floor time to consider the legislation as soon as possible. We look forward to continuing to partner with agriculture advocates to pass a new common-sense, reform-minded farm bill."
National Association of Wheat Growers president Bing Von Bergen: "NAWG and the wheat growers we represent in every region of the country applaud the Senate for passing its version of the farm bill Monday on a 66 to 27 vote. The Agriculture Reform, Food and Jobs Act of 2013 is vital policy that will help provide certainty to our farmers and support more than 16 million U.S. jobs. Importantly, the bill passed today cuts $24 billion over existing spending. We are now looking toward the House as leaders there begin debate on their version of the farm bill in the coming weeks. We are hopeful progress will continue and a new farm and food law can be signed by Sept. 30."
American Farm Bureau Federation president Bob Stallman: "We appreciate the Senate's decision to protect and strengthen the federal crop insurance program and not reduce its funding, as well as the approval of a commodity program that provides farmers varied safety net options," Stallman said. "This approach to farm policy will encourage farmers to follow market signals rather than basing planting decisions on anticipation of government farm benefits. Most importantly, the program will be viable because the Senate stood firm on a budget savings level of $24 billion. Timely completion of the farm bill will help provide farmers and ranchers certainty for the coming year and allow the Agriculture Department to plan for an orderly implementation of the bill's provisions."
National Cattlemen's Beef Association president Scott George: "NCBA is very pleased with today's passage of the 2013 Farm Bill by the Senate. We commend both Chairwoman Debbie Stabenow (D-Mich.) and Senate Agriculture Committee Ranking Member Thad Cochran (R-Miss.) for their leadership on this very important piece of legislation. Cattlemen and women have been asking Congress to pass a farm bill which not only provides certainty for agricultural producers nationwide, but also incorporates priorities important to the cattle industry - there is not a livestock title, conservation programs are maintained and the research title is sustained. We are also pleased that disaster assistance programs are included in this legislation which is a positive step toward providing a strong safety net for our producers. Passage of a 2013 Farm Bill is not only important to farmers and ranchers, but also to Americans nationwide who enjoy an abundant, safe and affordable food supply."
National Milk Producers Federation President and CEO Jerry Kozak: "We are very pleased at the progress made during this vital step in the Farm Bill process, but we also know that much work lies ahead." The Senate dairy language contains both milk price/feed cost margin insurance and a market stabilizaiton program that curtails production when that margin falls to certain levels. "We encourage the House of Representatives to also support its Agriculture Committee-passed bill, and reject any dairy processor-backed amendment to undermine the bill's effectiveness by removing the market stabilization program. Prompt action in the House is necessary so that farmers won't spend the last half of this year like they spent 2012:  expecting a harvest that never materializes."
For More Information
Read the latest news and policy decisions concerning this year's farm bill.
 
---