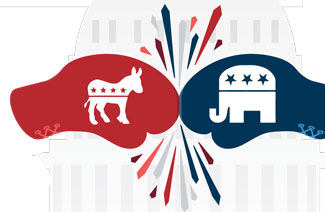 Republicans have an edge ahead of mid-term elections
In mid-term elections this fall, races in several states will play a big role in determining whether the Republican Party gains control of the Senate. That's according to Stuart Rothenberg, editor, The Rothenberg Political Report.

"All the focus is on the Senate and a chance for the Republicans to take over the Senate in the final two years of Barack Obama's presidency, which would be significant considering they're going to hold the House," Rothenberg told AgriTalk radio host Mike Adams in an interview earlier this year.

Surveys put President Barack Obama's approval rating between 41% and 44%, Rothenberg notes. Add to those figures the fact that more than 60% of Americans say the country is headed off on the wrong track, and the resulting political environment suggests the mid-terms are set to act as a referendum on the president.

"The Republicans appear to have three (Senate) seats pretty much right off the top," Rothenberg says. "A West Virginia Democratic seat that's open with the retirement of Jay Rockefeller; a South Dakota Senate seat, Democratic seat, open with the retirement of Tim Johnson; and a really good opportunity in Montana, where longtime Democratic Sen. Max Baucus accepted an ambassadorship. The governor appointed a Democrat to replace him, but it's going to be hard for the Democrats to hold. The Republicans need three more seats after that if they win those three."

Beyond those states, observers also are paying attention to races happening in places such as Iowa, Colorado and Michigan, Rothenberg notes.

Other states might help tip the scales, too. In Arkansas, Democratic Sen. Mark Pryor is in a "difficult race" with Republican Congressman Tom Cotton, Rothenberg says. 

Meanwhile, Democratic Sen. Mary Landrieu's state of Louisiana will hold an open primary in November. If nobody gets a majority of the vote, a runoff will take place in December, Rothenberg explains.

Watch Alaska and North Carolina, where Democratic Sen. Kay Hagan will face Republican Thom Tillis.

Long-term, the tea party remains a factor within the Republican Party, he adds. The June primary upset of House Majority Leader Eric Cantor (R-Va.) by tea party-backed candidate Dave Brat supports the notion.

"This is a group of people that feels strongly that their own party has compromised too often. They're not going to take a primary defeat against Mitch McConnell as evidence that they are wrong."