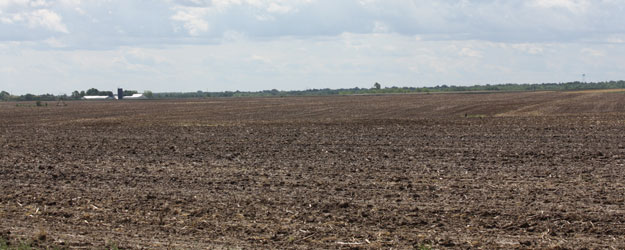 Start with grass waterways and buffer strips
Financial health is typically measured in dollars and cents, but that's not the only standard Bryan Boll uses to evaluate his farm's well-being. Accruing nutrient-rich soil is just as vital to the future of his operation as hard currency. 

In 15 years, the 39-year-old farmer has grown his diversified farm based in the fertile Red River Valley of northwest Minnesota, near Crookston, from 800 acres to 5,000 acres. Crops grown on the farm include corn, soybeans, wheat, alfalfa and edible beans. Almost all of the acreage was enrolled at some point in the Conservation Reserve Program (CRP), which USDA says helps reduce soil erosion nationwide by more than 300 million tons per year.

Bryan Boll uses conservation tillage practices on nearly 75% of his 5,000 crop acres that comprise his Minnesota farm. He estimates savings of $23 per acre using strip-till rather than conventional tillage methods.

Boll is sensitive to the fact that he farms ground pulled from CRP and has implemented minimum tillage, strip-till and no-till on about 75% of his acres. Eventually, he hopes to have close to 100% of the farm in some form of conservation tillage.

"I want to keep that land together, whole, not eroding," he says.

That's not to say Boll won't use conventional tillage if needed. On some acres he believes it's the best option. Still, he estimates he has reduced the total number of trips on most of his acres from four or five per year—to chisel plow, cultivate and apply nutrients—to one trip per year, excluding planting and harvesting.  

David Genereux, a Centrol Crop Consulting agronomist who works with Boll, says the cost savings from eliminating field passes adds up quickly. He estimates, conservatively, that Boll saves $5 per acre for each trip he doesn't make. Eliminating one to two trips across his acreage per year means Boll saves between $25,000 and $50,000 in out-of-pocket costs.

"When you limit those trips that's a big deal; you're talking about reducing soil compaction, nutrient use, fuel consumption and using fewer natural resources," Boll says.

Farm Journal Field Agronomist Ken Ferrie says keeping a nimble mind-set about tillage practices is smart. 

"Farmers should be ready to adapt their tillage by what each field (or even zone) demands. That could mean some fields are no-tilled and some are managed with tillage," Ferrie notes. 

He adds that the unifying concept across fields shouldn't be the type of tillage but rather the concept of managing the soil profile to achieve uniform density.

Boll says overall his reduced tillage practices have provided yield results equal to, or even better than, what he achieves with conventional tillage. But he has made the conversion to some conservation practices cautiously. He initially rented a strip-till unit from another farmer to evaluate that method of tillage on 40 acres until he was sure he could make the system work.

"I couldn't go out and buy $250,000 worth of equipment and then find out it was a mistake," he says. "As a young farmer, that would've put me under."

Bank on it. Improving soil structure and reducing soil erosion are the two recurring themes in Boll's conservation efforts. He views soil as his bank account and constantly looks for ways to protect it from blowing away or washing into the river and streams that crisscross his fields. 

"People often ask me what they can do to conserve resources. I tell them to start with small projects that pay big benefits, such as grass waterways and buffer strips," he explains.  

Grass waterways and buffer strips placed in high-risk areas help keep fragile topsoil in place. They also enhance the filtration of nutrients and pesticides by slowing down runoff that might otherwise enter local surface water sources. 

Boll has built 10 grass waterways along with a number of grass buffer strips. He notes that stream banks are often vulnerable areas. Root systems of planted vegetation can help stabilize the ground along them. 

"Sometimes, I'll put a small grass waterway in where the field dumps into the stream to prevent erosion and provide a filter for any sediment that's collected," he says. 

Cost-wise, Boll says he has no more than $100 tied up in each of the grass waterways he has built, thanks to the federal Environmental Quality Incentive Program. To help keep out-of-pocket costs down, he designs and builds the waterways using a hand seeder to plant grass on smaller ones and a drill to plant those that span multiple acres.

Beyond protecting soil, the grass waterways and buffer strips offer a secondary benefit valued by Boll, an avid hunter. They provide homes for native birds and wildlife.   

Drain tile installation is another conservation measure Boll employs but will likely stall this year due to commodity prices. Plus, Boll says because drain tile lowers the water table in fields, it often gets an undeserved  negative rap from farmers.

"If you get a 5" rain you've got carrying capacity in that field now, and that field can absorb water," he counters. "When done right, tile can prevent flooding, erosion and reduce nutrient loading in our water systems."

Despite his best efforts, Boll says there are some parts of the land he farms that are simply not conducive to crop production. Even so, he has made use of them with help from the federally implemented Grassland Reserve Program, a program that encourages the re-establishment of native prairie grasses. Such habitat once blanketed one-third of Minnesota but now covers less than 2% of the state. While the grasslands provide habitat for plant and animal species, the program permits the land to be grazed by cattle.  That enabled Boll's family, which includes wife, Melissa, and their six children, to build a cow–calf herd. 

The Bolls raise 200 calves annually and, at the same time, devote some 300-plus acres of marginal ground to native grasses. In the process, the family has set up a rotational grazing plan.

"It's been a big deal for us both from a sustainability standpoint and for profitability," he says. "Through the program we fenced off part of the creeks and streams that run through the property to help keep a handle on erosion."

In the future, Boll says he plans to keep employing conservation measures across his farm to build its long-term sustainability. He views the process as a journey and an important investment in the family's future. 

"My father bought this farm when I was born," he says.  "I hope to give my kids the same opportunity I've had.  This is one way I can make sure it's here for them."
---
How Conservation Measures Pay
The financial aspects of conservation tillage usually determine whether farmers implement the
practice or not. So far, Bryan Boll is seeing a good return on investment, though he emphasizes most of his results are based on only a few years of experience and portions of his farm.

"Most of my work with strip-till and no-till has been on whole fields only," says the northern Minnesota farmer. 

For the past three years, Boll has been evaluating conventional tillage versus conservation tillage. His highest yielding soybeans have been on no-till fields, and in two of the past three years, his highest yielding corn has been on strip-till land.  

"The yield results coupled with my $5 to $8 per acre cost savings per trip eliminated across the field lead me to believe that my conservation efforts are paying off," he says. "I also have been able to reduce fertilizer inputs by up to 25% by strip-tilling and placing the nutrients in the root zone."

Boll is cautious about sharing this last point because he is not yet convinced it's a long-term, sustainable practice. More time and experience are needed to make a final determination.
"I want to do this for at least five to 10 more years and continue to analyze soil samples to make sure that I'm not just mining the soil by cutting fertilizer," he explains. "However, it does appear there is no adverse effect by cutting fertilizer rates in the short term if you place the nutrients in the immediate root zone instead of broadcasting them. I also believe by deep banding the fertilizer, I'm getting better uptake of the nutrients later in the summer when the top of the soil is dry."
---
Register Now for International Conference
June 22 to 25, 2014
Winnipeg, Manitoba
The interactive format of the World Congress on Conservation Agriculture is designed to highlight sustainable on-farm innovations and create research opportunities. Platinum sponsors for the event: Dow AgroSciences, Howard G. Buffett Foundation, Monsanto Company, The Mosaic Company and Seed Hawk. Gold sponsors: Agrium and FAO. Silver sponsors: Bayer CropScience, CropLife Canada, Farm Credit Canada and Syngenta. Bronze sponsors: SaskCanola, Canadian Fertilizer Institute, The Nature Conservancy, Ducks Unlimited and the Coalition on Agricultural Greenhouse Gases. The Ontario Soil & Crop Improvement Association also contributed.  Farm Journal Media is the exclusive U.S. media partner.
For additional details and to register, visit 
www.wcca6.org.
---