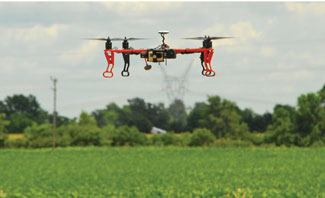 Crop sensors paired with UAVs help farmers boost efficiency and allocate resources
Agriculture sensor use is set for big increases across farm country. As technology advances, data interests mount and guidelines for unmanned aerial vehicles (UAVs) approach finalization, crop sensors will become more sophisticated and decrease in price.

UAV rules will have a major impact on crop sensor use in agriculture, says USDA–Agricultural Research Service (ARS) agricultural engineer Earl Vories, Missouri Agricultural Experiment Station Fisher Delta Research Center, Portageville, Mo. "Less-expen-sive UAVs will only come with a camera. That can be very valuable for a bird's-eye view of a field, but that won't be enough for variable-rate application information," he says. "The more expensive systems are going to have Normalized Difference Vegetation Index [NDVI] capabilities or similar measurements."

NDVI is used to quantify the vegetative condition of a crop, which aids in variable-rate applications. Fertilizer, defoliant and growth regulator recommendations can be determined by NDVI levels. 

"In our research, we recognize farmers have lots of ground to cover, possibly spread out in broken sections," Vories says. "If a farmer or his consultant has a UAV, they can cover more ground in preparation for variable-rate application."
UAVs already offer a range of data, but precise capabilities ultimately depend on what a farmer wants and is willing to pay. Some producers will only want to visually check fields from above and others will want on-the-go, data they can respond to immediately, Vories says.

Whether NDVI or another evolving technology, Vories believes sensor use is set to expand. "We've got a sensor now that picks up Normalized Difference Red Edge," he says. "It's the same type of calculation as NDVI but uses a different light band. Other sensors can make additional measurements that don't yet fit UAV applications, such as plant height."
The ability to use a UAV to quickly map a field is going to open up a world of possibilities for farmers. Presently, to get canopy sensor readings, a farmer commits to driving equipment across the field, which uses a lot of time and fuel, or hires an airplane. UAVs will provide a big opportunity to obtain screening data and let producers pre-select where they will spend their resources, increasing efficiency for in-season, 
sensor-based management.

Ken Sudduth, USDA-ARS agricultural engineer, Columbia, Mo., says the idea of sensor fusion is gaining ground in soil sensing. Sensor fusion combines readings from different types of sensors to reveal more detail about soil variations within the same field. The data would give farmers a clearer picture of the productive capability and water-holding capacity of fields, which would allow for better management decisions. 
"I think we're headed toward one device that is composed of multiple sensors. The device would automatically combine the data to provide improved soil information a consultant or farmer can use for management decisions," Sudduth says.

The future direction of crop sensors might involve causal stress detection within fields. "Right now, available crop sensors pick up the symptoms of stress but nothing else. If a sensor could reveal whether variation is 
nitrogen stress, nematode stress or water stress, it would make management so much easier," Sudduth explains.