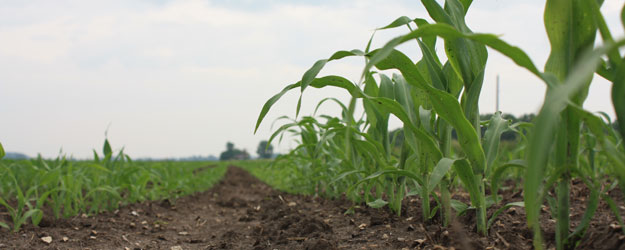 Devices will drive farm savings for everything from inputs to energy
Imagine planting a tiny sensor next to every corn and soybean seed that goes into your fields in the spring. These devices could beam any number of data points to a central location—the amount of light each plant receives, the level of moisture in the soil or even the identity of pests inhibiting growth.



"The key now is, what good is that going to do you and how are you going to get information from them?" says Albert Titus, chair of biomedical engineering at the University at Buffalo in New York. "Are you going to transfer signals back to some collection station? Are you going to look at them from a satellite because they glow?"

An innovation like this isn't likely to happen for years, Titus says. Yet scientists are already gearing up for a world driven by sensor saturation. 
Big Data Expands. "These devices are driving efficiency by allowing businesses to become proactive with real-time data and drive growth," says Jason Hope, an Arizona-based futurist. "Companies like Tesla, for example, have been able to take a multi-billion dollar [automotive] industry and turn it upside down. The success of Tesla would have never been possible without the technology of the sensors that constantly monitor their vehicles."

Sensors can be as small as a pencil tip and as large as a football, Titus says. They are physical or digital and are programmed to sense stimuli such as light, which triggers an activator that sends data to a central computer. For farmers, the immediate benefits of sensors include gathering and broadcasting field data, says Lowell Catlett, regents professor and dean emeritus of the College of Agricultural, Consumer and Environmental Sciences at New Mexico State University. 

Yet the next wave of data will reach beyond soil moisture levels. 
Applications From Mars. First is laser-induced breakdown spectroscopy (LIBS). Scientists are using the system to search for life on Mars via the Curiosity rover and to test applications for soil and plants. It shoots out a laser that can vaporize surrounding materials and record the elements that comprise them.  

"The next step for agriculture and biology is to develop the chemical profiles for diseases and compounds that would have value in helping to better manage a crop or population of microbes," Catlett explains. 

The second family of technology Catlett advises watching is that of nano devices and microbes, collectively known as biologicals. These small preprogrammed machines can be loaded with a specific chemical or medication and injected in livestock and humans to treat disease. 
---
Save Money With Sensors
Not only do sensors make life simpler, they also save businesses real cash. Lowell Catlett, a futurist, shares these examples of cost-saving sensor uses already in place in corporate America. 

They Reduce Energy Consumption. "Computers change the thermostat settings to adjust for when an office or building is not being used. Sensors know when people are in the room and adjust lighting."

They Manage Business Risk. "Fire alarm sensors that work on thermal conditions, as well as chemical sensors to detect dangerous levels of gases, are all being tied into computer systems."

They Improve Quality Control. "Electric eye and laser sensors have long been used in manufacturing to detect and remove defective parts or parts that might cause harm in food assembly lines."