Fish and shrimp make a splash on the farm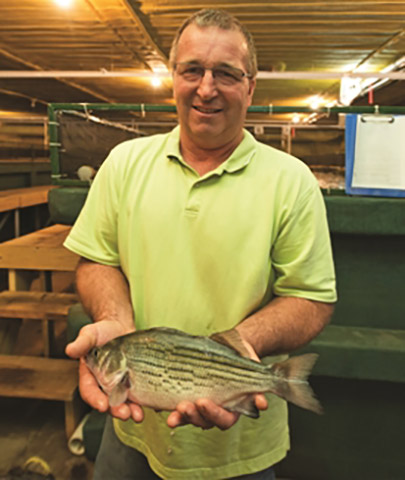 Making good use of their empty hog barns, Mark (above) and cousin Jeff Nelson raise striped bass for high-end restaurants in the Midwest.
---
Mark and Jeff Nelson have reeled in and landed an unlikely new opportunity on their grain and hog operation in Webster City, Iowa: fish farming.

The two cousins first started kicking around the idea of getting into aquaculture when profits in the pork industry turned soft and several of their sow farrowing barns sat empty.

That was three years ago. Today, their aquaculture enterprise, Iowa's First, is netting interest from other farmers and strong demand from customers.

"We think there's a really good future in aquaculture, given the growing demand globally for food," Jeff says.

The Nelsons produce hybrid striped bass for high-end restaurants in the Midwest, using opposing flows technology, a system that creates a continual current and oxygen in their eighteen 10,000-gal. tanks. The cousins are in the process of transitioning their production to a different fish species, barramundi, also called Asian sea bass, which is native to Australia.

Both of the fish species are anadromous, meaning they can move back and forth between salt water and fresh water. The Nelsons use fresh water for production.

"Long-term, we believe the barramundi will be a better fit for our system," Jeff says. "They're growing very well, a bit faster than the striped bass, but it's hard to tell how well they'll do until we go through a complete marketing cycle."
Going mainstream. Allen Pattillo, Iowa State University fisheries and aquaculture
Extension specialist, says that U.S. aquaculture is gaining momentum but still has a long way to go before it becomes mainstream. While the U.S. ranks second worldwide for total pounds of seafood consumed annually, the country ranks only 15th in production.

"Seafood products are our second-largest trade deficit behind oil coming into the U.S.," he adds.

The National Oceanic and Atmos­pheric Administration (NOAA) says the annual U.S. seafood trade deficit  more than $11.2 billion. The U.S. imports 91% of its seafood—50% of which is farm raised abroad—primarily from China, as well as other southeast Asia countries such as Indonesia, Thailand and Vietnam. Even so, much of the imported seafood is turned away by the Food and Drug Administration (FDA), Pattillo notes.

"About half of the seafood FDA inspects it rejects because of contamination problems," he says. Furthermore, consumers can no longer expect the world's oceans to meet the demand for seafood. "Our oceans are maxed out at 90 million metric tons, which is about what we're harvesting each year, and that's leveled off in the past couple of decades," Pattillo says.

Despite growing demand, the U.S. aquaculture industry has only sputtered along. NOAA cites several reasons: a lack of technology to support industry development, production
inefficiencies resulting in expenses that exceed income potential, concerns by the U.S. government and citizens about ecosystem disturbance and pollution and, along with that, an unfriendly federal regulatory structure that often extends to individual states.

The Nelsons experienced that last issue firsthand. In the process of establishing their new enterprise, they learned that the water used to grow fish would be treated as industrial waste, based on state laws at the time regarding effluent water. The Nelsons lobbied the state government to change the law and recognize their business as an agricultural venture. Thanks to their determined efforts, a fish farm can now qualify as a livestock operation in Iowa.

That change to the state law is a benefit for other Iowa aquaculture ventures, as well. For example, Chad and Keely Dutler are a young farm fam­ily who produce corn, cattle and crustaceans, specifically Pacific white shrimp, just an hour and a half west of the Nelsons near Holstein.

The Dutlers' business, Shrimp 59 LLC, named for the road their farm sits on, focuses on selling live shrimp to local seafood-hungry customers.
The two fish species that Mark and Jeff Nelson raise are anadromous, meaning they can survive and move back and forth between salt water and fresh water.
---
Americans gobble up 4.2 lb. of shrimp per person each year, making it the No. 1 seafood sold in the U.S., according to a 2011 survey by the National Fisheries Institute. In second place is canned tuna, with Americans consuming 2.6 lb. per person annually. The hunger for more shrimp and a better-quality product is fueling the development of new shrimp farms in states such as Illinois, Indiana, Iowa, Minnesota, New Mexico and New York.

New technology, specifically the development of indoor climate-controlled, recirculating salt water systems, make the shrimping opportunity feasible in northern locales, according to Kwamena Quagrainie, a Purdue University Extension economist. He says of the 50 aquaculture farms in the state today, which only had 18 in 2006, about 10 are devoted to producing Pacific white shrimp. The Indiana aquaculture industry had total annual sales exceeding $15 million in 2012, compared with $3.5 million seven years ago.

RDM Aquaculture LLC, owned and operated by Darryl and Karlanea Brown, near Fowler, Ind., is one of the leading shrimp enterprises in the state. The Browns, who also raise corn and soybeans, have produced and sold live Pacific white shrimp since 2010.

In January, the Browns are offering a series of six classes for would-be shrimp farmers. Topics include finance, marketing and building development. They advise people inter­ested in shrimp farming to start small and have patience.

"You have to have a lot of heart and attention to detail for shrimp; the water's really critical to everything," Karlanea explains. "You have to keep them on a happy level; that's why we call them divas."

The Browns sell their shrimp fresh-out-the-door for $15 per pound. Despite living in a rural county with fewer than 8,000 residents, the Browns say they sell more than 300 lb. of shrimp each month.

Ripple effect. Fish and shrimp production represents an increasing market opportunity for U.S. soybean farmers, says Grant Kimberley, Iowa Soybean Association (ISA) director of market development. He says ISA and other soybean organizations are working to boost U.S. and foreign demand for soybeans, which are used extensively in fish rations. He estimates 500 million bushels of U.S. soybeans are used by the global aquaculture industry annually.

The opportunity to produce seafood is also finding favor off the farm. Interest from
urban investors is creating new life for some old manufacturing facilities. In the Twin Cities, two aquaponic operations—a system that combines growing fish and vegetables—are under development, including one in the old 55,000-sq.-ft. Hamm's Brewery brewhouse in St. Paul. Instead of beer, the focus is now on producing tilapia.

Investors in other cities, such as Chicago, are also looking to create sustainable businesses with fish. But not everyone is focused on seafood. There are opportunities as well in freshwater fish species, such as bluegill, trout and yellow perch.

Initial investments in starting a seafood enterprise vary widely, depending on what fish or crustacean you select, Pattillo says. Initial costs for getting into shrimp production can be less than $100,000, while some fish start-ups can be more than $2 million.

"Consumers are more aware of where their food comes from and are more concerned about buying fresh and local; that's improved demand," Pattillo says. Each of those factors is encouraging to Pattillo and gives him reason to believe the fish business is an enterprise whose time is about to arrive.

"How do I kill pond weeds was the question I used to get the most," he says. "Now, I get questions all the time about getting into aquaculture, and I'm feeling pretty good about it—cautious but optimistic. " 

You can e-mail Rhonda Brooks at [email protected]