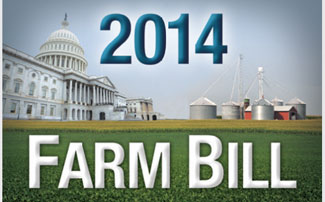 As deadlines near, decide if you prefer payments today or protection tomorrow
(Editor's Note: The deadline for payment yields and base acres is extended to March 31, consistent with the ARC vs. PLC election decision deadline.)
When faced with a daunting task, it's always easier to tackle it step by step. The long-stalled farm bill spent three years in negotiations before being signed into law as the Agricultural Act of 2014 a year ago. Now, just a few weeks remain for producers to decide how to handle yields and base acres and which program(s) to lock in for the 2014 through 2018 crop years.    

While economics say to hold out as long as possible for a better idea of yield and price expectations, don't wait until the last week of March. "FSA offices will likely be backed up," says Brad Lubben, policy specialist and Extension assistant professor at the University of Nebraska–Lincoln. 

If you're leaning a particular way, Lubben encourages farmers to fill out and submit their enrollment. "Then, be ready with a revised ARC/PLC election form to change your enrollment should new numbers alter your outlook," he says.
Listen to tips for making your decision from Lubben and policy expert Carl Zulauf:\

To guide you through the decisions required for each FSA farm, the University of Illinois farmdoc Farm Bill Toolbox offers an interactive seven-step resource:   
1. Collect information. In August 2014, FSA sent a letter to all farm operators and landlords detailing current base acreage, program yields and acres planted to program crops from 2008 through 2013. This information is necessary to update yields, reallocate base acreage and decide in which commodity program to enroll.
2. Keep or update yields. For each program crop on each FSA farm, decide if you're going to keep current countercyclical yields or update to 90% of the simple 2008 through 2012 average yield (simple average means if there were no planted acres in a particular year it is not included in the calculations). This decision will impact payments from the Price Loss Coverage (PLC) program. It will not impact payments from Agricultural Risk Coverage (ARC). You want to update yields regardless since these payment yields might be tied to your farm for much longer than just this farm bill, Lubben says. 

"This decision is pretty straightforward, but your updated yield may be lower than your current countercyclical yield," says policy expert Carl Zulauf, professor at Ohio State University, who works with the University of Illinois to develop tools. "Use one of the program calculators to see how updating yields affects your scenario."

While FSA allows producers to self-report yields, it will do random checks to verify. "You don't have to have a shoebox with every scale ticket, etc., now, but you must be able to provide documentation to verify yields if 
selected for an audit," Lubben says. "If you can't prove your yields or have low yields for some years, you can use a substitute yield equal to 75% of the 2008 through 2012 county average yield for that year."  
3. Retain or reallocate base acres. The default option is your current base acres by crop. Or, you can 
allocate your current total base acres by the share of covered crops planted from 2009 through 2012. 

"This is a FSA farm-level decision, not crop by crop," Zulauf says. "It's an important decision because both ARC and PLC make their payments on program acres, not planted acres."   

It might be beneficial for some farmers to keep their existing base because expected payments on those crops are bigger than expected payments for the crops in the updated base. For others, the updated base might provide more expected payments or better risk management protection given the base more closely matches the current crop mix, even if it does come with lower expected payments, Lubben says.

The yield and base acre decisions have to be made by Feb. 27, but it's critical to think ahead to how yield and base acres might alter ARC versus PLC.
4. Compare PLC versus ARC-CO. Program payments will be received from one of three options: PLC, 
ARC-county option (ARC-CO) or ARC-individual coverage (ARC-IC). PLC payments are triggered if the program crop's season average price during the marketing year falls below that crop's fixed reference price. The season average price is calculated at the national level and is the same for all farm operations.  ARC-CO is a county revenue program. Therefore, payments will only be based on county revenues (calculated using county yields and national prices). Farm-level yields do not enter into the payment calculation.  

"ARC-CO's strength is in multiple-year shallow losses. PLC's strength, in contrast, is multiple year disaster price situations," Zulauf explains. "For example, if corn's crop year price is below $3 for multiple years, ARC will make payments, but it won't make nearly the payments that PLC will."

Recent higher prices and the current lower price outlook mean the revenue safety net of ARC has more expected money on the table early compared with the price safety net of PLC, Lubben adds. Continued lower prices could mean PLC pays bigger later as ARC protection diminishes.

Since PLC and ARC-CO are made by crop and farm, they can be mixed. "You can pick PLC for corn on an FSA farm and ARC-CO for soybeans on that farm," Zulauf says. "Or, you can pick PLC for corn on one FSA farm and ARC-CO for corn on another farm"   
5. Consider ARC-IC. Rather than enroll each program crop on a farm in PLC or ARC-CO, farmers can enroll the entire FSA farm in ARC-IC. A guarantee will be calculated for the whole farm based on a farm's yield history of all program crops on the farm. 

To enroll in ARC-IC, the farm will have to provide the following:
Historic yields for each program crop on the farm for the five previous crop years. Initially, for 2014, this will include yields for 2009 through 2013.
In the future, farm-level yields will have to be provided for each crop for payment calculations.  
Generally, ARC-IC will have lower payments than ARC-CO because ARC-IC pays on 65% of base acres while ARC-CO and PLC pays on 85%. Payments will also be based on multiple crops and will aggregate if an operator enrolls more than one of his or her FSA farms in ARC-IC. 

"While farmers should investigate ARC-IC, its popularity starts to wither with multiple crops, farms and prac-tices," Lubben says. "It's more advantageous for a single crop farm."  
6. Consider SCO. Farmers who sign up for PLC can opt for the Supple-mental Coverage Option (SCO), a new crop insurance product that offers loss coverage for a portion of the farmer's insurance deductible on an area-wide basis. For example, if a producer purchases a yield protection policy, SCO provides additional county-level yield protection. If the producer purchases a revenue protection policy, SCO provides additional county-level revenue protection. The SCO option is available starting for the 2015 crop year. Farmers elect to participate each year.

SCO might provide producers the ability to cover part of the deductible portion not covered with their current insurance plan at a lower cost than buying higher levels of individual coverage. But, the county-based SCO protection is not equivalent to the farm-level individual coverage, so the more the farm yield variability differs from the county, the less benefit SCO provides, Lubben explains.
7. Sign up. The deadline for payment yields and base acres is Feb. 27. The deadline for ARC and PLC election is March 31, 2015. If you fail to elect a program, or if producers on a FSA farm disagree on an election, the farm receives no payments for 2014 and defaults to PLC for 2015 through 2018.

Once you sign up for a program, you must subsequently enroll in the program for that year, Zulauf points out. Annual enrollment is expected to begin in mid-April and continue through early summer each year. 

Choosing a farm program(s) is just one factor in a risk management portfolio. "The ARC versus PLC decision might come down to a trade-off of payments today versus protection tomorrow," Lubben says. "Adding that 
decision with crop insurance, SCO and marketing strategies will really help protect your bottom line." 
---
Don't Forget Farm Bill Details and Resources
USDA–National Agricultural Statistics Service should release yield numbers by county by the end of February.
The one-time commodity program decision stays with the specific property for five crop years (2014 through 2018) regardless of who farms it. 
---
Farm Bill FAQ
Lubben and Zulauf recently answered farmer questions about the farm bill programs on AgriTalk. Listen in below.
For a one-stop resource for all farm bill and crop insurance news and tools, including interactive simulation models that allow you to plug in your production and yield numbers and expectations for 2014 to 2018 crop prices to compare different outcomes, visit www.AgWeb.com/farm-bill