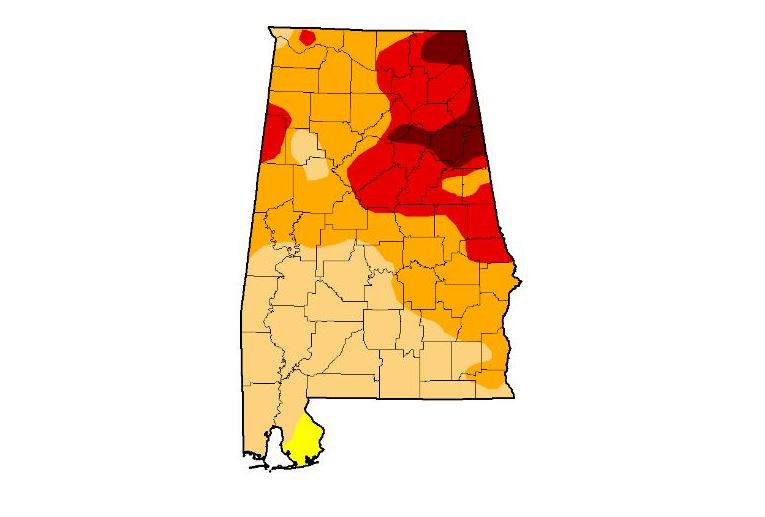 A severe drought spreading rapidly across Alabama is forcing conservation measures and worrying farmers, and forecasters said Thursday there wasn't much relief in sight.
The latest federal assessment said an extreme drought covers the northern two-thirds of Alabama, and the northeastern counties are driest. Forecasters said no drought-busting storms were predicted through next week.
With lake levels falling and some streams slowing to a trickle, Birmingham's water system will soon start charging extra for excessive water use, and cattle ranchers are watching pastures dry up in north Alabama.
The Alabama Forestry Commission, which has banned outdoor fires, said more than 900 wildfires have burned more than 11,000 acres statewide in the last month. Gov. Robert Bentley last week declared a drought emergency for 46 of the state's 67 counties.
The U.S. Drought Monitor, compiled by the National Drought Mitigation Center, said all 4.7 million of the state's residents are affected by the dry weather.
In north Alabama, Colbert County cattle farmer Steve James said the grass he normally feeds his herd is parched.
"It looks like February in my pastures," James told the TimesDaily of Florence. "The grass is just gone. I had hay in good shape, I thought, but I had to start feeding early."
The state's rainfall situation is far worse than one year ago, when only about a quarter of Alabama was experiencing a drought. Federal statistics show about 98 percent of Alabama is now in a drought.
The Birmingham Water Works said it will implement stage three of its drought management plan, which includes a surcharge of 200 percent for residential and other customers for excessive water use. Al.com reported the utility's drought plan calls for surcharges to go into effect on Nov. 19.
Scattered showers popped up across north Alabama on Thursday and the National Weather Service predicted chances of strong storms followed by cooler weather. But the chances of rain are decreasing into the weekend and next week. The Forestry Commission said fire conditions could actually worsen after the showers because of reduced humidity.
Only .03 of an inch of rainfall has been recorded in October in northwest Alabama, according to the National Weather Service office in Huntsville, and September's rainfall total only reached half an inch. Much of central Alabama hasn't had substantial rain since August.