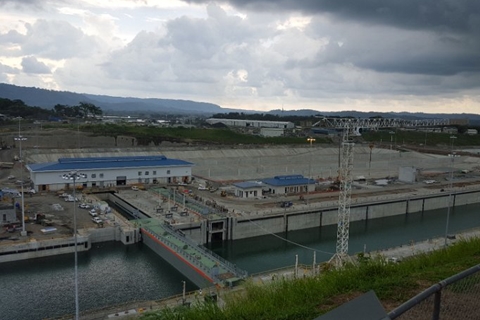 Panama Canal expands, but can U.S. ports keep up? 
As a corn and soybean producer in Island, Ky., Jonathan Miller knows his toughest competitor is not the farmer down the road but the one thousands of miles away in Brazil or Argentina.
Panama Canal Timeline

1880: Groundbreaking for the Panama Canal by the French, who eventually sell the equipment and infrastructure to the U.S. for $40 million.

1904: U.S. acquires Canal Zone from Panama for 
$10 million and takes over from the French.

1913: First ship passes through the Panama Canal.

1914: Panama Canal officially opens. It cost 
$352 million, less than budgeted, to complete the 52-mile- long waterway. 

1999: U.S. transfers Panama Canal to Panama. 

2007: Panama Canal expansion breaks ground.

2011: Contractors begin pouring concrete for the third set of locks.

2013: Atlantic-side gates arrive on site.

2014: Pacific-side gates arrive on site.

2016: Expanded canal set to open at an estimated cost of nearly $5.5 billion and almost two years behind schedule.
"We are making a product they are also making in South America" says Miller, who runs a 2,350-acre farm with his father. Yet farming so close to the Ohio and Mississippi rivers also has taught him U.S. farmers have a key advantage: better infrastructure and lower transportation costs for American exports. "It's our rivers, inland waterways and railroad systems that make us more competitive," Miller says. 

Yet as the Panama Canal prepares to open a new set of locks designed to handle bigger and heavier ships, some worry U.S. growers will not get the full benefit because of lagging infrastructure back home. 

"A link in our logistics chain is getting stronger and more robust," says Mike Steenhoek, executive director of the Iowa-based Soy Transportation Coalition, referring to the more than $5 billion expansion of the Panama Canal. "It's a missed opportunity if one link gets stronger and the others do not."
Bigger Ships, Heavier Loads. To understand the dilemma facing U.S. ports, consider how the upgraded canal could expand shipping capacity. Currently, the canal has two sets of locks, each of which can accommodate 965'-long cargo ships and a 39.5' draft—the depth the ship sits in the water. 

By contrast, the new third set of locks will be much bigger in every dimension, handling significantly bigger ships that can carry heavier loads. How much bigger? While current shipping lanes can accommodate ships with a 75,000 deadweight tonnage, encompassing ship, crew and cargo, the new lock will permit passage of vessels such as a Post-Panamax ship with deadweight tonnage of 97,000 to 125,000. "That third lane—there's nothing like it on that kind of scale," says Miller, who visited the canal in December 2015 during the final stages of construction. 

The third lane will quickly raise shippers' efficiency and lower their costs. This past year, a Panama Canal Authority analyst predicted the cost of transporting soybeans from Iowa to Japan using the Gulf of Mexico and the Panama Canal could fall more than $9 per metric ton thanks to those bigger ships.

The good news? Other countries are dealing with the same situation. 

"Ports are scrambling to add throughput capacity and capability to accommodate larger vessels, especially in Northern Brazil," says Ken Eriksen, senior vice president at Informa Economics. 
Ports Seek Depth. Agricultural exports leave the U.S. at points all along the coasts, from Boston to Miami on the East Coast and Vancouver, Wash., to Long Beach, Calif., on the West Coast.  Yet for grain shipments traveling through the Panama Canal, there's a shorter list of U.S. ports to consider. The most important are those located in the Mississippi Gulf region, including the Port of New Orleans.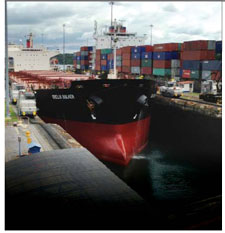 Upgrades to the Panama Canal will      enable ships exiting U.S. harbors      to hold $8 million in extra
soybeans. 
"Fifty-eight percent of soybean exports and 67% of corn exports leave from the Gulf," says Steenhoek, who predicts commodities such as corn and soybeans will be among the first to benefit from the new canal. "The expansion will allow vessels at southern Louisiana export terminals to be loaded with an additional 500,000 bu. of soybeans, which equates to $5 million to $8 million in additional value per vessel."

Although Mississippi Gulf ports were already deeper than the current Panama Canal, they will need improvements for U.S. exporters to take full advantage of the new third shipping lane. "If the U.S. does not invest in its ports, its competitive advantage will soon erode given the current and planned investments in other countries," Steenhoek says.

For example, Louisiana export terminals can handle ships with a draft of 45', which is 5.5' deeper than the existing Panama Canal. When the expanded lane opens, though, the canal will be able to accommodate ships with a 50' draft—5' more than the lower Mississippi can manage.

Dredging the lower Mississippi could achieve a depth of 50' at an estimated cost of $300 million with $90 million in annual maintenance, Steenhoek points out.

East Coast ports including Charleston, S.C., and Baltimore are encountering similar situations. "One of the benefits [of the Panama Canal expansion] is that it has lit a fire under many port regions in the U.S. to upgrade our port infrastructure," Steenhoek says. 

What the Mississippi gulf ports could use is more money and more action. As grain exporters such as ADM, Cargill and Louis Dreyfus Commodities have upgraded terminals to load larger ships and capitalize on the canal, the U.S. Army Corps of Engineers has continued to research dredging. 
Time Will Tell. Putting those two pieces together could easily take a dozen years, Eriksen says. He points to Portland, Ore., where the process of lowering the Columbia River by three feet  began in 1990 with studies and finally ended in 2011 with a deeper river—and near-instant impact on the port. "You could immediately see the average loadings jump," he says.