For most cattle producers, controlling brush and weeds in pastures is an ongoing battle.

Since the early 1950s, Charlie Livingston, a cattle and sheep rancher near San Angelo, Texas, has been fighting brush in an area where mesquite and prickly pear cactus are plentiful. He knows there is no quick, one-time fix for controlling brush. Instead, it requires a methodical and continuous control program.

He also knows that cattle producers can't afford to skip a year of brush control when times are lean. Stan Bevers, Texas AgriLife Extension economist, agrees.

"The cost of doing nothing is very expensive," he says. "With the rising cost of running cattle on ranches, managers are asking where managing brush fits. But it's a situation where brush doesn't know or care that there is a financial crisis going on. It's going to keep growing."

Research has found that just 1 lb. of weeds or brush removes 2 lb. of forage available for livestock to graze. So more brush equates to lower productivity, Bevers says, but determining the most economical method is a difficult decision.

Where to start. If you've just purchased or leased new land, it may be overwhelming to think about where to start. Consider beginning in the more open areas of pasture and not worrying about topped-out, dense areas, says Allan McGinty, Texas AgriLife Extension range specialist in San Angelo, Texas.

Identify priority areas and focus resources on the areas that you've already been treating. Spend money where you start seeing regrowth, McGinty advises.

J.F. Cadenhead, Texas AgriLife Extension range specialist, says that if you have more than 50% brush cover, you are getting behind if you are just running cattle. If you are also integrating wildlife, then that amount of brush coverage may be needed.

In response to the need for economical brush and weed control, the Brush Busters and Weed Busters programs were developed. Described as an effective, do-it-yourself approach to brush control on rangeland, the programs stress the use of individual plant treatments to reduce treatment costs, improve control effectiveness, limit damage to desirable plants and lengthen treatment life.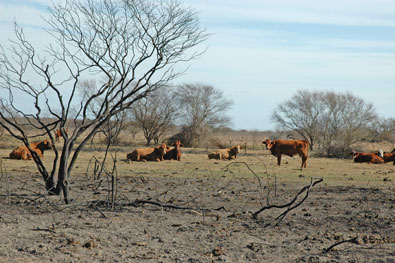 At Welder Ranch, pastures are burned in order to control brush and revive established grasses.

Combination of methods. For Charlie White, manager of Pat Welder Ranches near Victoria in South Texas, a combination of management methods helps keep brush under control. The ranch consists of 12,000 acres of grassland to accommodate a cow–calf herd and occasionally stockers when there's enough forage. "We use fire along with chemicals to control brush," White says.

The biggest nemesis on the ranch is McCartney rose, an invasive species of rose that can completely overtake grass. To combat the spread, White uses aerial application of chemicals to first defoliate the plants. That removes the leaves and allows the grass to receive sunlight and moisture to help it grow. The pasture that's been defoliated is deferred for 90 days to build up a forage base to create fuel for a controlled burn.

Pastures are usually burned twice in a four- to five-year period. "This really helps open up the country and increases grasses, especially bluestems, which will come back," White says.

Once pastures are opened up, he also utilizes grazing strategies that force cattle to evenly graze the areas. By doing this, the established grass is allowed to grow, while choking out weeds and preventing brush from growing.


Preventive maintenance. The best money spent is usually on preventive maintenance, says McGinty. Once you've gained control of a pasture, you don't want to let it get out of hand.

"Get them while they're small," advises Wes Stockett, a stocker operator located near Claude, Texas. "For instance, the little juniper cedars are easy to see this time of year while the grass is brown. Since they're green, it's easy to find them and spray them as they emerge from the ground."

Cedars and mesquites are a problem in his area, and mechanical methods of control are becoming increasingly expensive. Stockett has opted for individual plant treatment (IPT), which is done in designated pastures from an ATV with a sprayer as time allows.

Livingston also believes that IPT is the most economical option for controlling brush. He started his brush control program in 1949 and the early 1950s using aerial spray as well as mechanical methods to control brush, but for the last several
years, he's focused more on IPT.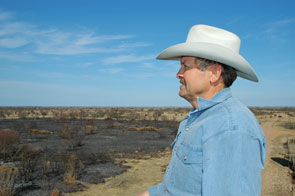 Charlie White, manager of Welder Ranches in South Texas, uses fire and chemical methods to keep brush under control, usually burning pastures twice in a four- to five-year period.
"My cost over the last 20 years for both primary and secondary treatments has been $30 per acre,"

Livingston says. That's not a dollar per year value, that's the value over 20 years. He says he always budgets in $2 per acre.

"It's taken 10 years to do IPT on the entire ranch," he says. "But I estimate that spraying individual plants, I get 95% control on the prickly pear with first and second treatment, and 70% control on mesquite with first and second treatment."

Livingston also uses an ATV with a 15- to 25-gal. tank on the back to spot treat plants. "That's the cheapest way we've found to do this. There is some labor cost, but if you have time, you can do it yourself.

"It's hard work, and you have to stay with it," he says. But the reduced brush and weeds make room for increased forage growth that livestock can graze. BT