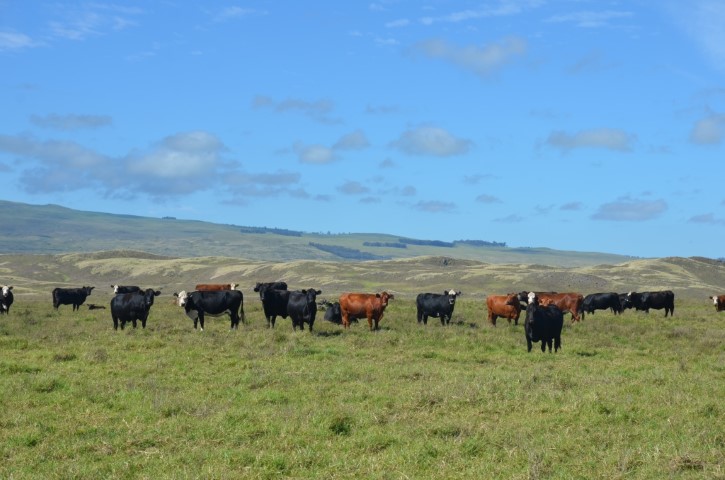 Oceanic transportation challenges have Hawaii beef producers looking at alternative markets
Moving cattle to greener pastures or a feedlot has never been as simple as going from point A to point B. Most of the time, cattle are loaded onto a trailer and hauled to their destination. For Hawaii beef producers, the Pacific Ocean makes transportation a little more complicated.

The Hawaii beef industry traces its roots to a gift of cattle given to King Kamehameha I by Capt. George Vancouver in 1793. Cattle grew wild for decades until the 1830s when the kapu (forbidden) killing was lifted. Then, cattle were hunted or domesticated again, leading to the birth of the Hawaiian ranching industry. For a long time, beef was eaten by those who lived on the islands or traded with ships that sailed to ports. Shortly after World War II, a feedlot and packing plant were established on Oahu to help feed the growing population of Honolulu.

"We went through the iterations of that up until boxed beef," says veterinarian Tim Richards, who oversees the setup and coordination of health programs for several Hawaiian ranches that ship cattle to the mainland. "Boxed beef changed that whole dynamic, and that put cattle feeding out of business here because cost of grain couldn't compete, and that's where we shifted the industry to export the calves to the continental U.S."

Introduction of boxed beef forced ranchers to change their business model in the late 1980s and early 1990s. The alternative was to ship cattle via air or sea.

"The biggest difference is the size of the ranches, and the way the industry is, most people of size retain ownership," Richards says. "They have a longer influence down range into the feedyards."
Near the top of the list is Parker Ranch, one of three cattle ranches on the Big Island of Hawaii to rank in the top 25 nationally for cow herd size. The Parker Ranch is home to 9,000 cows, but approximately 5,300 head of calves have to be shipped to the mainland for finishing each year.

Calves are typically weaned for 30 days and shipped at 400 lb., says Keoki Wood, Parker Ranch's livestock
operations manager.

"Shipping is a concern anytime you have to ship cattle that far. On the mainland, trucking is one of those necessary evils—the less you have to do the better," Wood says.

To reduce stress,  Parker Ranch prefers shipping to the continental U.S. via 747 cargo planes. Calves are loaded into specially designed 8' x 10' boxes. Up to 20 boxes can be carried by plane, for a load of 100,000 lb., which fills two truckloads on the other end.

"The challenge is you dribble cattle out all year long. It is a back haul for the 747, so whenever they can displace you with higher paying freight, they will," Wood says. "During the holidays, when there is more freight, they tend to skip weeks, so your schedule is 200 head if you're lucky every week. You can't afford to charter a plane strictly for cattle."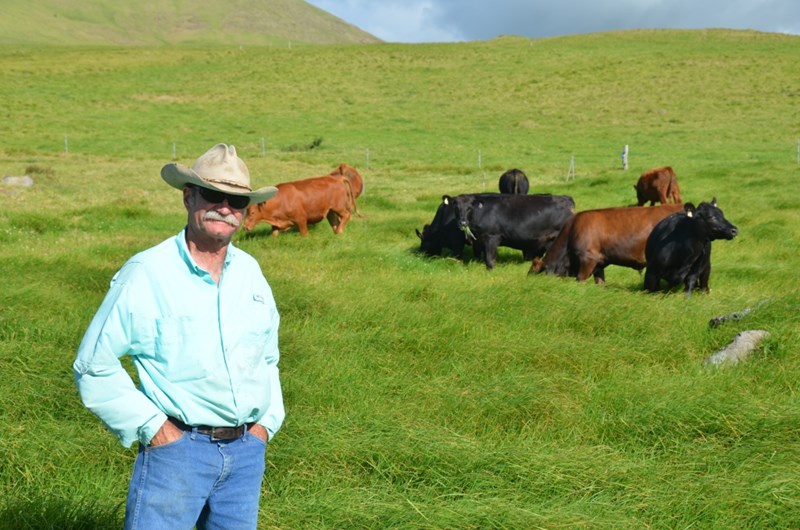 Pono von Holt of Ponoholo Ranch does sell some cattle locally through a grass-finished program, but right now, it's more profitable to send cattle to the mainland for finishing and marketing.
Door to door, whether by air or sea, it costs at least 47¢/lb. to ship an animal. That's approximately $200 for each 425-lb. calf.

While shrink isn't detrimental to the calves, it is part of the consideration when shipping cattle.

"We actually see more shrink on air freight than we do on the ocean. Air freight, they recover a lot quicker, but you're going to have 10% shrink," Wood says.

In a typical journey, cattle are loaded onto a plane at Kona International Airport on Saturday morning. By early Sunday morning, they land in Los Angeles and are loaded onto trucks headed to Oregon or Texas.

"You put them on feed and water, and by a week, they'll be in good shape," Wood adds. "Ocean freight is a little bit tougher."

Since mid-July, Parker Ranch has shifted back to transporting the majority of calves via ship to the port in Seattle. The move has reduced trucking costs and allowed for larger numbers of calves to be hauled in
fewer shipments.

Ponoholo Ranch on the northern side of the Big Island also prefers the ocean route. Ranch owner and operator Pon von Holt estimates 70% of his calves born from 3,000 cows are sent to the mainland with specialized shipping containers called "cowtainers" each year.

The cowtainers are equipped with waterers and feeders and have a second deck on them.

"It's really important for us to get the loads right because these cattle are in the containers for eight or nine days. They're on feed and water, but you've got to get them loaded right for their square footage," von Holt says.

Calves are loaded onto the cowtainers at the ranch according to weight and a USDA calculation.

The shrink on calves is only 6% to 7% because of the access to feed and water, but much of that shrink is
tissue loss. It takes a little longer to gain back that weight, von Holt says.

"From a cattle standpoint, the airplane is a better trip," von Holt says, adding he does use air transport for some smaller shipments. "For us, shipping larger and larger amounts of cattle, the ship is more efficient."

To load 100,000 lb. of cattle onto trailers, haul them to the airport and load them on the plane requires nearly the same amount of effort as loading 600,000 lb. in containers destined for a boat.

Availability of the planes is another reason von Holt prefers transport on the ship with cowtainers.

"You can schedule it out, but you can't just pick up the phone and say 'send me the airplane tomorrow.' You don't do that in Hawaii. You schedule it out 60 days or longer in advance," von Holt says.

Calves from the Ponoholo Ranch typically arrive at the port in Seattle and are sent to pastures in the northwestern U.S. After adding weight, half of the cattle go to a feedlot in Texas while the other half end up at a feedlot in Oregon, where they can be marketed through the Country Natural Beef program.
Hawaii is seeing a changing of the guard when it comes to local beef consumption. "In the past five years, with the interest in local food and people willing to pay the price, as well as the interest in forage-based finishing, the industry is shifting again," Richards says.

This past year, Parker Ranch and Ulupono Initiative announced the launch of the Paniolo Cattle Company, a joint venture aimed at statewide local beef production. Parker Ranch will raise close to 1,400 calves for the program, which will increase the supply of local beef by 35%.

"Here's the irony: We're in the top 10 in terms of size. We produce 400 lb. here, ship it to the mainland and pay somebody else to produce the other 800 lb. They got paid first every time," Wood says. "The idea was to
encourage more of that production here and pay our guys first. But it is a tough, tough road to go down right now, especially with record-high calf prices."

Ponoholo Ranch also takes part in raising calves for local markets. Approximately 300 calves are finished on grass at the ranch before being sold as beef to Whole Foods Markets on the islands of Maui and Oahu.
"If it is possible and it is competitive, we'd like to market more here just from a risk management standpoint," von Holt says.

For grass-fed and local markets to progress any further, Richards believes it will require an investment in a modernized packing plant.

"Somebody has to build it, and it's not necessarily going to be a "Field of Dreams" build it and they will come. The problem is who is going to pay the checks while it takes five to 10 years for the thing to ramp up," Richards says. "It's a tough one."

Wood agrees that it will require a new, small-scale packer to help meet the demand. Currently, there are two small plants that help service the cull cow market and local calf slaughter, but both are outdated and too small to take care of the possible local production increase.

"It's a interesting time," Wood says. "I don't see us leaving all of the cattle here, but if we have to make some infrastructure investment, we'll certainly support that."
This Parker Ranch steer will be finished as part of Hawaii's 35% increase in locally raised beef.
Ranching in Hawaii is not that drastically different from production on the mainland U.S. The
majority of cattle still have to be moved for finishing and marketing, and consumer trends are helping decide how those cattle are raised.

"Hawaii's got some great comparative advantages and some disadvantages—distance to market and feed is one of them. The advantage is we have year-round grazing, so we don't have to make hay," von Holt says. "It all gets back to the cost of operation. A good ranch that controls their costs is going to be profitable in any environment."
To contact Wyatt Bechtel, email wbechtel@farmjournal.com.