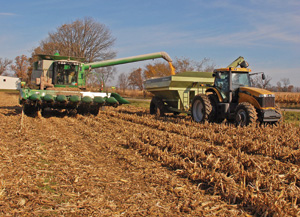 Agricultural economists' research into grain prices may surprise you.
As farmers explore their program options under the 2014 Farm Bill, many are looking closely at past, present, and, especially, futures prices for their grain.
"A common presumption is that futures prices can predict future price, specifically the price during the last or delivery month of trading on a futures contract," explains Carl Zuluaf, an agricultural economist at the University of Illinois at Urbana-Champaign, in a research article published in the Farm Doc Daily. "This presumption has potential importance for both marketing and policy. Many crop insurance contracts use futures prices to establish their pre-plant and harvest prices. In addition, it is common to hear that futures prices should be used to forecast prices when evaluating the farm program choices in the 2014 farm bill."
But after examining corn and soybean futures and cash prices from 1975 to 2006 crop years, Zulauf and his co-authors Nick Rettig and Matt Roberts say using futures is a flawed approach for farmers and their crop insurance calculations.
In "Do Futures Forecast the Future?" the three researchers assert that future prices offer "an unbiased forecast of future price, but [that the] forecast error is large. A futures price provides no better forecast of future price than using last crop year's cash price."
As a result, they offer a "radical" observation: "Using futures prices to help determine the farm program choice in the 2014 farm bill offers no advantage over using the 2014 crop year average price."
For more detail, click here to read their paper.
Where do you fall on the futures vs. cash price debate? Share your thoughts in AgWeb's marketing discussion forums.