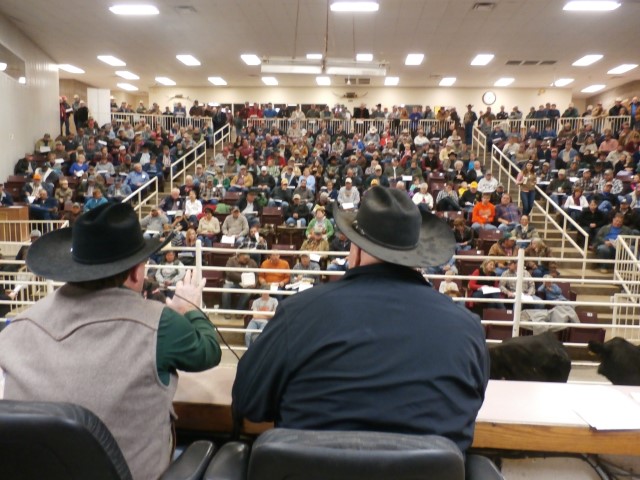 Joplin Regional Stockyards was packed to the brim with folks anxious to see and bid on the 521 Show-Me-Select, bred heifers offered for sale on Nov. 21.
After only 2 hours and 10 minutes, the heifers were sold by auctioneer, Jackie Moore for an average of $2889.
"When you do the math, the sale total was $1,505,150. This represents quite an added value for the 10 or 12 months during which the heifers were being developed under the SMS requirements," said Eldon Cole, livestock specialist with University of Missouri Extension.
The heifers in this sale were valued at around $855 per head one year ago as feeder heifers. The evening's top heifers brought $3700.
John Wheeler, Marionville had two groups totaling 14 head sell for that amount. The buyers were Gray Oaks Ranch, Wagoner, OK and Son Wilmoth, Mt. Vernon. The heifers were black baldies and black mottled faced and were carrying the artificial insemination service of an Angus, KCF Bennett Absolute. Wheeler's 44 heifers topped the overall average at $3417.
The second high average for the night went to Bart Renkoski, Purdy. Those eight heifers sold for $3219 and were Angus-Gelbvieh crosses AI bred to the Angus bull GAR Prophet and natural service by a Balancer cleanup bull.
Close behind in the average was Goodnight Angus, Carthage. Their six heifers brought $3217 per head.
There were 112 registered buyers and 56 were successful bidders. Heifers stayed mostly in the southwest corner of Missouri but 32 went to Oklahoma, 31 went to Arkansas and 4 landed in Kentucky. As usual, repeat buyers were very active with 266 heifers taken home by them.
There were 29 consignors and five were first-timers. Consignments ranged from two to 120 head. Twelve consignors averaged $3000 or more per head on their heifers.
Most of the heifers were commercial with a pronounced Angus influence. The 315 straight black heifers averaged $2800. The 145 black baldy and black mottled faced heifers sold well all evening with a $3108 average. There were only 57 red and red white-faced heifers and they averaged $2831.
The AI bred heifers brought $123 more per head than the natural service heifers.
This was the 31st SMS sale in southwest Missouri sponsored by Missouri Show-Me-Select Replacement Heifers, Inc.
The previous high number of heifers sold was 387 head in the sale held November 1998. Since the first sale in 1997, a total of 7,977 heifers have sold for $11,088,057 at an average of $1,390 per head.
The next SMS sale in southwest Missouri will be at Joplin Regional on May 15. Those heifers are already enrolled in the program and will calve next fall.
"Persons wishing to participate in the November 2015 sale should contact their University of Missouri Extension livestock specialist to learn more about the strict protocol for this value-added program that incorporates technology in heifer development programs," said Cole.
Contact any of the MU Extension livestock specialists in southwest Missouri: Eldon Cole in Mt. Vernon, (417) 466-3102, Andy McCorkill in Dallas County at (417) 345-7551, or Dr. Patrick Davis in Cedar County at (417) 276-3313.

Source: University of Missouri Extension