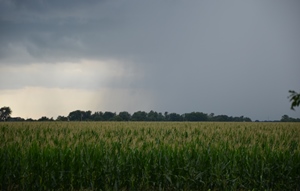 For the remainder of today, precipitation will fall in three separate areas: Pacific Northwest; Central Plains and western Corn Belt; and southern Atlantic Coast, according to USDA's agricultural weather highlights. Precipitation will gradually spread inland in the Northwest and move northward along the Atlantic Seaboard, but dissipate across the nation's mid-section.

Toward week's end, precipitation will spread farther inland across the West and develop along the Gulf Coast. Meanwhile, above-normal temperatures in many parts of the U.S. will help to push summer crops toward maturity.
Watch AgDay's weather forecast for Sept. 23:
Cool weather will linger, however, in the Atlantic Coast States, and begin to spread inland late in the week across the West. Some of the warmest weather, relative to normal, will occur during the next several days on the northern High Plains, where high temperatures above 90°F can be expected.
The National Weather Service's 6- to 10-day outlook for September 28 – October 2 calls for near- to above-normal temperatures and precipitation across the majority of the U.S. Cooler-than-normal conditions will be limited to the Intermountain West, while drier-than-normal weather will be confined to areas from the middle Mississippi Valley into the Northeast.
Regional Weather Outlooks 
In the West, the first major Pacific storm of the season is approaching the Northwest, where a few showers have begun to develop. Elsewhere, warm, mostly dry weather is promoting fieldwork and crop maturation.
On the Plains, warm weather favors winter wheat planting and emergence, as well as summer crop maturation and harvesting. However, showers are causing minor fieldwork disruptions from South Dakota to Kansas.
In the Corn Belt, rain is overspreading some western corn and soybean production areas, including the middle Missouri Valley. Elsewhere in the Midwest, mild, dry weather favors summer crop maturation and initial winter wheat planting efforts.
In the South, rainfall is intensifying in the southern Atlantic States in conjunction with a slow-moving disturbance. Rain is boosting topsoil moisture but is detrimental to fieldwork and crops such as open-boll cotton. On September 21, cotton bolls open in the Southeast ranged from 56% in Virginia to 80% in Georgia.
---