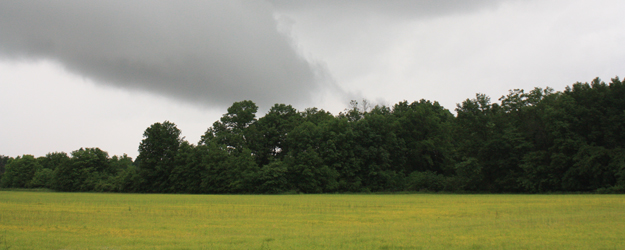 An upper-air disturbance over the Four Corners will drift slowly east, producing locally heavy showers from the southern and central Plains into the central Corn Belt, according to USDA's agricultural weather highlights.

Farther south, an area of disturbed weather in the western Gulf Coast may bring heavy rain to southern Texas. Out west, dry, hot weather will replace recent showers in the Great Basin and Rockies, while heat and dryness will prevail in drought-afflicted California, Oregon, and central Washington.
Watch AgDay's weather forecast for Aug. 27:
High pressure settling over the eastern U.S. will provide mostly dry weather from the lower Mississippi Valley to the Atlantic Coast, though seasonal showers will linger in peninsular Florida and along the Gulf Coast. This area of high pressure will also keep Hurricane Cristobal well offshore, but the storm will produce large waves and rough surf along the East Coast.
The National Weather Service 6- to 10-day outlook for September 1 –5 calls for near- to above-normal temperatures nationwide, except for cooler-than-normal conditions from the Pacific Northwest to the northern High Plains. Meanwhile, above-normal rainfall in the eastern half of the U.S. will contrast with drier-than-normal weather from the Northwest and northern Rockies southeastward into Texas.
Regional Weather Outlooks
In the West, monsoon showers are subsiding in the Four Corners States, while hot weather in the Northwest and northern California is promoting fieldwork but heightening irrigation demands. Statewide reservoir storage is less than half of average in Oregon and New Mexico, and just over 10% of average in Nevada.
On the Plains, showers across central portions of the region are slowing fieldwork but aiding immature summer crops. Meanwhile, warmth is gradually returning to the northern Plains, following a period of cool, wet weather that hampered the spring wheat harvest. Elsewhere, unfavorably hot, mostly dry conditions on the southern Plains are maintaining stress on rangeland, pastures, and immature summer crops.
In the Corn Belt, mild, dry weather favors corn and soybean development in northern production areas, while locally heavy downpours are falling in the western Corn Belt. Across the southern tier of the Corn Belt, hot weather is hastening summer crop maturation.
In the South, showers are limited to southern Florida and the western Gulf Coast region. Elsewhere, hot, dry weather favors crop maturation and fieldwork, including sorghum, rice, and corn harvesting.
---
Related story: Farmers' Almanac Predicts Another Nasty Winter
Check your forecast: View your weather conditions down to the field-level with AgWeb's Pinpoint Weather
---
Read and watch more Top Producer Power Hour news and videos.