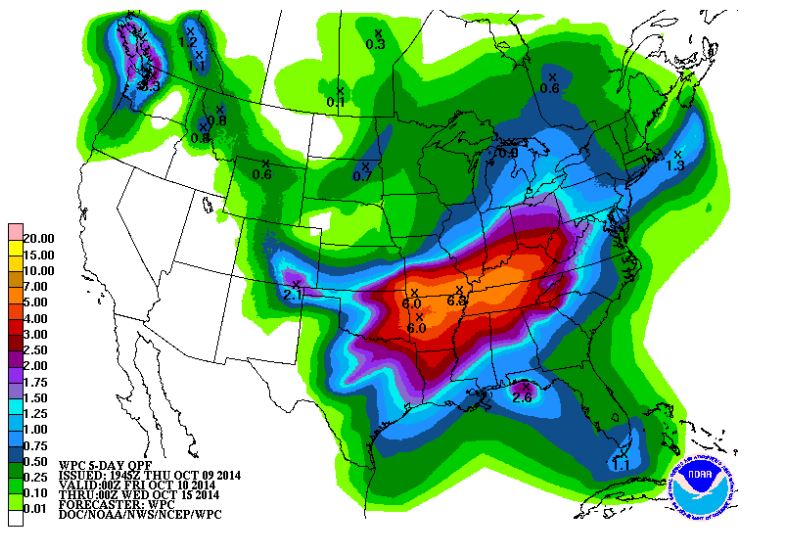 Starting today and continuing into early next week, much of the country is expected to see substantial precipitation. The first culprit – the remnants of former Hurricane Simon.
That storm system is blowing across the Southwest today, where it will meet up with a stalled-out frontal boundary that stretches from the central Plains to the Ohio Valley. Meanwhile, moisture from the Gulf of Mexico will flow into this boundary. Added up, it's a recipe for a lot of rainfall.
"We've got a pretty good setup for flooding, actually, over the next couple of days," says Weather Channel meteorologist Ari Sarsalari. "And not only in the desert Southwest, but over a pretty good chunk of the country."
Then get ready for Round 2 early next week, as a deep southward dip in the jet stream will enter the Plains later Sunday, then swing eastward from there.
"The weather is going to go from boring to suddenly exciting, and even somewhat dangerous in some ways, too," says Accuweather severe weather expert Henry Margusity.
Depending on how slowly the front moves, heavy rain could persist in parts of the Appalachians, Ohio Valley, and East into next Wednesday or Thursday. NOAA predicts 5-6" or more rain could fall in areas of southern Missouri, Arkansas, Kentucky and Tennessee. And pretty much everything east of the Rockies will get some amount of precipitation. Areas with soils that are already saturated will be at risk of additional flooding.
For more weather coverage, pinpoint forecasts and more, visit  www.agweb.com/weather/, and join the conversation about how these latest storms could affect harvest.