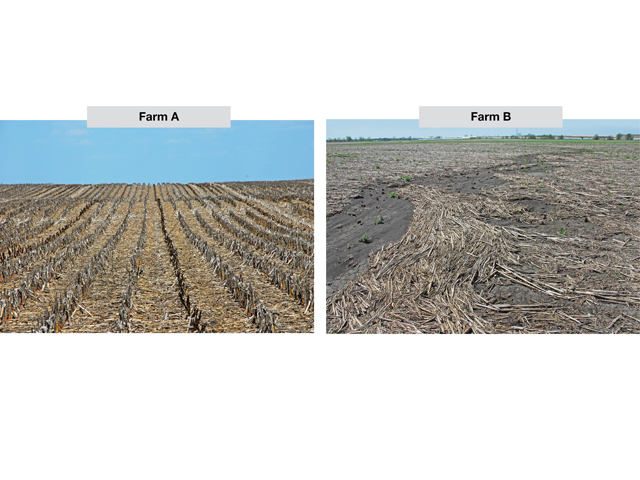 Shoot the slow rabbits first with vertical tillage and lime applications
A year ago we showed you how poor management can destroy soil health and reduce yield ("A Tale of Two Soils," October 2013). Farm A and Farm B are less than a mile apart and contain the same makeup of silty clay loam and silt loam soil. But the three-year average (2008 through 2010) corn yield of Farm A was 200 bu. per acre on silty clay loam soil and 186 bu. per acre on silt loam, compared to only 130 bu. per acre on Farm B's silty clay loam and 123 bu. per acre on silt loam.

The operators of both farms use similar practices, with one exception: Farm A has been no-tilled for about 
30 years, while Farm B was farmed with horizontal tillage before the current operator acquired it four years ago. 

Besides lower yield, Farm B suffered from soil erosion—water run off because of surface sealing from poor soil structure—and a lack of nightcrawler burrows. A soil pit revealed impenetrable soil layers on Farm B, compared to a healthy crumb-like structure containing macropores for water and air on Farm A.

An infiltration test showed Farm A's silty clay loam took in 8.6" of water per hour, compared to 3.6" per hour for Farm B's silty clay loam. Farm A's silt loam soil took in 3.6" of water per hour, compared to 0.5" per hour on Farm B's silt loam. 
"No wonder Farm B's yields were lower," says Farm Journal Field Agronomist Ken Ferrie. 
Three years of efforts to improve Farm B's soil health are paying off. In 2013, Farm A only had a 20 bu. per acre advantage on its silty clay loam and 25 bu. per acre corn yield advantage on its silt loam. "We closed the gap by 50 bu. per acre on the heavy soil and 39 bu. per acre on the lighter soil," Ferrie says. 

During the three-year period, yields increased on both farms, Ferrie points out. That shows the impact of 
improved corn genetics in addition to improved soil health on Farm B. 

To set Farm B on the path to good health, Ferrie used the Cornell University Soil Health Assessment to identify problem areas. "The Soil Health Assessment allowed us to look at the entire picture and then decide what to fix first," he says. 

Both the silty clay loam and silt loam suffered from soil acidity; surface and subsurface compaction; low biological activity; and low nitrogen-supplying power. Overall, the Cornell lab rated Farm B's silty clay loam soil health at 48.3 out of 100 and the silt loam soil health at 40.4 out of 100. Both were in the low range.
Acidity and soil density are among the easiest soil health problems to fix, so that's where Ferrie and the farm operator concentrated their efforts. Ferrie calls it "shooting the slow rabbits first." Acidity is a chemical aspect of soil health, he notes; density issues are a physical aspect; and microbial activity and diversity, which are tougher to improve, are a biological aspect.
"We deep-tilled to fix subsurface compaction and remove dense layers and chisel-plowed to break surface compaction and mix in limestone," Ferrie says. "Over three years, we converted the field to a vertical format, free of sudden density changes and soil compaction, by using vertical tillage. By 2014, the operator was able to put the field back into a no-till system, which he prefers."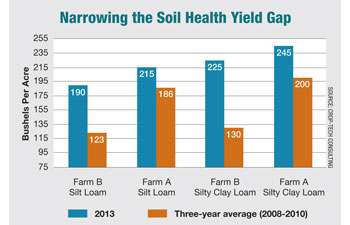 The operator closed the yield gap by using aggressive vertical tillage—to mix in limestone and improve water and air infiltration—and correcting soil pH. The next 20 bu. or 30 bu. will come from improving soil structure. 
To correct acidity, the operator applied lime in the fall for three years, incorporating it with his fall vertical tillage. In 2010, the pH values ranged from 4.9 to 5.2. By 2014, after the lime application, they had risen to 5.8 to 6.4.

"The calcium in the limestone helped improve aggregate stability and soil structure by flocculating the clay particles," Ferrie says. "A health assessment analysis in 2014 documented significant improvement, although we still have further to go."

After three years, the overall Soil Health Assessment score for Farm B's silty clay loam rose from 48.3 to 59. The silt loam score climbed from 40.4 to 47. "The silt loam score is still in the low range, but we're making progress," Ferrie says.

The score might have risen further, but some of the "rabbits" the operator is trying to shoot run faster than others. "Cover crops would have helped improve the soil's biological activity and nitrogen supplying power," Ferrie says. "We flew on a mixture of annual ryegrass and radish seed in October 2012, but we could not get the crop established because of dry weather."

Because he's aware of his soil's low nitrogen-supplying capacity, the farm operator compensates by breaking up his nitrogen applications to make sure the crop never runs short. "He applies nitrogen in his dry fertilizer, a weed-and-feed treatment and in-starter fertilizer at planting," Ferrie says. "He sidedresses the rest, using soil nitrate tests to determine what rate to apply."
It's important to prioritize your efforts when you set out to restore soil health, Ferrie says. "Farm B's yield improvement has resulted mainly from correcting acidity and compaction," he emphasizes. 

Applying other measures before fixing compaction and acidity might have been counterproductive. "If we had gone to no-till and succeeded with cover crops while ignoring compaction and acidity, yield probably would have fallen even lower than it already was, and the production cost would have gone up," Ferrie says.  

Farm B's rehabilitation continues. "There's still more to be done on soil pH," Ferrie says. "But we will have to move more slowly, applying lower rates of lime because the operator is no longer doing tillage to incorporate it.

"Until we improve the aggregate stability and infiltration rate, we'll worry about soil erosion, surface crusting and residue washing into piles. Going to no-till should reduce erosion; but to combat surface sealing, and to help the soil dry out for planting, we'll run a vertical-till harrow in the spring to size residue and break the surface crust until we establish biopores and better water infiltration," he adds.

Until the soil's nitrogen-supplying power improves, Farm B will need higher rates of nitrogen than other fields, which are in long-term no-till. "While no-till will help build soil health, increase biopores and improve biological diversity, it can't accomplish our end goal—a high soil health rating—all by itself," Ferrie says. "We'll try to find ways to use cover crops to promote aggregate stability, increase microbial diversity and build organic matter content. 
Building on the Systems Approach, the Soil Health series will detail the chemical, physical and biological components of soil and how to give your crop a fighting chance.
www.FarmJournal.com/soil_health