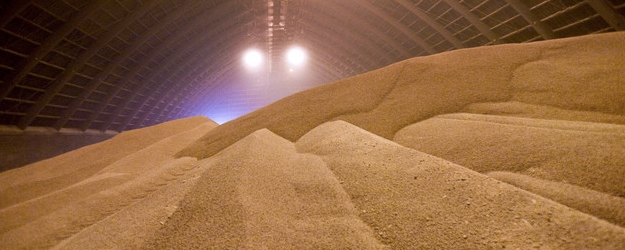 Berezniki, the Russian city where a giant sinkhole formed above an OAO Uralkali potash mine in 2006, is moving a small number of people to new homes after detecting signs of increasing subsidence.

The residents of as many as 11 houses will be relocated this week after measurements showed an increase in the speed of surface subsidence near their homes in July, the city administration said on its website. There is a risk of a sinkhole forming next year should the pace of soil movements continue at current levels of almost 5.1 inches a month, the city said, citing scientists.
A 500-meter wide sinkhole opened above Uralkali's Mine 1 eight years ago after water poured into the production site, about 1,600 kilometers east of Moscow. It swallowed part of a railway line and forced Uralkali, the world's largest potash producer, to write off about 5 percent of its mineral reserves.
---
PEDv Update, One Year After Outbreak
---
Although the mine has been shut down, that hasn't stopped smaller sinkholes from appearing, and each street in Berezniki is under constant camera surveillance for signs of collapse. The latest sinkhole in the city appeared in 2011.
Authorities are moving residents after the latest evaluation by the Mining Institute within the Russian Academy of Sciences' Urals branch and scientists at the Galurgiya Institute.
New Suburb
It is possible that the situation will improve and remove the risk of a sinkhole, Alexander Baryakh, the Mining Institute's director, said yesterday in interview with the city's Bereznikovskiy Rabochiy newspaper.
No other dangerous areas at risk of new sinkholes have been identified in the city, he said. Baryakh couldn't be reached today at his office in Perm. Uralkali's press service declined to comment.
Berezniki began as a labor camp, built directly above the mine Uralkali established in the 1930s. That quirk of Soviet-era urban planning is now prompting a 7.5 billion ruble ($208 million) response from the company and the government of the Perm region as it prepares to move 12,000 people to specially built homes in a new suburb by 2017. Uralkali has agreed to invest 2.5 billion rubles in the program.
---
Want more? AgWeb readers are sharing fresh marketing insights every day. Click here to join the conversation, or to start your own.