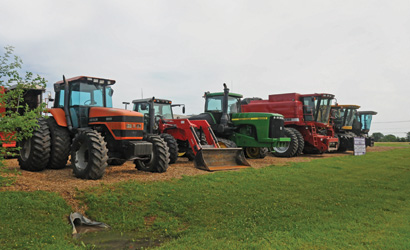 While used machinery prices have been strong for several years, it's important to consider equipment condition and other factors to understand the context of auction bids, says Greg Peterson, known by many as Machinery Pete.

Here are a few other highlights from Peterson's Implement & Tractor seminar this week at the 2013 National Farm Machinery Show:
Extension of the Section 179 deduction helped buoy record-high used ag equipment prices at auction, particularly for tractors.
Used combine values are good but not as high as tractor values. They're likely to dip from April through the summer this year as they did in 2012 and 2011. Newer-year models present a challenge because of inventory still sitting on dealer lots.
Keeping machinery in good condition, even if it has higher hours, is critical to getting a good price at auction.
The trend toward fewer machinery auctions is understandable as fewer farmers retire amid record incomes. But when a sale does occur, pent-up demand can result in double premiums or more on quality equipment.
Talk of a used-equipment bubble is largely speculative and depends on a number of factors. In short, it's impossible to say what the future holds, though prices on used equipment in the aggregate remain strong.
Online bidding is gaining traction among farmers and auction companies of all sizes.

Watch Peterson's complete commentary in the video below:
..................................
See Farm Journal Media's full coverage of the 2013 National Farm Machinery Show.