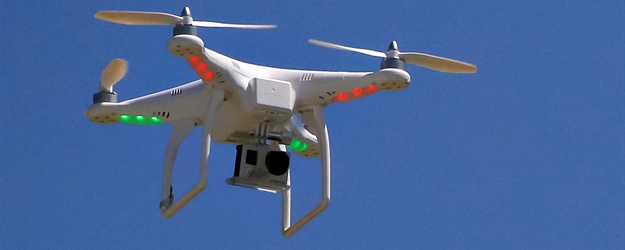 Ask the right questions to unlock the potential of drones
Drones have captured the imagination of farmers and tech enthusiasts. The fairly small tools offer big potential—and more questions than answers.

"The cost is coming down quickly and the technology is rapidly developing, but there's the potential to make mistakes without proper training," says David Burchfield, applied research associate at Roboflight.

With that in mind, here are four questions every farmer should ask about unmanned aerial vehicle (UAV) technology before jumping in.

1. What do you want your drone to do? It's important to understand capabilities before you sink any costs into the technology.  

2. What kind of model works best? There are dozens of fixed-wing and copter models on the market. Each has its own distinct pros and cons. 

3. Are drones legal and safe to fly? This topic is plagued with uncertainty, but the Federal Aviation Administration (FAA) has promised it will incorporate small UAVs into the national air space as early as 2015. 

4. How much money will it cost, and what's the ROI? The cost varies from $200 to tens of thousands of dollars. This has led many, such as Illinois farmer Adam Watson, to start with entry-level models to gain familiarity with flying, with an eye to upgrade.

"I'm playing around with some less expensive drones this season in anticipation that the functionality will change a lot in the next couple of years," he says. "I want some experience with the technology without heavily investing in it just yet."
---
What It Means To Me
Drones have the potential to be a disruptive technology in agriculture, especially as cost drops and capabilities rise.

There are dozens of uses for drones on the farm, ranging from simple scouting to complex multi-spectral image collection and analysis.

The Federal Aviation Administration has not integrated commercial drone use into the national airspace; until then, their legal status is unclear.

Just like any other technology, there are best practices for flying drones safely and responsibly.

---

Whether drones are just a fad or here to stay, the technology's moment in the spotlight is now. It's time to take a close look at how to farm with drones.

Picture perfect. The drone use that perhaps gets the most buzz is the prospect of collecting imagery and using those images to build out prescription fertility or seeding maps. 

Simple photography will reveal new insights about your fields, but Normalized Difference Vegetation Index (NDVI) images will unlock an even deeper understanding of the land.

Collecting NDVI images is not a new practice on the farm. But how these images can be collected is changing with UAVs. That could raise some unique accuracy problems, says Dan McKinnon, Agribotix co-founder.

"In theory, NDVI images could be used for everything from prescribing fertilizer applications to estimating yields to identifying weed patches," he says. "However, shadows cast by crops and clouds can dramatically affect these images." 

Technology geek and Lake Providence, La., farmer Donavon Taves is using his drone to build a baseline, focusing on doing more fly-overs and looking for more trouble spots.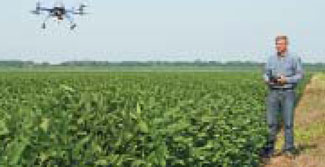 Sooner or later, you'll likely lose your drone, warns Lake Providence, La., farmer Donavon Taves. With that in mind, scratch your phone number on your drone, so if it goes into the wild blue yonder you'll have better luck getting it back. Taves, who was harvesting a bumper crop of corn as this magazine went to press, uses his drone throughout the season as a set of eyes in the sky. 

"It's just like yield maps—one year does you no good," he says. "We're also working on pre-programmed routes to make future flights a lot more efficient." 

Although 400' is the current altitude limit for flying drones and other model aircraft, Taves is quick to point out 400' is high enough to provide a valuable perspective.

A stitch in time. Image processing is just as important as image collection and ground truthing, says Isaac Ferrie of Crop-Tech Consulting. The sheer volume of data takes time, money and skill to master, he says.

Consider this: Flying at just a few hundred feet in the air, most models can only capture a 1- to 1.5-acre section of the field per photo. Those images can fill up a hard drive surprisingly quickly. Citing a recent example, Ferrie says collecting 21 acres' worth of visible and near infrared imagery added up to 3 GB of data—and that was before it was even processed.

The processing itself can take hours to complete. To make a map of a field, a specialized software program detects overlaps in the photos and stitches together neighboring photos. This is relatively simple when stitching images that have irregular spots (borders, grass buffer strips or other distinct areas of the field).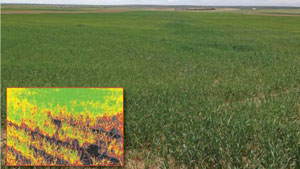 From the road, it's difficult to see thicker or sparser areas in this field. In the inset photo, UAV-collected vegetative index imagery reveals problem spots in the middle of the field that weren't visible from the roadside inspection. Ground-truthing the aerial images allow a clearer picture of what the images have captured.

"But when you have closed-canopy corn or soybeans, some stitching software struggle," Ferrie says. "Photo after photo begins to look identical."

When creating NDVI maps, Ferrie also suggests comparing it to a color photo to identify any areas of obvious stitching or where shadows might have caused accidental interference.

"Processing factors are usually an end consideration for a drone purchase, but I think you have to look at it up front," he concludes.

Legal unease. Drones have dozens of practical uses on the farm, yet most farmers hesitate adopting the technology. There are three main causes: the learning curve, the cost and, perhaps most importantly, the legal uncertainty around commercial use. 

Technically, drone use is currently not authorized by the FAA, says John Dillard, an attorney with OFW Law and Farm Journal legal columnist. "Even if you're operating on your own farm and following all of the current model aircraft guidelines, it's still a commercial use as the FAA has defined it," he says.

That's because UAV use has proliferated quickly in the past several years, while it takes time for laws to be established or changed in Washington, D.C.

"What we've seen is the technology has outpaced the law," Dillard says.

Who is Raphael Pirker? Many have questioned the FAA's bandwidth to go after reckless drone users, but make no mistake—they have distributed fines, most notoriously against Raphael "Trappy" Pirker.

Pirker was fined $10,000 after he was accused of reckless flying while filming a commercial for the University of Virginia. It was the first time an individual was fined for flying a UAV for a commercial venture. A judge dismissed the fine, and the case is under appeal. Still, that was a relatively extreme case, argues Tom Gemmell, an attorney at Husch Blackwell.

"Do it at your own risk, but the FAA is aware there's a pretty limited risk using UAVs on the farm," he says. "They're not looking at going after farmers. They're going to go after the guys who are basically thumbing their noses at the FAA."
---
Who Calls It What
Drone:

Most commonly used media and popular culture term; negative connotations due to use in war references
Unmanned Aerial Vehicle (UAV):

Originally a military term, adopted into common use
Unmanned Aerial System (UAS or "ship"):

Original term used by the Federal Aviation Administration and Congress, adopted into common use
Remotely Piloted Aircraft Systems (RPAS):

Air Force term
---

Gretchen West, executive vice president for the Association of Unmanned Vehicle Systems International, calls the agriculture industry "low-hanging fruit" for pending FAA regulations.

"The ag community is well-placed because you're going to be flying over unpopulated areas," she says. "That's important to the FAA. We're one of the only industries that actually wants regulations—we want rules so we are clear on where and how we can fly."

Final approach. The FAA has been authorized by Congress to finalize a plan for "safe integration" of UAVs by Sept. 30, 2015. Dillard expects the agency will release its proposed regulations for drones that weigh less than 55 lb. this fall.

While many farmers are already flying drones, the lack of clear regulations has kept others grounded—for now.

"I haven't bought a drone yet, but I'm interested," says Illinois farmer Andy Shireman. "I want to ensure all legalities are set in stone before I make that move."

Smooth operators. Dillard says once regulations are finalized that doesn't mean anything goes. Farmers will need to keep safe and responsible use at the forefront of operating a drone.

"If you operate a drone, you accept responsibility for your actions," he says. "If you hit a person or damage property, there are legal consequences beyond what happens at the FAA."

Back on the farm, Randall Adkins, a precision farming specialist for Progressive Tractor in Louisiana, has been researching several models of rotor drones for the past several months. On this particular clear spring day, he's readying his first fixed-wing model for its maiden voyage.

"I got a cheaper fixed-wing model so when I crash it, I don't cry," he says. "One thing I know for sure—this thing's going to be painted orange."

That's because crashes are inevitable, Adkins says, especially when you're just starting out. Flying drones on the farm can be useful—not to mention tremendously fun—as long as you keep the vehicle in sight and in control at all times. Don't put your investment one gust of wind away from careening into a power line, he says. Safety has to be top priority at all times.

With a bit of programming, Adkins added a few fail-safe "if/then" parameters into every drone he built.

For example, Adkins can set up a geofence for every field, so if the drone crosses the boundary, it will land. If the battery level reaches 10%, he can program the drone to return to the launch site. He can also switch to safe mode on some models, dramatically slowing the rate of ascent and descent for smoother takeoffs and landings.

Safety standards. Brian Rau, North Dakota farmer and the current National Agricultural Aviation Association (NAAA) chairman of government relations, says the association submitted comments to the FAA to address some of the group's own safety concerns.

"Mostly it revolves around making the UAV more visible," he says. "Strobes, paint and high-visibility streamers would help a lot."

Additional NAAA recommendations include developing a comprehensive database for UAV operations, pilot training, requiring flight logs and flight advisories when and where UAVs are operating.

It's also important to address the drone's current inability to properly see and avoid other aircraft. "See and avoid" is a safety standard for manned aircraft flying at low altitudes. A workaround solution for drones—sense and avoid—would allow the machine to automatically steer clear of incoming aircraft. The technology, however, is not yet commercially viable.

Illinois farmer Matt Boucher has three children, and as with any piece of farm equipment or technology, he makes safety education a priority.

"I always tell them to respect the dangers of equipment, or it will one day make you respect it," he says. "When flying an unmanned aerial system, everyone needs to maintain a proper distance and always stay away from moving props."

Pilots should always maintain a line of sight, Boucher adds. "As you might imagine, flying the ship by feel at a distance can have negative consequences," he says.

Rau agrees that training needs to be an integral part of UAV operation.

"It seems reasonable to me that UAV operators should have some type of FAA pilot license to show they know the rules of the air and they can control their aircraft, just as we all must have driver's license," he says.

By 2020, the FAA hopes to implement a system called Automatic Dependent Surveillance—Broadcast (ADS-B), which uses GPS tracking technology rather than ground radar, in all aircraft. Rau hopes this will improve safety but doubts any single solution will be a silver bullet.
---
First-Hand Experiences With Drones  
Every on-farm experience using drones varies. Here, two farmers share their stories of getting acquainted with the technology.
Buying a drone is kind of like buying a car. There are a ton of makes, models, bells and price points. The real return on investment is with the time you can save. No one wants to go to the backside of an 80-acre field when it's 90°F and the corn is 10' tall. Now, I can fly over fields in less than half the time and quickly identify problem spots. I'm going to upgrade to a fixed-wing with thermal imaging capabilities at some
point. I want to use it for making variable-rate nitrogen prescriptions. I could fly a field, get a script within an hour and run the script.

 
I'm still learning how to fly, using it to check on pivots when they are stuck and find nozzles that aren't working correctly based on water distribution. We're also using it to get a bird's-eye view of the fields, which is a different perspective we have not used in the past. The next step will be learning the imaging software and how to interpret the data we collect. People outside of ag have been asking me about it—an insurance adjuster who wanted to inspect the roof of a tall building, for example. I could see real potential for crop
insurance agents as well. 
---
Four Types of Drone Insurance
With the Federal Aviation Administration putting together a plan to integrate drones into the national air space, flying a drone for personal or commercial use might soon be completely legal. That doesn't mean "anything goes," however. Potential liability issues will still abound.
Insurance companies have seen the potential in this, and many have drafted rudimentary coverage policies to cover drones that fly on the farm. Talk with your local provider to see what specifically is available. Generally speaking, you should inquire about the following four areas of potential coverage, according to insurance magazine PropertyCasualty360:
1:
Liability coverage typically includes personal injury protection and also covers invasion of privacy.
2:
Property coverage protects the aircraft itself, both the parts and the finished product.
3:
Whole coverage is more comprehensive, but insurers have struggled with it because it is difficult to predict what drones will or won't do.
4:
Workers' compensation coverage applies if the person operating a drone manages to injure him/herself or others on the job.
---
Drone technology is still in its infancy and constantly in flux. For regular updates, visit the industry's most comprehensive online community to learn more and discuss innovative uses for drones on your farm.