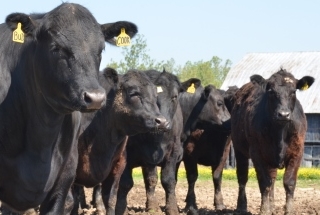 The cattle market reached record levels in 2014. But the records didn't stop at the prices. Cattle producers also saw record weights. According to USDA's Livestock and Slaughter Report, the average weight of cattle slaughtered in The United States is increasing.
It's been a year of high prices within the cattle market. Those prices have yet to show any strong signs of retreat.
"Cattle markets are ending the year at basically record levels in terms of prices. Interestingly enough we started the year at record levels but levels at the end of the year are significantly higher," said Oklahoma State Livestock Marketing Specialist, Derrell Pell.
The big driver is cattle supply.
"Beef production is down about six percent so far this year. Slaughter is down over seven percent so tight supplies will continue into 2015," said Peel.
Because of supply and low feed costs, carcass weights on slaughter cattle are significantly climbing.
According to USDA's Livestock Slaughter Report, from September 2013 to 2014, the average dressed weight of the carcass rose from 799 pounds to 822. In September 2011, it was around 775.
Oklahoma State Livestock Marketing Specialist Derrell Peel says this could create some demand problems if we're not careful.
"These carcasses are very big, creating large cuts of meat and in some cases, those run counter to what consumers really prefer in terms of size of cuts," said Peel.
Pro Farmer's Julianne Johnston says the extra weight shouldn't be a problem next year because supplies are that tight.
"USDA is projecting beef production to be down 3 percent from 2014 levels and if we continue to add that tight of a situation, adding weight won't be an issue," said Johnston.
Yet Johnston says those extra pounds could eventually be an issue.
"Coming down the road, two or three years, adding weight could become an issue with over production, but not over production next year," said Johnston.
Regardless of carcass weights, both analysts expect supplies to remain tight for a number of years.
Johnston says most packers aren't concerned about the weight right now because of the low numbers.
If plants continue to close, that could change. USDA's report also says fewer heifers are in feed lots, meaning there is a larger portion of steers up for slaughter.