According to the National Drought Monitor, 74.12% of the Corn Belt is drought-free, which compares to 72.46% last week and 56.78% a year-ago. But 100% of Nebraska is still covered by some form of drought and very little change was seen within the state's drought categories from last week.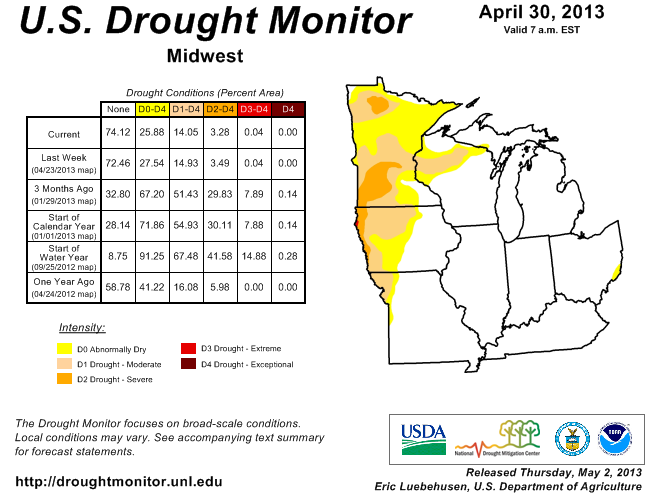 The monitor notes for the Northern Plains and Upper Midwest that long-term drought lingered despite seasonal snow melt and river flooding, although some improvements were made using updated precipitation data and reports from the field. "A narrow band of 0.50 to 1.50 inches of rain eased D0 (Abnormal Dryness) and D1 (Moderate Drought) from south-central North Dakota into northwestern Minnesota. In addition, updated 90- and 180-day precipitation data supported reducing or eliminating areas of D0 and D1 in southeastern South Dakota and neighboring environs, with totals now at or above 100% of normal (locally up to 150 percent) at both time scales. Likewise, D3 (Extreme Drought) was reduced in northeast Wyoming and southwestern South Dakota, where near-normal precipitation over the past three months has eased drought impacts," notes the monitor. "Despite the general consensus that conditions continue to improve, long-term indicators, including the 6-, 9-, and 12-month Standardized Precipitation Indices, show underlying, long-term drought persists in the core D1 and D2 areas of the Upper Midwest. In contrast, short-term dryness has reduced soil moisture in north-central North Dakota, where a small area of D0 was added."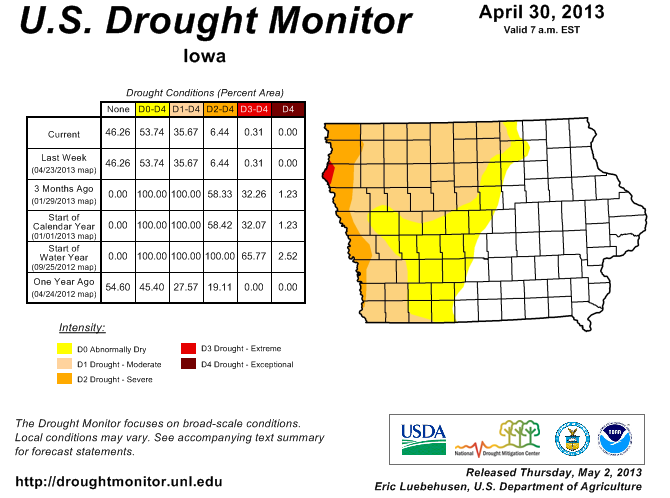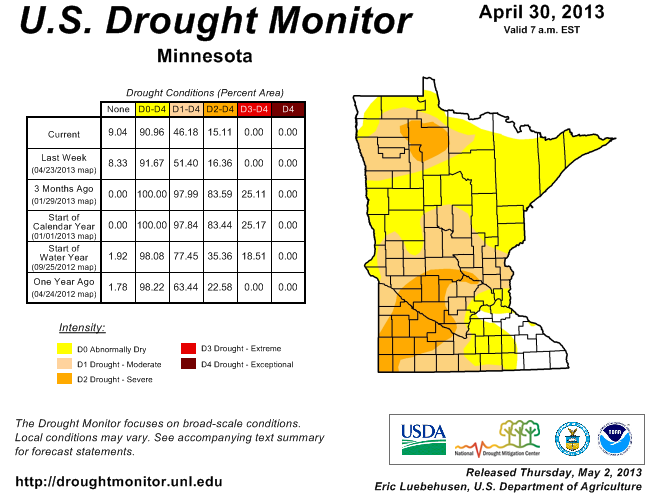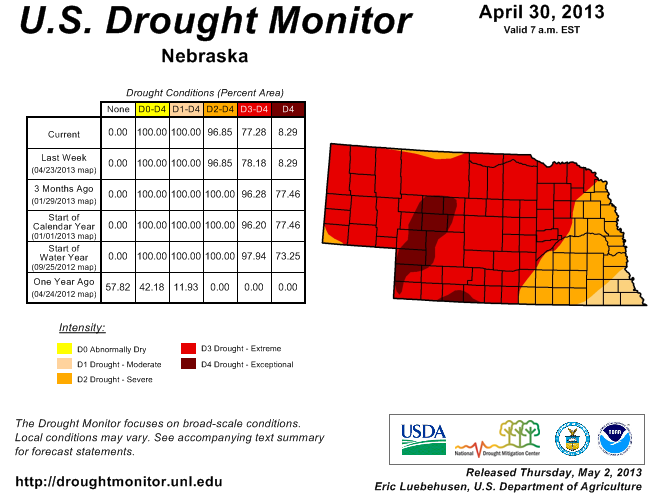 In its near-term weather outlook, the monitor predicts: "Five-day precipitation totals could reach 2 to 4 inches across the east-central Plains, upper Midwest, lower and middle Mississippi Valley and eastern Gulf Coast region. In addition, late-season snow will fall from the central Rockies into the Upper Midwest... Warmth will linger, however, from the eastern Corn Belt into the Northeast. The NWS 6- to 10-day outlook for May 7-11 calls for above-normal temperatures in the West and Northeast, while cooler-than-normal conditions will prevail across much of the Corn Belt and from the central and southern Plains into the Southeast. Meanwhile, near- to below-normal precipitation from the Northwest into the northern Plains and western and northern Corn Belt will contrast with wetter-than-normal weather in the central and southern Rockies, portions of the Intermountain West, and much of the eastern third of the nation."
---