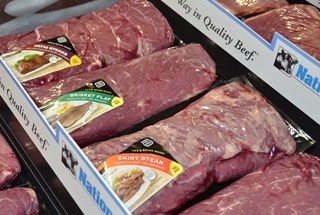 Herds increased in 2014, but beef production will fall again
Record cattle prices and dramatically improved forage conditions this past year have posed an obvious question: Will the cattle industry finally see expansion?

After eight consecutive years of inventory contraction, the consensus among livestock analysts is expansion occurred in most regions this past year—drought-plagued California and the West being the exception.
"Expansion is underway," says John Nalivka, president of Sterling Marketing. "I believe we'll see slow and steady growth of the nation's cow herd and the total cattle inventory will top 90 million head by 2017."
That's music to the ears of many who believe the industry was dangerously close to a tipping point with historically tight supplies. Tight cattle numbers meant empty feedyard pens and an overcapacity in the nation's packing industry. A handful of feedyards have closed, and in less than two years, the industry has reduced fed slaughter capacity by 6% and cow slaughter capacity by 13%.
"There may be more closings," said Randy Blach, CattleFax president, to members of the Kansas Livestock
Association in Wichita in December.
That's because the period of short numbers is not over. As expansion takes shape, Blach says, fewer heifers will be available for feeding and slaughter, which will contribute to smaller slaughter numbers this year.

Oklahoma State University livestock marketing specialist Derrell Peel also sees expansion unfolding.

"The beef cow herd almost surely began expanding in 2014, though final confirmation will come in the annual cattle report due out Jan. 30," Peel says.

Nalivka and Peel expect the expansion in the U.S. beef cow herd to contribute to tighter feeder cattle supplies this year, due to a smaller 2014 calf crop and increased heifer retention. The calf crop may increase in 2015, but continued heifer expansion in 2015 will keep feeder cattle supplies tight.

While the U.S. cattle herd is the smallest since Harry Truman was president, production efficiencies are evident. That can be seen as a double-edged sword.

"Beef production per cow has doubled over the past 50 years," Nalivka said. "That's how we've been able to hold beef production at such high levels even as slaughter rates declined."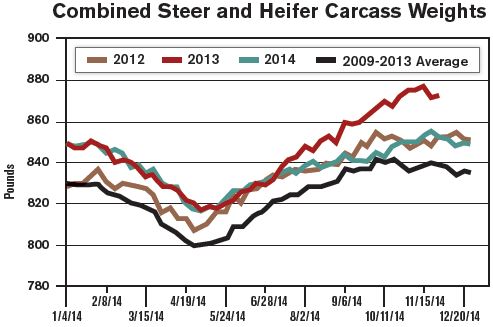 Steer and heifer carcass weights have been on the rise for several years, but the last half of 2014 saw dramatic increases as grain prices tumbled.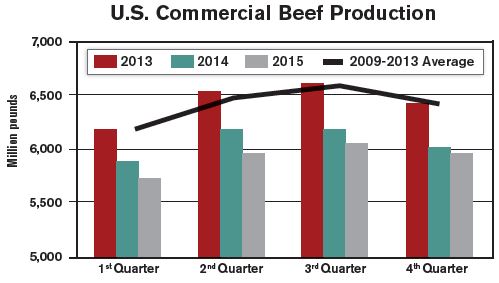 U.S. beef production declined 6% during 2014 and is predicted to fall another 1% to 2% during 2015, with the shortest supplies coming in the first quarter.
SOURCE: STERLING MARKETING, INC., VALE, OREGON


Steer and heifer carcass weights have continuously trended higher, and too heavy carcasses have been penalized by packers. Supplies of beef were so tight in 2014, however, that packers stopped docking feeders for carcasses more than 900 lb.

"The incentive is there to feed cattle to heavier weights," Nalivka says. "When the cost of gain is 80¢ to 85¢ per pound, and they can sell that pound for $1.60 or $1.70, it's an easy formula to calculate."

With corn prices near five-year lows and cattle prices near all-time highs, few analysts see the incentive eroding. Analysts believe average carcass weights for steers could reach 884 lb. and 808 lb. for heifers this year, up 12 lb. and 8 lb. respectively from 2014 averages.

"These carcasses are very big, creating large cuts of meat, and in some cases, those run counter to what consumers really prefer in terms of size of cuts," Peel says.

Despite the increase in carcass weights, analysts project total beef production to be about 23.7 billion pounds this year, down from 2014's 24.5 billion pounds. That reduction will also lower per capita beef consumption to about 52.4 lb. this year, down from 54 lb. in 2014.

As beef production has declined, consumer demand has increased, further supporting bullish ideas for 2015. "Beef demand has been robust," says Glynn Tonsor, Kansas State University
Research and Extension livestock economist.

Regarding ideas that higher retail beef prices will act as a lid on beef demand, Tonsor says, "There is no such thing as a price ceiling as demand curves are sloped."

While consumer beef demand has remained strong throughout 2014, supplies of competing meats—pork and poultry—were not plentiful enough to entice consumers away from the beef aisle. That factor might change this year.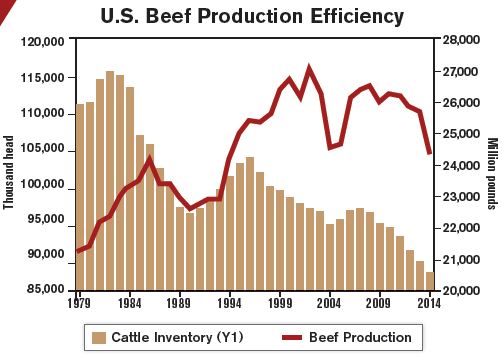 Genetics, nutrition and management have all contributed to increased efficiencies of the U.S. cow herd over the past half century.
SOURCE: STERLING MARKETING, INC., VALE, OREGO


"We may see an impact in the first quarter of 2015 from the growth of available meat supplies (pork and poultry) that could increase the ability of U.S. consumers to shift meat purchases," Tonsor says.

That may be a warning sign, as retail beef prices rose 20% in 2014 and may go higher. Could challenges to consumer demand surface this year?

"I strongly contend both supply and demand are combining to 'drive' record prices," Tonsor says. "I see 2015 as being another historic year for cow-calf producers. It may be an above average year for stockers, too, but not likely as strong as for cow-calf producers. The feedlot segment is where I expect the largest pullback in returns, at least relative to 2014."

Nalivka agrees with that logic, adding that he believes this market has helped break down some of the contentious relationships between packers and producers.

"With value-added products, the packing industry has taken the next step beyond boxed beef, which was a revolutionary change in its day," he says. "I don't believe packers want to beat prices down like they were able to a few years ago. It's not in their best interest because the industry can't stand the ripple effects."

The ripple effects of dramatically lower prices, he argues, would be an industry suddenly shifting back into liquidation mode as older producers exit the business.

"We're just starting to see expansion. I believe the packing industry sees the need to encourage production over the next couple of years."

The larger desire of packers and retailers is to build consumer demand and continue expanding the U.S. export market.