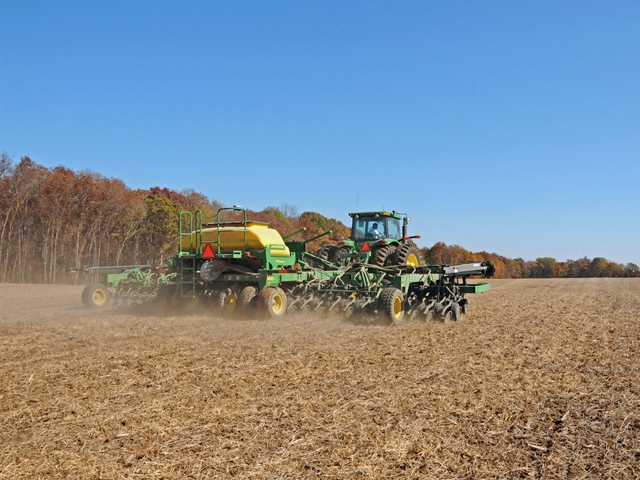 Rushing through wheat seeding can cost more than 10 bu. per acre
Being in a hurry rarely pays. In the case of wheat seeding, the faster you go the more likely the stand will be uneven and yield will take a hit.

In Idaho, a coalition of wheat producers, processors and other stakeholders joined together to form the 200 Bushel Club to research the best management practices for wheat. In 2015, they performed a variety of field tests from variable-rate fertilizer application to tillage to drill speed.

When assessing drill speed, the group found up to 11.8 bu. difference in yield. Seeding at 6 mph, yields averaged 115.6 bu. per acre; at 4 mph, 127 bu. per acre; and at 2 mph, 122.9 bu. per acre. (Soft red spring wheat yields were down in parts of the Palouse because of stripe rust and other weather factors in 2015.)

"If you increase yield by at least 5 bu. per acre it's worth doing," says Emily Tolley, senior agronomy major at Brigham Young University–Idaho and intern with the group who performed the drill tests.

Soil conditions can cause more variability in seed placement, depth and overall uniformity. "In areas with less organic matter, more compaction, more soil clods and overall poorer soil conditions, reduced speeds really increase yield," says Cathy Wilson, director of research collaboration with Idaho Wheat Commission.

When looking out over the field, it was evident where drill speed changed, Tolley says. "We could visually see skips and varying stages of growth in the faster tests, especially during vegetative growth stages," she adds. 

At no cost, other than more time in the tractor seat, farmers can potentially increase wheat yields and improve field health. "If you have skips you leave that area susceptible to weeds," Tolley adds. "In the short term you lose yield, but long term you could create a weed problem."

Let your neighbor win the planting race this spring; at harvest you can boast the bigger victory with higher wheat yields. 
---
Narrow Rows Produce More Bushels
Simple miscalculations at planting can make or break your season. Row spacing is one factor that influences wheat's ability to capture sunlight, water and nutrients.

"Out of 15 to 20 replicated studies, I've never seen wider rows win," says Phil Needham, Farm Journal's high-yield wheat expert. "Always use the narrowest rows you can."

In the U.S., 6" to 7" rows are usually the smallest you'll find, but in Europe 4" rows are common, he adds.

According to North Carolina State University research, switching from 10" rows to 6" rows results in a 7 bu. yield advantage (see graph below). 

Switching to narrower rows doesn't mean seed costs will increase; it might actually decrease your cost, Needham adds.