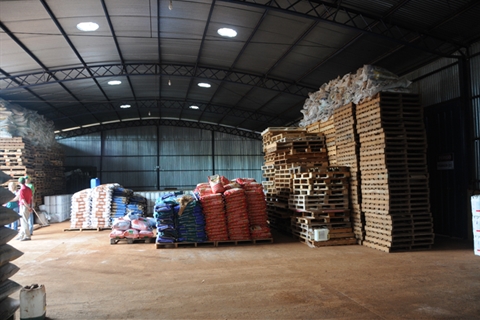 DuPont Co., the chemicals company facing a proxy contest with activist shareholder Trian Fund Management LP, posted an unexpected drop in fourth-quarter sales and forecast 2015 earnings that trailed analysts' estimates.
Revenue fell to $7.38 billion from $7.75 billion, Wilmington, Delaware-based DuPont said in a statement Tuesday, compared with the $7.79 billion average of 12 estimates compiled by Bloomberg. Profit excluding some items was 71 cents a share, matching the average estimate.
Average prices fell in every business segment, led by an 8 percent decline in the agriculture business, where lower grain prices reduced farmer spending on corn seeds in Brazil. Foreign exchange reduced company-wide sales by 3 percent, DuPont said.
Agriculture companies "continue to be negatively impacted by falling corn prices in the fourth quarter," David Begleiter, a New York-based analyst at Deutsche Bank AG who recommends buying the shares, said in a Jan. 16 note.
For 2015, the company said operating earnings will be as much as $4.20 a share, trailing the $4.44 average estimate. Profit this year will be cut by 60 cents a share because of the impact of the stronger dollar, it said.
DuPont fell 1.5 percent to $73 before the start of regular trading at 6:21 a.m. in New York.
The company also said Tuesday it's expanding its cost-cutting plan to $1.3 billion by the end of 2017. It previously sought $1 billion of savings through 2019. Dividends received by DuPont from Chemours, the performance-chemicals business it plans to spin off later this year, will be returned to shareholders via stock buybacks. The proceeds will be about $4 billion, DuPont said.
Trian Plan
The weaker-than-expected quarterly sales and 2015 forecast may hurt efforts by DuPont Chairman and Chief Executive Officer Ellen Kullman to defend against Trian's campaign to seek four board seats. Trian has criticized Kullman's failure to reach her goal of 12 percent annual earnings growth for three straight years and it argues that the 212-year-old company should be broken up.
Trian, which is based in New York, held a 2.7 percent stake in DuPont at the end of last year, and says the company can cut $4 billion in costs. While DuPont already plans to spin off Chemours, Trian advocates the rest of the company be split in two. One part would include the faster-growing agriculture and nutrition units and another would encompass more cyclical businesses.
Kullman's choice to fight Trian, saying shareholder returns outpaced major stock indexes since she became CEO in 2009, contrasts with industry peers Dow Chemical Co. and Air Products & Chemicals Inc., who have decided to work with activists.
At the same time, she has already implemented some of the recommendations made by Trian, including the sale of the DuPont Theater in Wilmington.
DuPont shareholders will vote to select the board at the company's annual meeting in April.