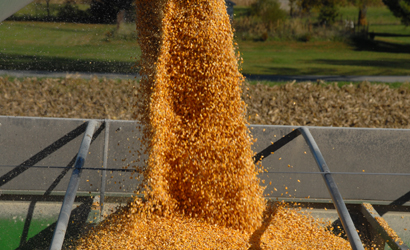 Will farmers hoard or sell their 2014 corn production?
As corn harvest picks up steam, a large percentage of farmers have less than half of their 2014 corn crop priced. The Aug. 20 Farm Journal Pulse, a text message poll of farmers, asked: How much of your 2014 corn production is sold or priced?
Nearly 40% of the 1,300 respondents had none of their 2014 production priced. Approximately 20% of farmers had 1% to 25% of their crop priced. Only 6% had their entire 2014 corn crop priced.

Compared to 2013, farmers are slightly more proactive when pricing grain this year. On Aug. 21, 2013, the Farm Journal Pulse asked how much 2013 corn production farmers had sold or priced. Of the 1,700 respondents, nearly half had priced none of their 2013 corn crop, and around a quarter of respondents had 25% or less of their production priced.
With a potential record corn crop on tap, Farm Journal Economist Bob Utterback says farmers need to be realistic about future crop prices. 

"The tendency farmers have in these situations is to clutch their grain and do nothing," he says. "Once you harvest a crop, you are no longer a producer—you are an elevator. An elevator doesn't make money on flat price movement. An elevator makes money on basis appreciation and carry." 

With large crops predicted, a lack of storage could become an issue for farmers and elevators. Kevin Van Trump, president of Farm Direction, says elevators and end users might be forced to bid up corn early if most producers opt to store much of their  crop on farm. "This could keep basis fairly firm," he says. 

However, commercial elevators could fill up as harvest winds down. "Then everybody and their brother will be looking to sell at the same time," Van Trump says. "That could mean basis and price take a final hit right when we least need that to happen."

To see a full listing of past Farm Journal Pulse polls and to sign up to participate in the survey, visit http://www.FarmJournalPulse.com