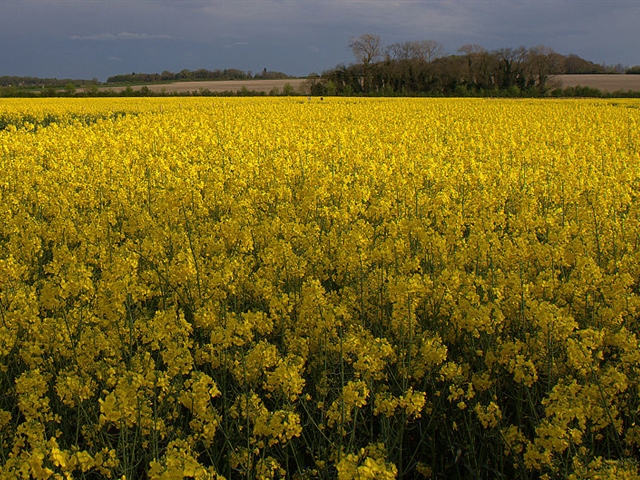 When you think about crop production in the U.S., the big three are corn, soybeans and wheat—in that order. One crop that garners only a modest number of acres but might be worth taking a look at for your farm is canola.
"In the U.S., the ratio of supply versus demand of canola oil is about 1:4, which presents a huge opportunity for U.S. producers to grow more canola," according the U.S. Canola Association.
There are a number of reasons for that. Among them, according to the USDA, is that canola oil for cooking ranks behind only soybean oil and palm oil. In addition, canola meal is the second-most used feed meal with livestock, behind only soybean meal. In the past 40 years, canola has gone from being the sixth-largest oil crop to the second largest globally.
Even so, U.S. farmers—at 17 million acres in 2017—produce only a small portion of the global crop. North Dakota farmers produce 83% of the total crop, according to Margaret Smith with the agricultural marketing resource center at Iowa State University.
Oklahoma is in second place with 6% of the total canola acres. Idaho has 3%, Montana and Minnesota have 2% each and Kansas has 1%. A handful of acres is also grown in Colorado, Minnesota, Montana and South Dakota.
Smith notes that there are both spring and winter annual canola types. Spring-planted canola is grown in most of Canada and the northern states in the U.S. Winter annual canola is grown in Oklahoma and parts of the Midwest.
2018 Canola College: Oklahoma State University and Kansas State University are hosting the 2018 Canola College on January 19 for farmers interested in learning more about the latest in canola production and marketing. The event is being held in conjunction with the Great Plains Canola Association and members of the canola industry.
"Attendees will hear from canola experts on a variety of key topics and will have the opportunity to visit with industry members who provide the goods and services needed to produce, handle, and market the crop," according to a press release from K-State Extension.
Individuals can register for the event at www.canola.okstate.edu. For more information on the Canola College, you can also contact Mike Stamm at 785-532-3871 or [email protected].
Here is an overview of the agenda:
Canola College 2018 will be held January 19 at the Chisholm Trail EXPO Center, 111 W. Purdue, Enid, OK.
This will be the premier canola education/training event in the region in 2018. Canola College 2018 is for anyone with an interest in the canola industry including: experienced and first time growers, crop insurance agents, members of agricultural governmental agencies, and canola industry service and product suppliers.
Canola College 2018 topics will include:
Why We Grow Winter Canola – Heath Sanders, OSU Southwest Area Extension Agronomist and Josh Bushong, OSU Northwest Area Extension Agronomist
 
Advanced Production Practices – Bob Schrock, Grower, Kiowa, Kan., Jeff Scott, Grower, Pond Creek, Okla., and David Seck, Grower, Hutchinson, Kan.
 
Interactions of Seeding Rate, Row Spacing, and Genetics – Kraig Roozeboom, KSU Cropping Systems/Crop Production
 
Canola Cropping Systems – Josh Lofton, OSU Extension Cropping Systems Specialist
 
Managing Harvest to Maximize Yield and Oil Content – Mike Stamm, KSU Canola Breeder
 
Canola Harvest Management and Combine Adjustment – Randy Taylor, OSU Agricultural Engineering
 
Canola Economics – Trent Milacek, OSU Northwest Area Extension Ag Economist and Rodney Jones, OSU Extension Ag Economist
 
Weed Control – Misha Manuchehri, OSU Extension Weed Scientist
 
Disease Control – John Damicone, OSU Extension Plant Pathologist
 
Insect Management – Tom Royer, OSU Extension Entomologist

The very popular Canola Learning Laboratory will be continued in 2018. A meal and coffee breaks are being sponsored by members of the canola industry. The lunch program will consist of updates from Canola College sponsors. Time will be allotted on the program for attendees to meet with sponsors at their booths.