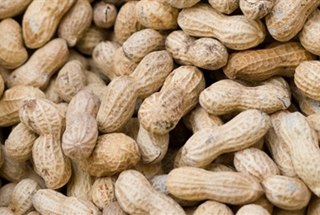 A dented and charred popcorn popper sitting on the crowded top shelf of the main office of Powell & Stokes farm supply in Windsor, N.C., is something of a shrine.
The late Jack Powell Sr. began about 40 years ago soaking large peanuts in boiling water, then frying them in oil in the popper. The peanuts blistered into a tasty, crunchy snack.
He offered samples to farmers coming to the shop.
"People said they were so good, 'Why don't you sell them?' " said Jack Sr.'s grandson, Jonathan Powell III.
So they did. Sales grew over the next two decades until, in 1994, Jack Powell Jr. and brother Bill founded Bertie County Peanuts. What began as a tiny piece of Powell & Stokes has blossomed into an enterprise with a global reach. Last year the company shipped nearly 200,000 pounds of packaged peanuts as far away as Japan. A website and slick catalog advertise flavors such as chocolate-covered, honey-roasted, butterscotch and Weeping Mary's Ghost Pepper. The past three years have brought double-digit growth, Jonathan Powell said.
The peanut company employs 14 people year-round and 20 during the busy Christmas shopping season.
Bertie, located southwest of Elizabeth City, is one of the poorest counties in North Carolina. With just over 20,000 residents, it's also among the least-populated, and the population has been declining - by nearly 1,000 just since 2010, according to census records. The county's unemployment rate is nearly 10 percent.
Peanuts generate much of what little wealth Bertie has. The county leads the state in peanut production and is a big reason why North Carolina ranks fourth in the nation in peanut production, behind only Georgia, Texas and Alabama (and two notches above Virginia).
New varieties have yields of 5,000 pounds per acre, nearly double those of a decade ago, said Jonathan's father, Jack Powell Jr.
William Luther Powell and his brother-in-law, Jonathan T. Stokes, founded Powell & Stokes, Bertie County Peanuts' parent company, in 1919 in downtown Windsor on the Cashie River. Peanuts and cotton were shipped by barges then, Jack Jr. said. Operations later moved to another downtown location before ending up on U.S. 13 outside Windsor in the 1970s.
Below framed photos of the founders is a large desk with a slanted top where company bookkeeper Warner Lassiter kept the ledger for 60 years.
Jack Jr. pointed to an indentation on the desk's lower wooden brace where Lassiter placed his foot as he ciphered numbers all those decades.
Yellowed papers on the wall display a Southern sense of humor.
"I can only please one person a day and today ain't your day," says one.
"If at first you don't succeed, it's probably because it's the family business," says another.
The joke doesn't apply to Powell & Stokes. The company has thrived for four generations of Powells, with a fifth coming along in Jonathan's two young sons.
"If the creek don't rise, we'll be all right," he said.
That old saying holds some truth for the Powells. The main hindrances to business are hurricanes because they can damage crops and hinder harvests. And that's not all: During Hurricane Floyd in 1999, the water rose waist-deep in the company office. The water mark still shows on the old safe.
Bertie County Peanuts is benefiting from an insatiable appetite around the world for new flavors of peanut snacks.
The Powells declined to provide sales figures.
But stocks of peanuts grown for snacks increased by more than 7 percent in the crop year from August 2013 to July 2014 and that number has trended upward since at least 2010, said Patrick Archer, president of the American Peanut Council. Retail peanut sales in the United States surpass $2 billion annually and are growing, he said.
Marketing efforts touting the nutritional value of peanuts have boosted business, Archer said.
"The peanut industry is healthy," he said.
All of the peanuts that the Powell family ships are known as the Virginia type. Though they're named for the Old Dominion, they're also grown in northeastern North Carolina, where Bertie County Peanuts gets most of its supply. What makes the peanuts ideal is their large size.
"We want the prettiest peanut we can get," Jonathan Powell said. "Only the super-extra-large."
A short distance from the main office, at the back of a kitchen, Dennis Bazemore dipped a basket full of peanuts into boiling water, then settled it into hot oil much like Jonathan's grandfather used to do. Zanquisha Speller sprinkled salt and hot spices over already-cooked goobers cooling on a pan.
In another area, Martha Early steadily stirred a creamy butterscotch peanut coating. A conveyor belt with a cooler fan ferried the coated peanuts over to other workers placing the treats into jars.
Despite worldwide Internet sales and a Christmas boom, all of it was done by hand at a steady pace, sort of like Jack Sr. and his popcorn popper. "That's as fast as we want it to go," Jonathan Powell said.