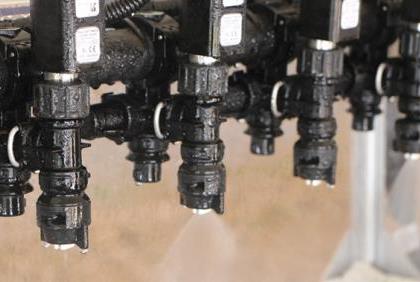 In some respects, "bigger is better" at the National Farm Machinery Show. At least, that tends to be true on the surface – the bigger iron draws the most gawkers. But look a little closer, and some smaller finds are just waiting to be discovered.
A prime example of this is the new Hawkeye nozzle control system from Raven. The system's controller is about the size of a paperback book, but has enough computing power to send a series of on/off commands to the system's nozzle control valves and track data on the results.
When the sprayer runs slower, it stays in the "off" position longer, and if the sprayer runs faster, it stays in the "on" position longer to deliver consistent spray volume. Gary Esselink, product manager of application controls at Raven, explains why this consistency can really help farmers.
"If your pressure goes too low, the spray coverage isn't adequate," he says. "But if the pressure gets too high, you get misting and a risk of drifting into other off-target fields."
Turn compensation technology also keeps Hawkeye spraying consistent volume on turns. Each nozzle has diagnostic information tracked as well.
"We worked really hard on the diagnostics to make troubleshooting really easy," Esselink says.
Raven also worked to make the system easy to install, he adds. The company even made a demo video to show customers what it would take to get it set up.
Here are just a few more of the pocket-sized tech on display at this week's NFMS include:
iForeman, an app that links grain carts to your mobile device to deliver live weight data streaming. With the app comes an i60 serial processor that connects to the junction box interface cable. It wirelessly sends the weight data to the app. A "remote" mode lets users monitor real-time updates within a 400-foot range. Currently available on Apple devices only.
DigiStar's Grain Tracker app allows users to control a scale indicator display remotely from their Android or Apple mobile device. With intuitive touchscreen display and control, the app is free with purchase of the Digi-Star ERM-WIFI module.
AgriImage has two UAV models on display. The AgScout has GPS-assisted flying and can fly in winds of up to 30 mph. With the ability to add multiple cameras without compromising performance, this unit is ideal for collecting thermal images, NDVI maps and HD video. Meantime, the AgScout 5 is a heavier model that can carry larger payloads. It is built tough and can fly with only four of its six motors running. Ideal for larger farms.
Topcon has two new color touchscreens on display. The X25 has an 8" display and a next-generation processor with the same core software as the X30 display. It has drag-and-drop menus, ISO compatibility and more. The X25 is compatible with the Topcon AGI-4 GNSS Receiver/Steering Controller and the SGR-1 GNSS. The X14 console is a 4.3" full-color 3D touch screen. It provides entry-level manual guidance and coverage mapping functionality.
Dickey-john developed a Hy Rate Plus LED Seed Sensor that accurately counts seed population during planting. It uses two to three more times LED lights and placing them close together to virtually eliminate any dead zones in the seed tube. The product has received an AE50 award from the American Society of Agricultural and Biological Engineers.
The National Farm Machinery Show runs Feb. 11-14. Visit http://www.agweb.com/national-farm-machinery-show/ for continuing coverage on AgWeb, or follow along in real-time on Twitter by following hashtag #NFMS15.