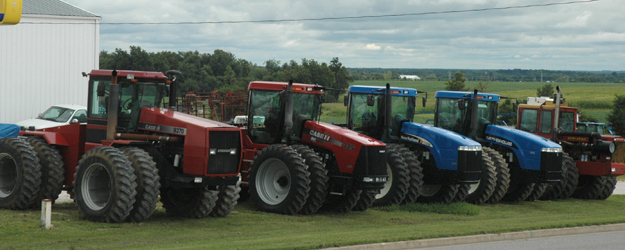 Yet 200 hp tractors see sharper price drop
As of mid-fall this year, comparing values across horsepower categories in the used tractor market is much like comparing apples to oranges. The accurate big-picture view usually doesn't lend itself nicely to sweeping generalizations, and this certainly holds true for used tractor values right now.

If high horsepower and four-wheel-drive used tractors are the apples, then I'd tell you this fall's crop has begun to sour. 

Take the pair of Challenger MT765C tractors I saw sold on two Sept. 10 auctions. At a consignment auction in southeast Iowa, a 2010 Challenger MT765C with 2,012 hours sold for $134,000. On an online auction in northwest Minnesota, a 2009 model with 2,050 hours went for $136,000.

Compare those mid-$130,000-range sale prices to the $152,500 sale price of a 2010 Challenger MT765C with 1,986 hours purchased April 3, 2013, at a consignment auction in southeast North Dakota. You can see it's much cheaper to buy right now. 

My 3rd Quarter 2014 "Used Values Index" shows how 200-plus hp tractors have fallen. The second quarter saw a 7.8 index rating, but the rating fell to 7.0 in the third quarter. The drop reflects the significantly softer auction sale prices from July to September this year.
Smaller But Stronger. Used values also are falling on smaller tractors from 130 hp to 200 hp, but the drop has been much shallower. Further, the index rating in this category had a much higher starting point. As the chart on this page shows, my 3rd Quarter "Used Values Index" rating for this category as of press time is 8.9, down from 9.3 in the second quarter. I'd call used values basically "hot" for this segment. 

The strong livestock market is one factor driving competitive bidding on smaller-horsepower used tractors. On Sept. 5, for example, a 2009 John Deere 7730 two-wheel-drive tractor with 155 hours sold for $105,000 at a farm auction in northwest Ohio—a record high. 

The trend is holding even stronger on older 130 hp to 200 hp tractors in nice condition. That explains a July 12 sale price of $67,500 for a nifty 1992 model John Deere 4255 two-wheel-drive with 3,465 hours at a south-central Minnesota farm auction. The sale occurred just as the price of corn began to fall. To my knowledge, the only John Deere 4255 two-wheel-drive to sell for a higher price at auction was the very last serial number 4255 at a March 26, 2011, consignment auction in northeast Iowa. The 1992 model in show-room condition had only 1,850 hours and went for $72,000.
More Of The Same. Looking ahead to winter, I see the apple-and-orange trend continuing. It could become more pronounced given the excess of large late-model used tractors on dealer lots. There will be bargains ahead for producers prepared to make purchases.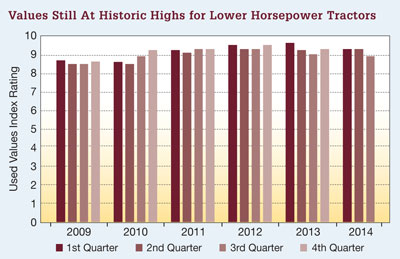 Machinery Pete's 3rd Quarter "Used Values Index" rating for tractors ranging from 130 hp to 200 hp is 8.9, down from 9.3 in the 2nd Quarter. The 1-10 scale is based on auction sale price data from MachineryPete.com.