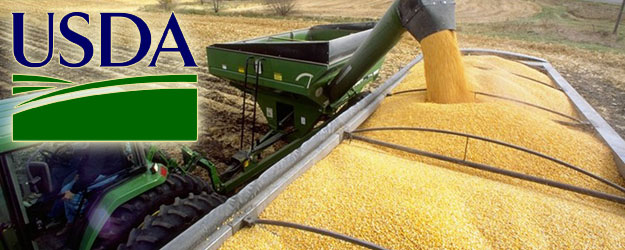 USDA lowered both its corn and soybean production estimates, while slashing its forecast for soybean exports, according to the Crop Production 2013 Summary and January's World Agricultural Supply and Demand Estimates (WASDE), both released Jan. 10.
A reduction in the corn carryout was one the day's big surprises, says Brad Paulson of Northern Crops Marketing and Investments, Langdon, N.D. USDA cut the 2013-14 corn carryout to 1.631 billion bushels from its November estimate of 1.792 billion bushels.
"That surprised me," says Paulson. "Corn exports have been running well behind year-earlier levels. Paulson was the commentator on a post-report MGEX press call.
Last week, ahead of the report, corn prices fell to more than three-year lows on disappointing export news. For the week ending Jan. 2, U.S. corn exports were only 155,300 metric tons, the second lowest weekly sales number since the start of the current marketing year. USDA left corn exports unchanged at 1.45 billion bushels, according to the WASDE report.
Less Corn than Expected
USDA lowered its final estimate for corn production to a record 13.9 billion bushels, down slightly from previous estimate of 13.989 billion bushels. It also lowered its average U.S. corn yield estimate to 158.8 bu./acre, down 1.6 bushels but still 35.4 bushels above 2012's 123.4 bu./acre.
The average trade estimate for 2013 corn production was higher at 14.06 billion bushels, and the average corn yield estimate of 161.2 bu./acre was also higher than USDA's final number.
Soybean Output Lowered, Too
USDA's final production estimate for soybeans of 3.29 billion bushels was 1% higher than its previous forecast and 8% larger than the 2012-13 crop. The average trade estimate for soybeans going into the report was 3.279, larger than USDA's final estimate.
USDA's final yield estimate for soybeans of 43.3 bu./acre was raised 0.3 bushels and is 3.5 bushels greater than the previous year's yield. The average trade estimate for the U.S. soybean yield was also 43.3 bu./acre.
Soybean Exports Slashed
USDA slashed its forecast for soybean exports to 1.32 billion bushels, down from December's forecast of 1.475 billion bushels. The decline was anticipated with more than 600 million bushels of U.S. soybeans sales still not shipped.
"We do think there will be cancellations," says Rich Nelson, director of research for Allendale, a brokerage firm in McHenry, Ill.
China, the largest customer for U.S. beans, typically begins to look to South America for soybeans once the crop there is harvested. Nelson and others think cancellations could start to become frequent as the South American crop moves into the global marketing channels.
USDA left Argentina's estimated soybean production unchanged at 54.5 million metric tons but raised Brazil's output by 1 million metric tons to 89 million, according to the WASDE report.
"Demand is the key thing to look for," says Paulson. "We have a huge soybean crop from South America on the way."
.............................................................
Complete Coverage of Jan. 10 USDA Reports
See the data, read the biggest news and listen to analysis of today's collection of major USDA reports.
---