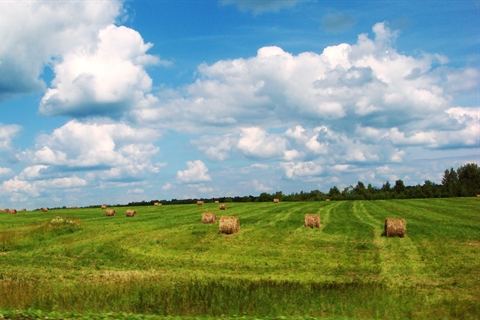 Snowfall in Russia's Siberia region in the past week delayed gathering of crops including wheat and barley, potentially limiting the 2014-15 harvest, according to the state weather agency.
The snow that fell Oct. 9 to Oct. 14 formed a layer of as many as 2 centimeters (0.8 inches) in the Altai and Novosibirsk areas before it melted, said Renad Yagudin, a spokesman for the West Siberian office of Rosgidromettsentr Rossii, the state weather agency. Rains that started Oct. 4 had already hampered crop gathering, he said by phone from Novosibirsk today.
"Harvesting was scaled back," Yagudin said. "Chances for the equipment to get onto the fields worsened sharply." The delays mean farmers may have to continue harvesting until the end of November in some Siberian regions, risking crop losses if permanent snow cover sets in before they finish, he said.
Siberia provided 17 percent of Russia's grain harvest of 92.4 million metric tons in the 2013-2014 season ended June 30, according to Russian Agriculture Ministry data. Grains were gathered from about 90 percent of Siberia's sown area by yesterday, according to ministry statistics.
Moscow-based market researcher Ikar, the Institute for Agricultural Market Studies, may reduce its grain-crop estimate for this season on Oct. 20 to reflect the weather conditions, company analyst Yevgeny Zaitsev said by phone from Moscow today. The group estimated on Oct. 9 the country's farmers will produce no more than 58.5 million tons of wheat this season, 19.5 million tons of barley and 11 million tons of corn.
Siberia's snows haven't changed "end-of-September" expectations at the Russian Grain Union, according to Rudolf Bulavin, director of the union's research department. The group sees a Russian harvest of 60 million tons of wheat, 20 million tons of barley, and 12.5 million tons of corn this season, he said by phone from Moscow.