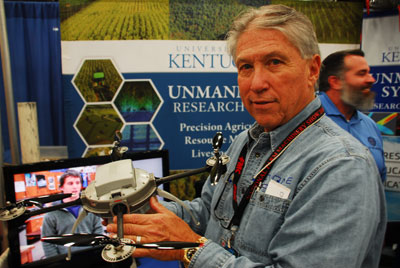 A practical checklist to think about before you get started.
So if you've already answered the question, "Should I try a drone on my farm?" the next logical question becomes, "What type of drone should I buy?" The challenge is that these unmanned aerial vehicles (UAVs) come in all shapes, sizes, prices and capabilities.
Two UAV companies — AgriImage and Drone Systems — were on hand at the 2014 National Farm Machinery Show to field farmer questions and help them figure out what setup might work best on their operations.
"Determine what's important to you," says Bruce Dawson, vice president at Drone Systems. UAVs can operate any number of tasks, from getting a simple bird's-eye view of a field to more complex analysis and management decision-making. You can even herd livestock with a drone.
---
Click here for complete coverage of the 2014 National Farm Machinery Show. And don't miss these three free Farm Journal Media events featuring Greg "Machinery Pete" Peterson, Bob Utterback and more! 
---
The learning curve is one of the biggest anxieties first-time users have with drones, explains David Pinkerton, president of AgriImage.
"We wanted to make sure anyone could fly them," he says. "If they were going to invest the money, we wanted to make sure they wouldn't lose them. So one of the most important think people need to check is what built-in fail-safes are in place [such as a return-to-home feature or built-in GPS tracker]."
Here are some additional questions that would-be drone users should ask before purchasing their first UAV:
• What do you want the UAV to do?
• How much will it cost for it to do what you want it to do?
• How foolproof and easy to fly is it?
• What weather conditions can it fly in? Some UAVs are more stable at higher wind speeds, and some are rated to fly in colder weather, Dawson says.
• What is the battery life? Some units can only fly about 20 minutes before needing recharged, while others can fly for up to twice that amount.
• What types of data can you collect? Some add-ons allow upgrades to HD video, NDVI imagery and more.
• Can the data you collect be incorporated into your existing farm management software?
• Will you be FAA compliant? Farmers who keep their UAVs under 400 feet and who don't use it for commercial use shouldn't run into any issues, Dawson says. You should also check that you're not near any controlled airspaces, he adds.
• What kind of training or technical support will you get?
Bottom line, don't be afraid to ask questions before purchasing any new technology.