The rapid gains in soil insecticide use are attributed to the growth of continuous corn acres, control breaks in corn rootworm single-trait hybrids and increasing challenges from secondary insect pests, according to AmVac Chemical Corp.
 
Fifteen years ago a little-known version of the western corn rootworm, called the soybean variant, showed up in Jim Brown's corn crop with a big appetite.
"It was pretty devastating to yields that first year because I had no idea it was there," Brown recalls.
Unlike typical rootworms that lay their eggs in corn, the soybean variant flies into soybean fields to lay its eggs. This practice allows the larvae to hatch the following spring in a field likely planted to corn. That means a standard corn-soybean rotation is unable to keep the pest in-check, which was the case for Brown. He turned to granular soil insecticides for help and has used them ever since to stop rootworms in their tracks.
This spring, Brown can expect a lot of company from like-minded farmers, based on current soil insecticide sales projections. Treated acres are projected to top 15 million acres acres, a 40-plus percent increase over 2012, according to Joe Short, Midwest marketing manager for AmVac Chemical Corp.
The sudden surge in soil insecticide use the past couple of years has reversed what had been a trend toward reduced use; applications dropped to an all-time low in 2006.
Short attributes farmers' rapid re-adoption of soil insecticide use to the growth of continuous corn acres, control breaks in corn rootworm single-trait hybrids, and increasing challenges from secondary insect pests.
---
Why Corn Acres Continue to Grow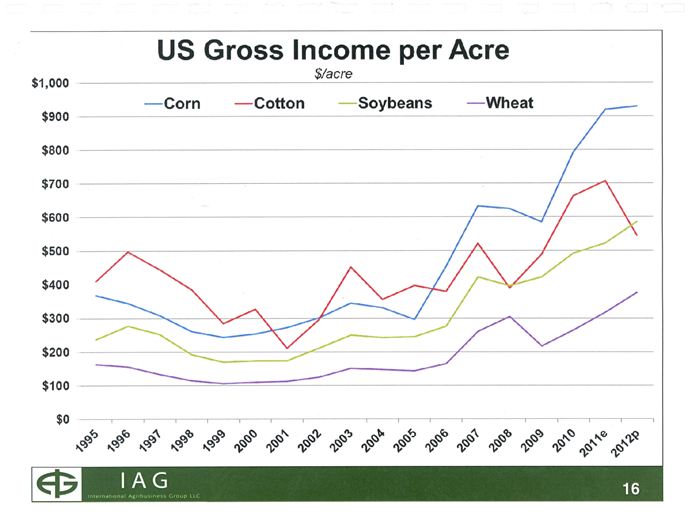 Courtesy of AmVac Chemical Corp.
---

"Growers want to reduce risk and increase yields," he says.
The challenge for corn growers is to balance productivity and profitability with technology and environmental stewardship, says Ron Hammond, Ohio State University Extension entomologist. He cautions farmers about using soil insecticides in fields planted to transgenic corn hybrids.
"Our general attitude on this is that we do not feel like it is worthwhile, necessary or cost effective," he says. "Unless you are under extremely severe pressure, transgenic corn with rootworm proteins should do a good job."
University of Illinois Extension entomologist Mike Gray adds that the escalating use of insecticides increases risks to non-target organisms and potentially elevates human health and safety concerns.
Short reports that the large increases in soil insecticide use are concentrated in Iowa, southern Minnesota, parts of Nebraska and northern Illinois, where continuous corn production systems are common.
Brown's farm fits with that pattern. He applies a granular soil insecticide, via the AmVac SmartBox System, on two-thirds of his ground which is planted to continuous corn and non-gmo hybrids.
The closed-application system eliminates the need to handle insecticides and, thus, reduces his exposure to active ingredients. A 24-row SmartBox System retails for approximately $15,300.
Brown will plant one-third of his corn ground this spring to a multiple-trait hybrid and won't use a soil insecticide with it. However, Brown says he is concerned about how well multi-traited corn hybrids will hold up long-term to corn rootworm pressure.
"We're going to have to adopt more than one method of control to get ahead of these bugs," he says.
Recently, corn growers have begun retro-fitting planters for liquid insecticide applications to control pests. The cost to equip a 24-row planter, without installation fees, runs in the low $20s.