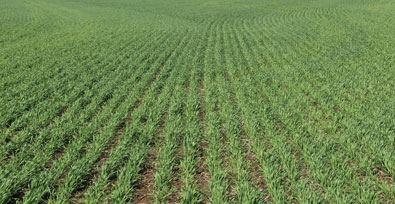 In Kansas and South Dakota, applying chloride fertilizer, based on soil tests, increased yield and helped suppress disease on wheat and other crops, such as sorghum, corn and barley.

High Plains farmers might be able to increase yields by testing their soil for chloride, say two soil fertility specialists.

In 16 years, researchers at Kansas State University (KSU) conducted 34 wheat trials on chloride-deficient soils. Wheat receiving no chloride fertilizer averaged 48.4 bu. per acre. Applying 10 lb. per acre of chloride bumped yields to 51.7 bu. per acre. Adding 20 lb. of chloride produced 52.5 bu. per acre.

With sorghum, 19 of 23 KSU plots also showed a response. Applying 20 lb. of chloride per acre raised the average yield from 98.5 bu. per acre to 108.2 bu. per acre. Applying 40 lb. resulted in 109.9 bu. per acre. Similar results were seen in corn. "We also observed less lodging where we applied chloride in sorghum and corn," says KSU agronomist Dave Mengel.

At South Dakota State University, "especially on spring and winter wheat and on barley, our studies show a response to chloride on soils testing below 60 lb. per acre at the 24" depth," says soil fertility specialist Howard Woodard.

The payoff depends on the price of commodities and the cost of fertilizer. At press time, 10 lb. per acre of chloride in the form of mureate of potash (potassium chloride) cost about $10, Mengel says.

If you prefer not to incorporate potash fertilizer, you can apply it on the surface and the chloride will leach down to the root zone, Woodard points out.

Another source of chloride is ammonium chloride, a liquid formulation. It can be blended with other fertilizers and topdressed or applied with starter.

Why a deficiency? Soil and weather conditions in some areas create the need for chloride. The element leaches out of soil over time, Mengel explains. In areas where farmers routinely apply potash fertilizer, they automatically correct deficiencies. But in areas where the soil is naturally high in potassium, requiring no potash fertilizer, chloride deficiencies may show up.

Rainfall also is a factor, Mengel adds. Dry areas experience less leaching, so those soils are more likely to contain sufficient chloride. In Kansas, deficiencies are most likely to occur in central and north-central areas.

In South Dakota, soils east of the Missouri River, which were formed on deposits left by glaciers, are most likely to have chloride deficiencies, Woodard explains. Soils west of the river, formed on marine sediments, tend to have adequate chloride levels. "But a few of those soils need a little chloride, also," Woodard says.

The two studies show that applying chloride on deficient soils not only increases small-grain yields but also helps suppress disease.

Larry Hottman of Enterprise, Kan., began applying chloride fertilizer four years ago, after soil tests revealed a deficiency. He applies the fertilizer in the fall at 20 lb. per acre, tank-mixing AmChlor Basic liquid ammonium chloride with sulfur and herbicides. Correcting the chloride deficiency has produced healthier plants with higher yield potential, he says.

Testing for chloride requires sampling soil 24" deep. That's hard work, Mengel acknowledges. "But you can use the sample to test not only for chloride but for sulfur and nitrate-nitrogen. With today's nitrogen prices, more farmers should test for nitrate to fine-tune their nitrogen fertilizer rates."

Most soil test labs offer a chloride test, Woodard says. The cost is typically between $8 and $15 per sample. 

For More Information

Visit the Potash and Phosphate Institute's chloride Web site at http://www.ppi-ppic.org/chloride/index.html.

More information about AmChlor liquid ammonium chloride fertilizer can be found at www.evansenterprises.net. Click on "Products."


---
You can e-mail Darrell Smith at [email protected].