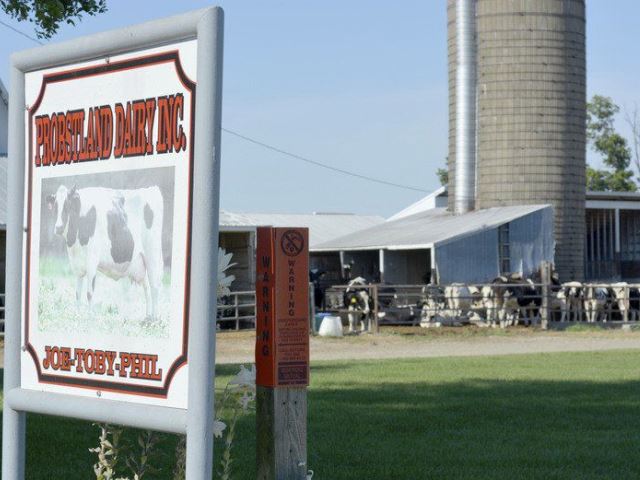 By: Kaitlin Cordes, Effingham Daily News via AP
Joe Probst has been recognized as one of the most valuable and productive dairy farmers in Illinois over the course of his 43 years in the industry.
In November, Probst received the Dairy Industry Service Award from the Illinois Milk Producers' Association, which recognized Probst's distinguished service to the state's dairy industry.
Although Probst is now "retired," he still helps out with the dairy farm. He also plants crops.
"I still drive the tractor, run the combine and do the planting," Probst said.
Now, the dairy farm is a family affair for the Probst clan. His sons Phil and Toby are co-owners and operate Probstland Dairy, located about three miles north of Wheeler. Probst remains part owner of the operation. The area where they live and farm is truly "Probstland" — Probst and his wife, Inis, his two sons and their families and a nephew live within minutes of each other.
Dairy farming has been a lifelong career for Probst, who grew up just a half a mile north of his current homestead on E. 1500th Avenue.
"I've dairyed all my life," Probst said. "My brother and I milked together, and when we divided the heard, he got 12 (cows) and I got 11."
Probst started dairy farming on his own in 1954, a year after starting up his dairy business with his brother.
The operation, which produces milk for Prairie Farms, has grown to over 300 milk cows today.
Probst had served on the Prairie Farms Board of Directors for 43 years and traveled to Springfield for monthly board meetings up until his retirement.
Probst's retirement has not stopped him from involving himself in educating others about the industry either.
Probst and his wife host field trips for first- and second-graders from Jasper, Clark and Cumberland counties. Students tour the farm and milking facilities, learning about the cows and the ins and outs of the dairy industry from Probst.
Probst recently took agricultural education instructor Lindsey Vogt and her group of future agricultural teachers on a tour of the dairy farm so the group could earn college credits.
Probst has also hosted the Holstein Picnic and several barn meetings.
These type of services earned the Probsts the 2012 Illinois Stewardship Farm Family of the Year award at the Illinois State Fair Agriculture Day.
Probst has been a member of several dairy associations throughout his career, including the American Dairy Association of Illinois. He's been the El Paso Illinois director of Midwest Dairy, the St. Louis District Dairy Council director, and Prairie State Select Sires Breeding Corporation director.
The Midwest Dairy Association reports that Illinois is the 22nd largest milk-producing state in the United States, and dairy farms yielded 215 million gallons of milk in 2014.
Dairy farming in Illinois generates approximately $389 million in milk sales annually.