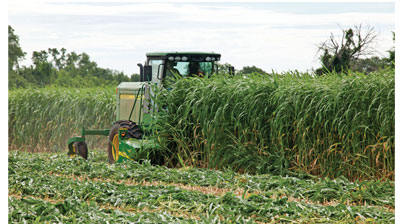 Genetic engineering has made water-stingy, sorghum-based forages more productive, with feeding qualities that rival corn 
The hot, dry summers of 2011 and 2012 sparked new interest in forage sorghums for many beef and dairy producers. In turn, seed companies responded to provide dependable, efficient hybrids that are easily digestible by livestock.

Sorghum forages, in general, are nearly 50% more water efficient than corn on a seasonal basis and offer a viable option for livestock forage.

"Two summers of drought, and the lingering effects of that drought even today, make the future bright for forage sorghum," says Justin Weinheimer, crop improvement director for the United Sorghum Checkoff program. 

"As plant breeders adapt their programs to the changing environment and water availability, we see opportunities to switch from corn silage to sorghum silage because of sorghum's ability to work in a limited-water environment," he says. "Breeders are taking forage sorghums to performance levels we haven't seen before in quality and digestibility."

Three primary genetic traits help add value to forage sorghums:
Brown midrib 6-gene (BMR) traits have less lignin than conventional sorghums, making them more palatable and high in digestibility. It compares well to corn silage.
Brachytic dwarf traits create a compact plant with more leaf surface and shorten the leaf internode distances on the stalk.
Photoperiod-sensitivity traits help hybrids remain vegetative longer, retain forage quality and lengthen the harvest window before the crop enters the reproductive stage.

Genetics ahead. Future improvements will be incremental, plant breeders say. 

"It's not your grandfather's forage sorghum," says Ben Beyer, Advanta US sorghum breeder for North America. "Many people remember growing sorghum with negative feelings. Today is a lot different."

Recent tests at Virginia Tech showed digestibility of BMR forage sorghums were 74% on a dry-matter basis.

"The disadvantage of BMR characteristics in a tall plant like forage sorghum, however, is less stalk strength. That's where the brachytic dwarf traits, which shorten the leaf internode, are important," he says. "Our brachytic dwarf hybrid has internodes from 1.5" to 3" and still exhibits 20 to 24 leaf nodes."

While the brachytic dwarf hybrid is late-maturing, Beyer says he is working to bring the trait to early and mid-range maturity groups.

In February, five new heat- and drought-tolerant forage sorghum products, all expressing BMR traits, were released from Chromatin for commercial testing, says Kerry Mayfield, the company's forage biomass and sudangrass breeder. "Short internode" genetics were also added.

"We are just now breaking into work with the brachytic dwarf trait, but we are well into the genetic action and control of photosensitivity and have hybrids that take advantage of those traits," Mayfield says. 

Yield reigns. While checkoff-funded research is bringing earlier planting dates and flexibility to forage producers, the primary goal remains yield, Weinheimer says. To meet those needs, researchers are looking at new technology, such as double haploids, to incorporate traits faster and easier.

"Herbicide resistance is another focus of seed innovation, along with other management traits for weed and pest control," he adds. "All of this builds on sorghum's natural heat and drought resistance, and its ability to thrive on less than prime farmland."