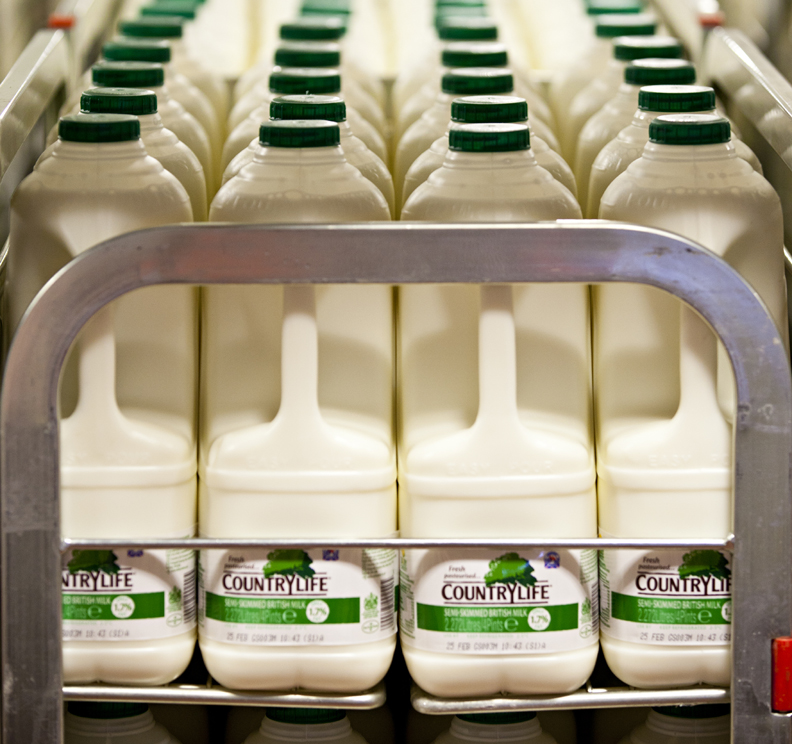 Dairy Crest, the United Kingdom's biggest dairy producer, is getting out of the milk business.
By Mark Gilbert
The U.K.'s increasingly fierce supermarket war has claimed another victim: Dairy Crest, the nation's biggest dairy producer, is getting out of the milk business. Milk prices are down more than 22 percent this year, making it 10 percent cheaper for U.K. shoppers than the average for 15 European Union countries, so it's impossible to make money without economies of scale. The saddest part is that both the supermarkets and the dairy companies are suffering in the battle.
Here's what's happened to milk this year:
Dairy Crest said today that its milk division has revenue of 945 million pounds ($1.6 million), but makes a profit of just 0.6 million pounds. By contrast, its cheese, butter and spreads businesses returned 56.1 million pounds of profit on sales of 442 million pounds. No wonder it's decided to concentrate on cheddar.
The number of U.K. dairy farms has shrunk to 13,265 from 35,000 in 2005. In September, Dairy Crest closed a bottling plant and a flavored-cream factory at the expense of 261 jobs. According to the trade union Unite:
Dairy Crest was caught between the unrelenting pressure of the supermarkets to drive down prices for customers and the legitimate desire of farmers to get a decent price for their milk. Supermarkets are selling four pints for 1 pound, while dairy company delivery prices are 79 pence a pint; they just can't compete.
Dairy Crest, which has a market capitalization of 638 million pounds ($1 billion), says selling its dairy units to Muller U.K. & Ireland Group for 80 million pounds will "create a more sustainable U.K. dairy sector by delivering economies of scale and cost efficiencies that will underpin investment in the industry."
The price war sparked by the arrival of two German supermarket chains, Lidl and Aldi, is causing carnage. Wm Morrison Supermarkets said today its like-for-like sales, excluding fuel, fell 6.3 percent in the 13 weeks through Nov. 2, worse than the median 5.3 percent decline anticipated by analysts. Tesco, the biggest U.K. retailer, has ditched both its chief executive and its chairman in recent months, and is being investigated for fraud.
Changing consumer behavior is at the heart of the supermarket industry's woes, and is also altering the dairy market. Britons increasingly buy plastic cartons of milk from a shop, rather than collecting the milkman's bottled morning delivery from their doorsteps. And they're switching to buying food online and having it delivered, filling any gaps with small purchases during the week rather than driving to a superstore for one big weekly shop. Both supermarkets and milk producers need to recognize that those trends aren't going to reverse; big retailers need to be more nimble, while dairies need to consolidate to survive.