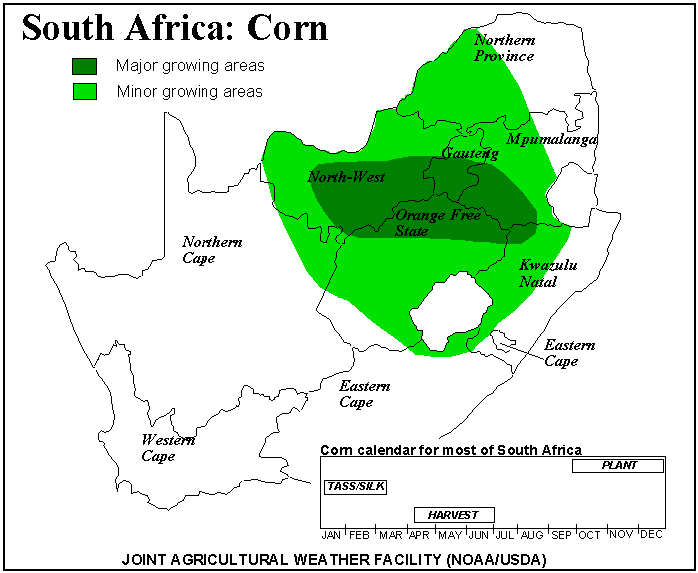 (Bloomberg) -- This year's corn crop in South Africa, the continent's biggest producer of the grain, may shrink more than the 32 percent forecast as a drought that damaged crops in the two main growing areas spreads, said Grain SA, a farmers' body.
Plantings in the Free State and North West provinces, which accounted for 64 percent of last year's harvest, have been hurt by dry weather, with the Crop Estimates Committee saying Feb. 26 that farmers may reap 9.67 million metric tons in 2015, the least since 2007. The eastern output areas of the Mpumalanga province, the third-biggest producer, are being hurt by the same conditions in the worst drought in 22 years, Grain SA Chairman Louw Steytler said.
The Feb. 26 prediction is a best-case scenario, he told reporters at a conference in Bothaville in the Free State province on Wednesday. "I warn you all that if we do not have sufficient rainfall, that even next year's crop will probably" decrease as farmers calculate risk, he said.
Prices of white corn, used locally to make a staple food called pap, have rallied 24 percent this year while those of the yellow variety that's mainly fed to animals have climbed 8.4 percent. While the consumer inflation rate fell to the lowest since March 2011 in January, investors are fretting that the deceleration may be offset by higher food and fuel prices.
Agriculture Minister Senzeni Zokwana is concerned that the drought will affect the country's ability to produce next season, he said in a speech at the conference.
Sectoral Disaster
"This is a disaster for the whole sector, not just the farmers," he said. "Without the farmers, there will be no sales next year. Without production there is no food."
His department is convening "a group of experts to put together an action plan to overcome the challenge," he said.
The country will need to import about 1.65 million tons of yellow corn, Grain SA said Feb. 26. The nation last brought in this variety in April 2014, data on the South African Grain Information Service's website showed.
The full effect of a lack of rain in Mpumalanga isn't known, Steytler said.
"The reality is that yes, we face further declines possibly in that area if we do not have sufficient rain in the next week."
White corn for delivery in July rose 0.2 percent to 2,665 rand a ton on the South African Futures Exchange in Johannesburg while the yellow type for delivery in the same month climbed 2.1 percent to 2,399 rand a ton.
The country's stock of corn may drop 47 percent to 1.22 million tons by April 30, 2016, or enough for 45 days, the Grain and Oilseeds Supply and Demand Estimates Committee said on Tuesday. That compares with a prediction for closing stocks of 2.3 million tons at end-April this year, or sufficient for 86 days, it said.
To contact the reporters on this story: Tshepiso Mokhema in Johannesburg at tmokhema1@bloomberg.net; Andre Janse van Vuuren in Johannesburg at ajansevanvuu@bloomberg.net To contact the editors responsible for this story: Amanda Jordan at ajordan11@bloomberg.net Ana Monteiro, John Viljoen