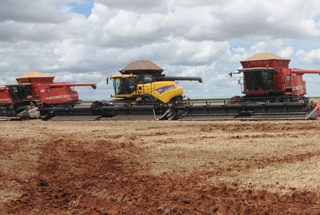 This year's huge soybean crops in Brazil and Argentina will compete heavily for international market share due to weaker South American currencies, good weather, a growing infrastructure, and historically low freight rates. And China will continue to be a voracious buyer of soybeans in 2016.
"China still needs beans. The country is loaded up with corn, but it does not have enough beans," said Joe Lardy, research manager for CHS Hedging in Inver Grove Heights, Minn. "China has implemented a plan to become independent in corn at the expense of soybeans."
CHS is the nation's largest farmer-owned cooperative, with facilities in both Brazil and Argentina. CHS Hedging is the commodity brokerage subsidiary of CHS.
Last year, China imported 81 million tons of soybeans. This year, Lardy anticipates China will buy 82.5 million tons of soybeans on the world market. However, he said if China's economy stumbles significantly in 2016, imports could dip to as low as 79 million tons.
"There are too many people moving into the middle class," he said. "China is completely aware that it needs to keep its people fed and happy."
Still the world is flush with soybeans. The global stocks-to-use ratio on soybeans is 25.4%, down slightly from last year's 25.3%, but still much higher than 2011-12's 20.9%.
In its latest World Agricultural Supply and Demand Estimates, released Feb. 9, USDA increased Argentina soybean production to 58.5 million metric tons, but left Brazil's soybean production unchanged at a record-large 100 million metric tons.
Together the two South American soybean-producing powerhouses will harvest 158.5 million metric tons of soybeans. In contrast, U.S. producers are expected to harvest 106.95 million metric tons.
Soybean Harvest Begins in Brazil
As of this week, soybean producers in Brazil had 15% of the crop harvested, which is very close to the five-year average, according to Lardy.
"Things are proceeding just fine. Harvest got off to a slow start in Brazil due to rain, but in the Mato Grosso area, the largest soybean-growing region, the crop is 25% to 26% harvested," Lardy noted. "And every year, Brazil's infrastructure gets better."
Recently, northern ports at the mouth of the Amazon River have opened, and the extension of highway BR-163 from the Mato Grosso region to two major tributaries of the Amazon River, the Tapajós River and the Madeira River, will likely be completed this year.
"When that highway is completed, a lot more beans will be directed to the northern ports," Lardy added. "There haven't been any major strikes this harvest, and strikes are typically the first snarl up. What we have seen, though, are steady rains in January, which have slowed early shipments, creating a backlog of boats at southern ports."
Meanwhile, Argentina's weather has been nearly ideal, but Argentine producers won't begin harvesting beans until April. Argentina recently reduced its export tax on soybeans, which will make the country's beans more competitive on world markets. This week, Argentine beans were bringing $327 per ton, while Brazilian beans were priced at $333 per ton, and U.S. beans at $345 per ton.
Argentina is also phasing out its export tax on corn and wheat.
Brazil Anticipates Record Soybean Crop
Waiting for Corn Harvest in South America
Corn harvest has not yet begun in South America. Some full-season corn will be harvested in Brazil as soon as soybean harvest is complete, but 62% of Brazil's corn is Safrinha, or second-crop, which has not even been planted yet.
USDA raised its forecast for Argentina corn production to 27 million metric tons from last month's 25.6 million metric tons. Brazil corn production was increased 2.5 million metric tons from last month's estimate to 84 million metric tons.
Together Argentina and Brazil are expected to harvest 111 million metric tons of corn this spring. That's far short of the 345.49 million metric tons that American farmers are expected to produce this coming fall, but it's still a healthy crop.
"There has not been a threat to the crops in Argentina. There have been no weather extremes," Lardy said. "The outlook for the Argentine farmer is very robust. Weakening currencies, near perfect weather, and lower taxes favor South America. The export season looks more promising for Argentina and Brazil than for the United States."