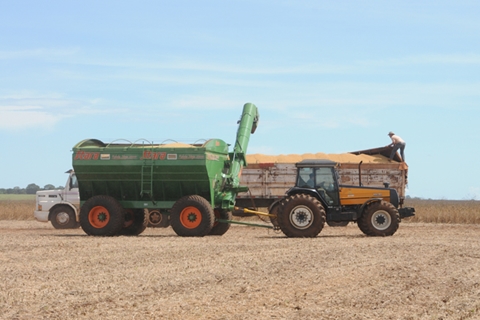 Global soybean production will be smaller than forecast last month because of deteriorating crop prospects in South America, Oil World said.
World output will be 307.8 million metric tons in the 2014-15 season, 3 million tons less than forecast in September, the Hamburg-based researcher said in a report. Brazil's crop forecast was lowered to 89 million tons from 92 million tons amid dry weather, while the outlook for Argentina was cut to 54 million tons from 55 million tons on signs planting will be less than previously anticipated, according to the report.
"There is an increasing probability that plantings will be smaller than expected in Brazil and Argentina," Oil World said. "Brazilian farmers are currently faced with the worst weather conditions in at least 10 years, jeopardizing production prospects not only for soybeans but also for other crops."
Soybean futures on the Chicago Board of Trade, the global benchmark, have rebounded about 13 percent from a four-year low on Oct. 1 as rain delayed harvesting in the U.S. and concern mounted about South American crops. The price is still down about 21 percent this year amid ample global supplies, with Oil World's estimate for the 2014-15 season 8 percent higher than last year's harvest of 284.9 million tons.
Brazil, the world's top soybean exporter, is contending with hot, dry conditions that have discouraged farmers from planting, Oil World said. In Mato Grosso, the biggest producing state, only 9.3 percent of soybeans were planted as of Oct. 16, compared with the previous five-year average of 28 percent.
South American soybean exports will probably be lower than a year earlier in November and December, benefiting U.S. shippers, Oil World said. Brazil's shipments also may be "relatively small" in early 2015 as the current planting delays mean crops may be harvested later than usual. The bulk of Brazil's harvest is from January to May, while Argentina's is April to May and the U.S. is September to November, according to the report.
"U.S. exports of soybeans will have to be boosted to new record highs, at least in September-February 2014-15, the first half of this season," Oil World said. "This is necessary to satisfy rising world import demand and offset the reduced South American soybean exports."