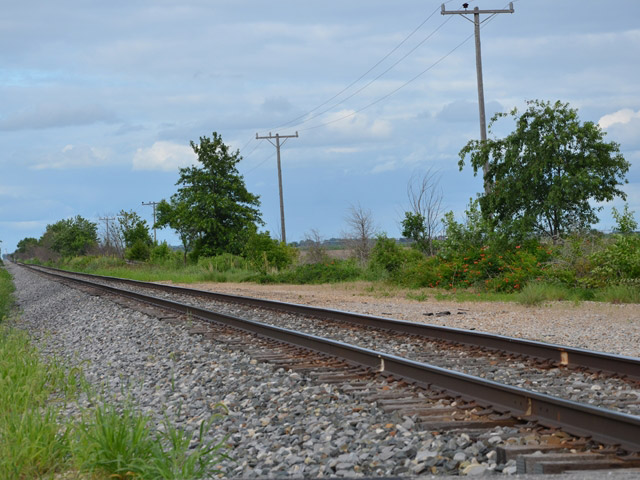 U.S. Secretary of Transportation Anthony Foxx on Tuesday rode over sections of rail track that had previously been repaired with federal help and rattled over portions that haven't been regularly used for years.
About 42 miles of those mostly derelict tracks from Chamberlain to Presho will soon be restored with the help of a roughly $12 million federal grant. Rehabbing that stretch of railway will open up grain-shipping opportunities for farmers in south-central South Dakota who currently must use trucks to transport their grain to faraway railways.
The roughly $28 million project comes as the region sees significantly increasing crop yields. The rail redevelopment has also attracted a roughly $40 million grain facility on the line, said Steve Halverson, a farmer and leader of Rails to the Future, a coalition of producers that has been orchestrating the project with the Department of Transportation. Moving their crops by rail could save farmers up to a quarter per bushel and is expected to open up new markets because of connections to regional rail hubs when the repairs are finished in 2016.
"It opens access up to the world, basically, for this grain production," Halverson said.
U.S. Sen. John Thune, who showed off the project with South Dakota Gov. Dennis Daugaard, has served on the Senate panel that deals with railway. As he lamented that the railway west of Chamberlain have sat unused, he rolled between his fingers a nail that read "1935," the year it was hammered into a tie on the tracks.
Thune, Daugaard and Foxx rode in a truck equipped to traverse the railway, and shortly after it shifted on to the broken-down tracks, it began to tilt sideways because of the uneven rails. The men let out a short laugh as they tipped toward a ravine, and the truck eventually righted.
Foxx has traveled to more than 40 states to discuss transportation initiatives and tour projects. He said rehabbing old infrastructure is exactly what the country should be doing and pointed to investments like the grain facility that occur when the government funds infrastructure projects.
Foxx and South Dakota officials also discussed the importance of a far-reaching federal highway bill, which is necessary to keep the Highway Trust Fund solvent past May. Thune will head the Senate committee that addresses transportation matters when Republicans assume control of the chamber next year, and he and Foxx discussed federal funding for highway projects.
Thune said he hopes to reach a five or six year deal on infrastructure funding, and Foxx said a long-term solution is necessary to ensure that states can be confident moving forward on projects. That lack of assurance concerned South Dakota officials when they outlined state-based transportation funding measures last week.
"It's hard to help meet (a state's) vision when you don't have much in your pocket and you don't have much to offer," Foxx said. "To borrow a phrase, it's not a good way to run a railroad."